Hotel Receptionist Jobs in Germany for Foreigners 2023: Are you interested in becoming a Hotel Receptionist in one of Germany's biggest and busiest airports, Frankfurt Airport? Surely, everyone would say yes, especially those with experience in hospitality services, retail services, tourism, or hotel management. This post has brought to you an amazing job opportunity of becoming a hotel receptionist at MEININGER Hotel Frankfurt Airport.
Tourism and Hospitality services is one of the top ten skills/ job roles Germany is hiring foreign applicants for. According to Reuters, more than half of German businesses are facing labour shortage. In 2022, the Institute for Employment Research (IAB) found 1.74 million vacant positions throughout the country, which was an all-time high. Especially skilled workers are in dire shortage.
Germany has plenty of hospitality jobs. The main requirement is that you should know the German language (For receptionist jobs, English-speaking candidates also have a high demand as some job openings accept English-speaking people only). Germany is considered one of the highest-paying countries in the EU and in the whole world. Germany has a thriving hospitality/ tourism industry. The average salary a hospitality professional can expect is €27,788 per year.
First, you get selected for the job, your employer issues you the sponsor letter (as proof of employment) , then he assists you in the work visa process. To know more about MEININGER Hotel Receptionist Job opening and to find more Hotel Receptionists Jobs in Germany 2023, please review the information provided below: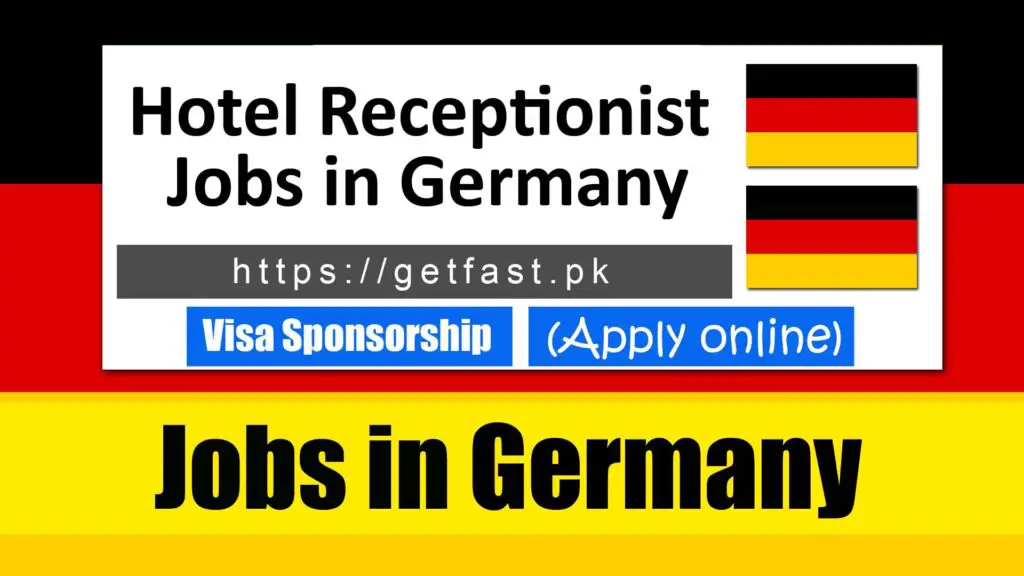 Job details of Hotel Receptionist Jobs in Germany
Job title: Hotel Receptionist
Location: Frankfurt, Germany
Job-type: Full-time
Minimum knowledge: No formal education is needed (some employers may demand secondary or high school level education with passes in English and Maths)
Minimum experience: One year
Expected salary: 27,039 € per year
Free Accommodation: For the first two months only
Free food: No
Free transport: No
Free Medical: No
Related: Housekeeper Jobs in Italy 2023 with Visa Sponsorship (Apply online)
Job requirements for Hotel Receptionist Jobs in Germany:
As per the job ad, the following are the main job requirements:
No formal education is needed. However, some employers required Secondary or High school level education with passes in English and Maths as a must.
Any relevant qualifications like a Hotel Front Desk Training certificate course, Any degree, diploma, or certification in Hospitality, Hotel management, or Hotel receptionist is preferred.
Minimum 18 years of age or older.
Proficiency in English and German (levels A2-B1), and any additional language is a plus.
Experience with the front office software and network systems (e.g., ASSD, Fidelio, SIHOT).
All documents are needed for the work visa.
Job Benefits for Hotel receptionists Jobs in Germany:
Attractive Salary Package. The starting salary for receptionist employment is €6,000 per year with senior receptionists earning more than €25000 per year. Increases rates during nights and Weekends.
Free Accommodation for the first two months.
Permanent job positions for the right candidates with career growth prospects (for example, an experienced receptionist with consistent performance can climb up to PA level).
5 paid vacations per year.
The hotel offers discounts for staff friends and family.
All rights and privileges as per the German Labour Law.
Related: Dates Farm Foreman Jobs in Saudi Arabia with visa sponsorship 2023 (Apply online)
Responsibilities of a Hotel Receptionist:
Greeting/ Attending guests.
Managing and keeping a record of total check-ins and check-outs in a day.
Attending phone calls for questions and service requests and doing so physically.
Performing all administrative tasks like billing, time tracking, handling online operations like social media representative or maintaining online reputation, filing, photocopying, documents handling, taking payments, returning deposits, etc.
Booking meetings , sorting, and forwarding phone calls to the senior management or any other related department.
They may also be required to sorting and distribute customers' or staff's couriers.
They may be required to arrange travel/ visit programs for customers and guide outside customers about local tourist attractions and amenities.
Average Salary of a hotel receptionist in Germany:
The average salary of a Hotel Receptionist depends mainly upon his experience. But, according to Grab Jobs, Entry level Receptionist positions(1-3 years of experience) start at €6,000 per year while experienced senior Receptionist positions (5-8+ years of experience) can get up to €27,636 per year. The average salary of a hotel receptionist is €1,700 per month and €20,400 per year.
 More Jobs: Apple Picking Jobs in Canada with Visa Sponsorship
How to apply?
You can make an account on any online job searching website or online newspapers, login, and submit your CV to apply. For this job ad, click below to apply directly on the ad website:
 Visit here to apply for the job.
About the Employer.
Founded in 1999 in Berlin, Germany, MEININGER is committed to serving backpackers, school groups, families, visitors/travelers, and business trips, with it's 34 hotels in 24 European cities (Amsterdam Mei and making them feel at home.
Explore exciting career opportunities with MEININGER 
More Hotel Receptionists Jobs in Germany.