Nanny/ Babysitter Jobs in Germany with Visa Sponsorship and Free Accommodation: A lovely family residing in Berlin, Germany is seeking a qualified and experienced governor for the care and education of one boy aged 14. This is live a rota role working two weeks on/off with some proxy parenting when the parents travel for work. He is a very intelligent boy who needs a Governor who can support him in his studies as well as promote a healthy routine that assists his studies and overall well-being. He enjoys playing computer games and enjoys his food. His mother would prefer an active candidate who has a sound understanding of nutrition and can motivate and guide her son in playing sports and eating well in a way that isn't forced but comes naturally as a way of spending time together and sharing interests. The ideal governess or governor will have worked in private households before and supported children of this age group.
The candidate must be emotionally intelligent, have a good sense of humour, and not take themselves too seriously along with being very discreet and respectful of the family's privacy. Whilst it is a staffed home, it is relatively informal and relaxed. Being able to read the room is necessary. A driver is not necessary, although preferred. The boy is a kind and intelligent young man and is looking forward to welcoming such a figure into his life. He has fallen behind in Maths, so someone who can support him in moving forward in that area would be ideal. He very much enjoys art and drama.
He attends an international school and prefers to speak English at home as well as at school. The working hours are 24/7 when on and you will be provided with a flight back to the U.K after each shift. The candidate must be flexible and willing to travel with the family when required. On occasion, the shift pattern may change slightly if you are traveling which will either be compensated for in additional pay or time off, depending on the requirements of the family. There will be around 10 days of travel in October and likely over the Christmas period too. They have two dogs, pugs, therefore you must be comfortable around dogs and happy to be around them.
The salary on offer is from £1200 – £1600 net per week depending on qualifications and experience. The family can sponsor a working visa. Excellent contactable references, a valid enhanced DBS background check, and a first aid certificate is required. This role is to start ASAP. Read the article below to get a full guide to Nanny/ Babysitter Jobs in Germany with Visa Sponsorship and Free Accommodation.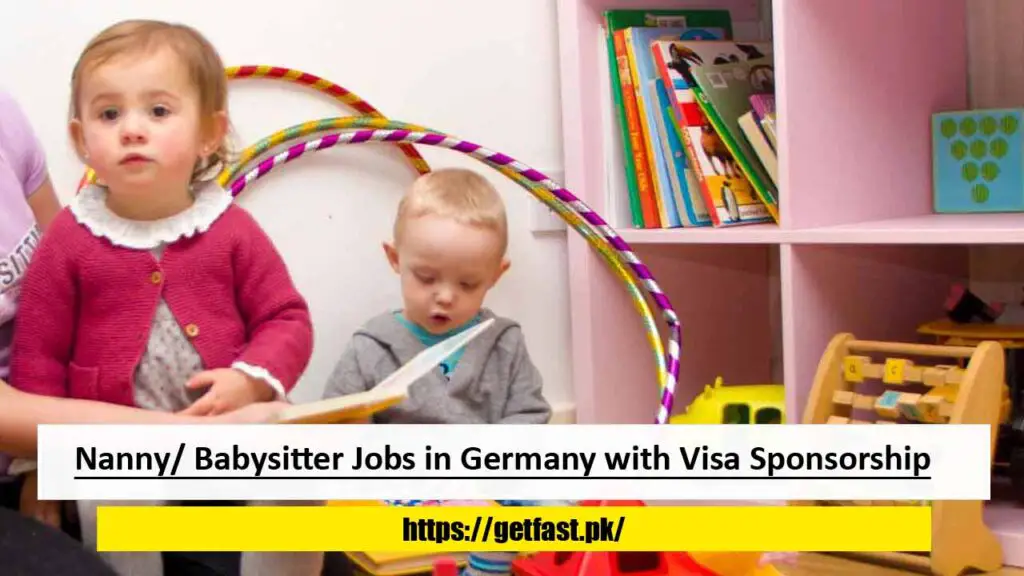 Details of Nanny/ Babysitter Jobs in Germany with Visa Sponsorship and Free Accommodation
| | |
| --- | --- |
| Job Country | Germany |
| Industry | Domestic Labor Jobs |
| Job Type | Nanny/ Babysitter |
| Minimum Experience Required | 5 years |
| Education Required | Basic English |
| Any Age Limit | No |
| Visa | Sponsorship |
| Relocation | Yes |
| Accommodation | Yes |
| Employment Term | Full-Time and Permanent |
| Salary Monthly | EUR 1200 – 1600 |
Related: Fruit Picker Jobs in Croatia for International Applicants 2023 (Apply Online)
Requirements of Nanny/ Babysitter Jobs in Germany with Visa Sponsorship
Fluent in English
Minimum 5 years of professional experience in private households
Happy and flexible to travel at short notice
First Aid Certificate (in date)
Excellent contactable recent working references
Enhanced DBS clear
Ready to start ASAP
Job Duties of a Nanny/ Babysitter:
Supervise children and look them after in the absence of parents.
Oversee/ Supervise children in the absence of their parents and look after their every activity like meals, homework, playtime, whereabouts, etc.
As children are adolescents and not infants or toddlers, they can take care of their personal hygiene personally, but you have to take care if they are not doing so properly anywhere.
Take care of the child's social development and conduct children's social activities like taking them to the park, swimming, karate, or any other social activity. Similarly, you have to conduct children's meetings with any visitor in their parents' absence under your supervision.
Maintain a healthy environment in the home.
Tend to the good mental health and emotional well-being of the children.
Performing laundry of children and preparing their bedding when they are at school.
Keep a trace of children's,s everyday activity, and their health profile.
No housekeeping duties except very light house chores.
Teaching English to children in playing and academic ways.
Help children learn and speak English.
Benefits of Nanny/ Babysitter Jobs in Germany with Visa Sponsorship
£1200 – £1600 net per week (all weeks paid)
One-year contract – with the possibility of extension
Live-in accommodation – own bedroom and bathroom
Food whilst at work
All work- and work-related travel expenses covered
Who can Apply for Nanny/ Babysitter Jobs in Germany with Visa Sponsorship
All Asian, African, and Latin American countries, can apply for Nanny/ Babysitter Jobs in Germany with Visa Sponsorship
Pakistan
India
Bangladesh
Anguilla
Antigua
Barbuda
Barbados
Mexico
Jamaica
Dominicia
Sudan
Grenada
Trinidad
Tobago
Lucia
Vincent
The Grenadines
Kitts-Nevis
Montserrat
Saudi Arabia
UAE
All African, Asian, and European Nationalities
Related: Restaurant Cook Jobs in Canada with Visa Sponsorship (Apply Online)
How to Apply for Nanny/ Babysitter Jobs in Germany with Visa Sponsorship
Click on the link below to apply directly on the job ad website