Online Quran Teaching Jobs Anywhere in the World: Quran Teaching Job is a matter of honor for many Muslims besides earning a livelihood from it. In Covid-19, adults and children both took online studying mode, whether it's for Quran or School Education. Now, even if Covid is gone, online studying and teaching emerged as a trend. The beauty of this trend is that you can learn from/ teach any person in any corner of the world anytime. As a result, monetary benefits also hiked up because you can work more, sitting in your home's comfort zone, thus maximizing your working capacity. Moreover, as there is no one job hooking you up from 9 to 5, you can undertake more than one work project (in this case, students' batches), thus multiplying your earnings. Another great feature of Online Quran Teaching Jobs is you can earn a 'pool of foreign currency reserves' as a European Student will pay you in Euros; a student in USA will pay you in Dollars, just like an Asian Student using Dollars as an International medium of exchange, a British student will pay you in Pounds, etc. Read on below to find more about Online Quran Teaching Jobs, their benefits, requirements, websites where you can find responsive Quran Teaching Jobs, and the link to apply online for Quran Teaching Jobs anywhere in the world.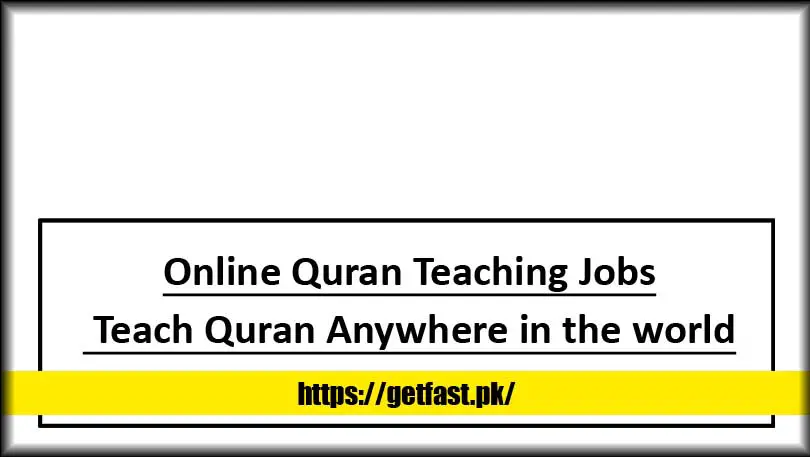 Requirements of Online Quran Teaching Jobs Anywhere in the World:
Some web platforms like Tarteel Quran require Quran Instructors to be Hafiz e Quran (Quran Memorizers). However, depending upon the course you select like Nazira, Tajweed, Translation, Tafseer, Teaching Quran in English, Aalim, Islamic Studies Instructor, Arabic Language Instructor, etc, your qualifications and criteria differ. However, as a general, you should have a grip on Basic Arabic Language, Tajweed Rules, Quran Recitation, and Islamic Studies at the undergraduate level.
You should have a well-defined CV, Cover Letter.
Your nationality, residence status, and every other biometric information should be clearly stated.
You shouldn't hold a criminal status/ bad reputation.
Having experience is not necessary, but mandatory in case you are applying in a Quran Academy, Institute instead of teaching independently to students at home.
Related: Registered Nurse Jobs in Australia with Visa Sponsorship and Relocation Allowance
Benefits of Online Quran Teaching Jobs Anywhere in the World:
You can work as much as you want, thus earning as much as you want.
There are multiple courses to choose from i.e. Hifz Course, Arabic Language Teaching Course, Tafseer Course, etc, so you can choose any program according to your proficiency and qualifications, so no shortage of work.
There are many online job platforms to choose from.
Earning a pool of foreign currency as described above can give rise to further work i.e. FOREX Trade.
Teach at your own pace, and to as many students as you want.
Job Description of Online Quran Teaching Jobs in UK for Foreigners 2023
Online Quran teaching jobs in the UK usually involve teaching Quranic sciences to students through online video conferencing platforms. As a teacher, your responsibilities may include:
Developing lesson plans and materials for Quranic studies classes
Conducting classes through video conferencing with students
Assessing and grading student progress
Providing support and guidance to students as required
Maintaining accurate records of student progress and attendance
Participate in professional development opportunities to continue learning and improve your teaching skills.
To be a successful Quranic teacher, you must have a strong understanding of Quranic sciences and be able to effectively convey this knowledge to students. You must also be patient, understanding, and able to work well with students of all ages and backgrounds. It is also important to be comfortable using technology and video conferencing platforms for online teaching.
Related: Primary Class Teacher Jobs in Riyadh with Visa Sponsorship (Apply Now)
How Much Quran Teachers make all around the World:
UK: £30 per hour.
USA: USD 28 per hour.
Australia: AUD 30 per hour.
Canada: CAD 30 per hour
Pakistan/ India: Rs.350 per hour.
Saudi Arabia: SAR 27 per hour.
UAE: AED 27.5 per hour.
EU: €26 per hour.
Where to find Online Quran Teaching Jobs anywhere in the world?