Pizza Maker Jobs in Canada (LMIA Approved): For the post of pizza cook, Pizza Palace & Donair- Terwillegar, located at 1709 Town Centre Blvd., NW Edmonton, AB T6R 0T7, is accepting applications from qualified candidates who are self-motivated and possess strong interpersonal skills. The chosen individual will need to get to work as soon as possible. The openings are for full-time or permanent work. Day, evening, night, weekend, shift, overtime, on call, and morning shifts are among the shift timings.
Visa Sponsorships are available for the qualified international candidates as this job is LMIA Approved. Cooks/ Chefs qualify for Shortage Skills Occupation in Canada. No professional culinary education is required but highly preferred. However, you should have at least 1 year of experience for the job role you are applying. Let's get to know everything about Pizza Maker Jobs in Canada (LMIA Approved).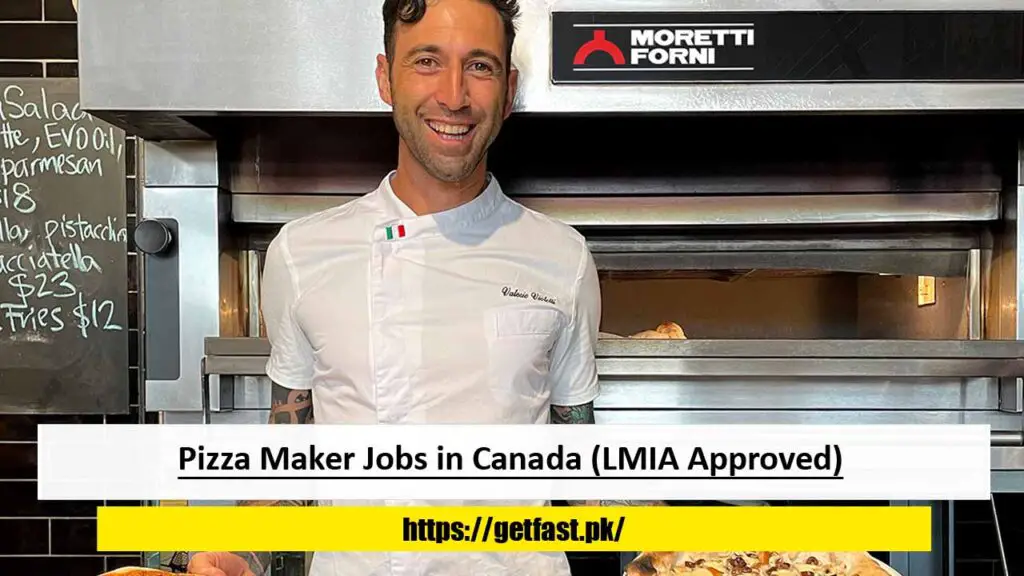 Details of Pizza Maker/ Chef Jobs in Canada (LMIA Approved)
| | |
| --- | --- |
| Job Country | Canada |
| Industry | Food/ Hospitality/ Culinary |
| Job Type | Pizza Chef/ Pizza Maker |
| Minimum Experience Required | No |
| Education Required | Basic English |
| Any Age Limit | No |
| Visa | Sponsorship |
| Relocation | Yes |
| Accommodation | No |
| Employment Term | Permanent and Full-Time |
| Salary Hourly | CAD 20 – CAD 27 Per Hour |
Related: Unskilled Jobs in Switzerland for Foreigners 2023 with Visa Sponsorship
Requirements of Pizza Maker/ Chef Jobs in Canada (LMIA Approved)
At least a High School Diploma.
Should be proficient in Basic Level French ( condition not necessary but would be better) and English.
Should have at least two years of experience in Pizza Making.
Should have experience of working in all sections of kitchen or of any hospitality, hoteling work.
Should deliver excellent customer service.
Should have an informed, friendly, and effective approach.
Should responsibly cook and decorate all the dishes in your allocated area.
Should ensure that guests receive high-quality dishes and effective customer service.
Should fulfill the eligibility criteria for a Canadian Skilled Worker Visa.
Job Duties of a Pizza Maker:
Prepare and cook a variety of pizzas according to established recipe charts, and taste standards, while observing Food Safety and Health Regulations.
Ensure high-quality, consistent, and aesthetic presentation of pizzas. For this purpose, you should know various topping techniques.
Maintain cleanliness of the pizza kitchen, and pizza section of the kitchen, and sanitize it to ensure hygiene.
Collaborate with the kitchen team and other chefs to ensure smooth operations and running of the kitchen.
Listen to the customer's demands and complaints regarding taste or any other service parameters.
With this employer, the majority of ingredients are homemade like fresh pasta, all sauce and ragu, and pizza dough. You must be familiar with working with homemade ingredients. Knowing how to prepare them at home yourself would be a plus.
Benefits of Pizza Making Jobs in Canada (LMIA Approved):
Full-time, permanent employment.
Competitive Salary with Benefits Package.
Paid holidays, leaves, and vacations.
Training and career development opportunities. You can be a senior pizza chef or switch to the other chef job roles.
Employee discounts on food and beverages
Staff meals during shifts
Supportive and inclusive work environment
Who can Apply for Pizza Making Jobs in Canada (LMIA Approved):
All Asian, African, and Latin American countries, which generally target Canada and other European Countries as their future job destination, can apply for Pizza Jobs in Canada (LMIA Approved).
Pakistan
India
Bangladesh
Anguilla
Antigua
Barbuda
Barbados
Mexico
Jamaica
Dominicia
Sudan
Grenada
Trinidad
Tobago
Lucia
Vincent
The Grenadines
Kitts-Nevis
Montserrat.
All European, Asian, and African nationalities can apply.
Related: Gardener Jobs in UK with Horticulture Visa Sponsorship – Apply Now
How to Apply for Pizza Making Jobs in Canada (LMIA Approved):
Click on the link below to apply directly for Pizza Making Jobs in Canada (LMIA Approved):