Scholarships to pursue an MBA in Small Business Promotion and Training-SEPT from Germany are available from the German Academic Exchange Service (DAAD). The Small and Medium-Sized Enterprise (SEPT) Master of Business Administration (MBA) program takes two years to complete and focuses on the administration, promotion, and development of SME's (SMEs).
The University of Leipzig in Germany is where the students will spend their time studying. The Small and Medium Business Development (SEPT) MBA will be taught by permanent university faculty, visiting specialists, and consultants.
A 4-year bachelor's degree and two years of professional experience promoting and training small and medium-sized enterprises (SMEs) are required for admission to the SEPT MBA program at Leipzig University. Self-funding candidates have the option of submitting internship and cooperative education experiences.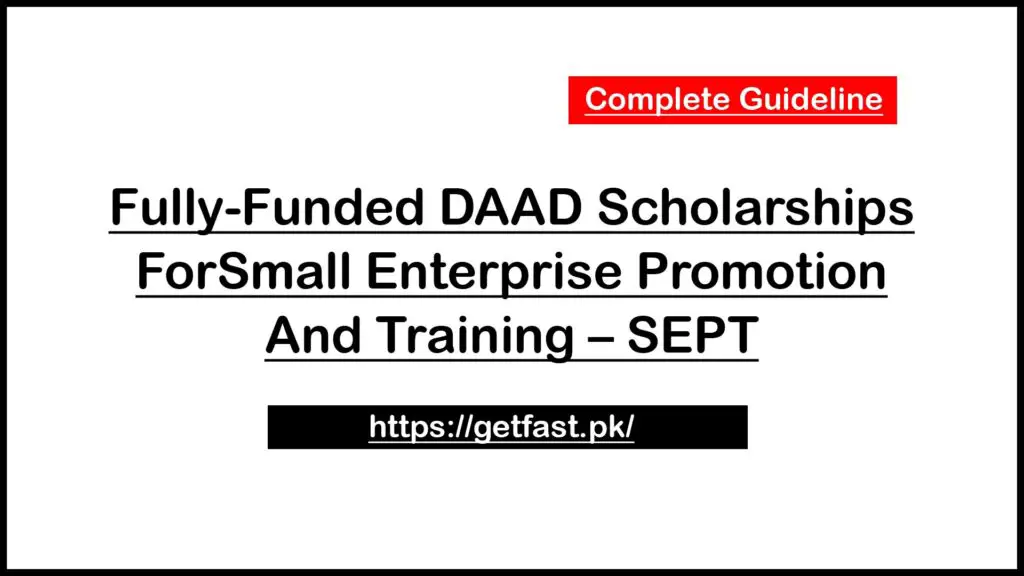 Details and Crucial Dates
Site: Germany
Eligible Countries: Afghanistan and Developing Countries
Venue: University of Leipzig
Study Area: MBA in Small Business Promotion and Training (SEPT)
The language of instruction: English
Timeframe: 2 years (4 Semesters)
Deadlines for the DAAD Scholarship : Course applications are due by October 1; classes begin in October (2024)
SEPT MBA DAAD Scholarship Advantages
The German Academic Exchange Service (DAAD) Scholarships for Postgraduate Study in the Field of Development cover the fees for this program.
The following is a breakdown of the expenses that self-funded students are responsible for paying:
The cost of living is about 650 Euros per month, and all students at Leipzig University must pay an enrollment fee of EUR 253, 50 before the start of each semester.
The first enrollment is the only time a fee of EUR 10, 00 is due for the UniCard.
Costing about EUR 861 per month to meet immigration regulations for a student visa and resident permit (including health insurance)
A yearly fee of EUR 10.332 blocked from your bank account (2 semesters)
Chevening Scholarship in UK (Fully Funded)
Eligibility Criteria for the DAAD Scholarship
The following are the requirements for acceptance:
Have completed at least 180 ECTS at an accredited institution for your undergraduate degree
Work experience in small and medium-sized enterprise (SME) promotion and training for at least two years TOEFL IBT minimum score of 78,
IELTS academic minimum overall band, or English proficiency letter for English undergraduate programs
Points of Importance
Tests like TOEFL ITP, TOEFL TOEIC, and IELTS General Training are not accepted
The ETS report of TOEFL scores should be sent to SEPT with the university code of 6976.
Applicants from India must have a Bachelor's degree with a minimum grade of First class 60% or A = Very Excellent or a GPA of 3.00 or above to be considered.
Applicants from China and Vietnam are required to provide an APS-Certificate.
The Necessary Paperwork
Applicants must submit these mandatory PDF documents:
A signed and dated two-page maximum Motivation Letter detailing the applicant's interest and qualifications for the SEPT MBA program.
A Europass-formatted curriculum vitae with your name and the date included.
Diploma from an accredited high school
Official transcripts and degree certificates showing final grades.
A report of test results demonstrating proficiency in English or a certified copy of the information no more than two years old.
Letter(s) from present or prior employer(s) certifying at least two years of relevant work experience.
Two letters of recommendation;
Form for Applying to the DAAD EPOS Scholarship Program.
The DAAD Forms have been filled out and signed.
Include a copy of the application letter you sent out, any confirmation letters you received from scholarship providers, or the status of your application processes.
Please note that a certified translation must accompany any documents issued in a language other than German or English into one or those two languages.
How to Apply for the DAAD Scholarship?
Click the "Apply Now" button below to access the SEPT MBA application portal and submit your materials online. Those who cut will be notified by email and asked to mail supporting materials. Those who have been shortlisted should send their application materials to the SEPT at the indicated address that is mentioned above.