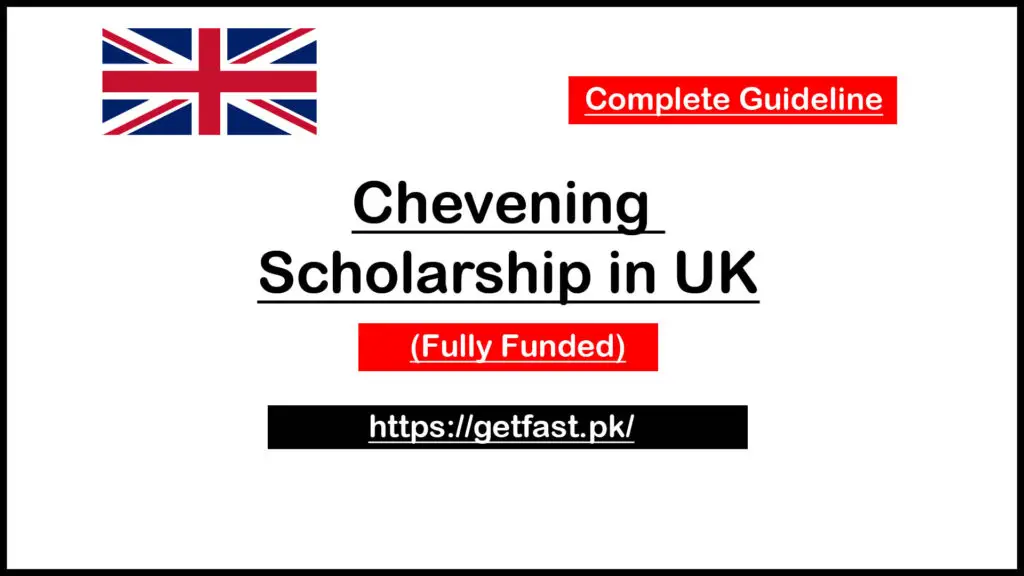 UK's fully-funded Chevening Scholarships is the most prestigious scholarship in UK Government's postgraduate funding scheme for international students in the UK. However, both local and international students can apply and are eligible for this scholarship. To develop international leadership and a globally competitive talent force, Chevening Scholarships offer an annual competition for Masters Scholarship Programs. Chevening alumini are never to take light and easy; they are the most successful business, industry, and political figures around us! Let's move forward toward a complete guide about UK's Fully-funded Chevening Scholarships 2023:
What is Chevening Scholarship?
An initiative by the Foreign, Commonwealth, and Development Office, this scholarship aims at picking the most talented, competitive international Postgraduates with the highest leadership potential. By offering them an opportunity to study in the UK for one year on a fully-funded master's degree course, this scholarship has a positive impact on the UK and recipients' home country by building strong professional and academic networks. According to Chevening's official website, Since 1983, Chevening has brought over 500000 high potential individuals from all around the world through its various scholarship programs.
Chevening scholarships are different and above all other scholarship programs in the sense that besides providing generous full funding, it features many volunteer programs (planting trees to fight climate change and building homes for the homeless) and extracurriculars (arranging workshops and networking events with other scholars on the program). Chevening scholars experience the best of British culture and spend quality time during their stay in the UK.
IU University Germany Online Scholarship 2023 (Fully Funded)
What does a UK fully-funded Chevening Scholarship offer?
Here are some of the salient features of the Fully-funded Chevening Scholarships:
These scholarships are fully funded (everything is included: economy class return airfare, travel expenses, accommodation costs, course tuition fee, and stipend for additional expenses as an international student).
A monthly living allowance/ stipend for accommodation, meals, personal expenses, phone bills, daily travel, and any required course resources. The amount of the stipend varies according to the inflation rate and the city of living (inside or outside London) and is reviewed annually. For London, this allowance is £882.
Tuition fee up to £18,000.
Additional grants and allowances to cover essential expenditures of an international student associated with the living cost in the UK along with the full cost of studying for a Masters's degree there.
No IELTS requirements.
An arrival allowance (upto£550).
The cost of an entry clearance (visa) application for you only
A departure allowance (up to £ 342).
A contribution of up to £75 for TB testing, where this is required
A travel top-up allowance
How to get eligible for UK's fully-funded Chevening Scholarship?
The official Chevening website mentions the following eligibility criteria rules:
Be a citizen of a Chevening-eligible country or territory. See the Chevening-eligible countries here
You must return to your country of citizenship for a minimum of two years after your scholarship has ended.
You must complete all components of an undergraduate degree that are necessary to enter you into a postgraduate program at a UK university by the time of your application submission.
Have at least two years (equivalent to 2,800 hours) of work experience in the field you are applying for.
Apply to three different eligible UK university courses and have received an unconditional offer from one of these choices by 13 July 2023.
You are not eligible for Chevening Scholarships if:
You hold British or dual British citizenship. However, citizens of a British Overseas Territory or BN(O) holders applying from Hong Kong are eligible.
You are a refugee in a non-Chevening eligible country.
You are an employee, a former employee, or a relative of an employee of His Majesty's Government.
Employees and employees' relatives of the Foreign, Commonwealth, and Development Office, all British Embassies/High Commissions, the Home Office, the Ministry of Defence, the Department for Business, Energy and Industrial Strategy, the Department for International Trade, and the UKVI), the British Council, a sponsoring UK university, or a staff member of the Association of Commonwealth Universities are also not eligible to apply.
Employees, former employees, or relatives of an employee of Chevening Partner organizations whose employment took place within the last two years are not eligible to apply.
If you have previously studied in the UK with funding from a UK Government-funded scholarship, you are not eligible to apply.
Fully Funded New Zealand Government Manaaki Scholarships 2023
Common errors while applying for a Chevening Scholarship:
Due to the confusion between eligibility and non-eligibility conditions, applicants often make some common mistakes. You can check those mistakes here
Can I apply for a second master's degree with UK's Fully funded Chevening Scholarship?
Yes, you can apply for Chevening Scholarship for your second master's degree. Your first master's degree does not prevent you from doing so. The only requirement is to explain the purpose behind going for a second masters like how it can help you in your career and help create a positive influence on your mother country's progress.
What types of employment are eligible for UK's Fully-funded Chevening Scholarship?
As mentioned in the eligibility criteria for Chevening Scholarship, you need 2800 hours of work experience. The following types of work/ employment are eligible for Fully-funded Chevening Scholarship:
Full-time employment.
Part-time employment.
Voluntary employment.
Paid and Unpaid Internships.
any employment mandatory for your undergraduate or postgraduate programs (placement) is not eligible.
Work experience period can range from one single employment period to fifteen discrete employment periods.
Working hours are calculated by multiplying the total number of working weeks by the total number of hours in each week.
An employment period consisting of 40-50 weeks and 35-60 working hours per week is counted as Full-time employment.
Which courses are available under UK's Fully-funded Chevening Scholarship?
Every type of arts and STEM course is available under UK's fully-funded Chevening Scholarship. However, the following courses are not eligible:
Part-time courses or short courses are not eligible. Only Full-time courses are eligible.
Research-based courses are not eligible. Your course must qualify as an academic Masters's degree.
Courses less than 9 months and more than 12 months are not eligible.
Postgraduate, Doctorate, and PostDoc courses are not eligible.
Students can apply for 3 different courses. But, courses of the same content are not acceptable.
Any chosen course taught outside the UK is not acceptable.
How to apply for UK fully funded Chevening Scholarship?
There are some easy steps to follow:
Check the eligibility criteria carefully.
Select the eligible courses carefully. Three shouldn't be the same.
Prepare a list of required documents. Gather all those documents.
Register yourself on Chevening's official online portal.
Stay updated with the deadlines.
Deadline for the UK Fully-funded Chevening Scholarship 2023.
The Chevening Scholarship application process starts typically in August and finishes in November every year. Like, in 2022, the commencement date of applications was 2nd August and the closing deadline was 1st November. The deadline for the 2023 Chevening Scholarship is yet to be announced.