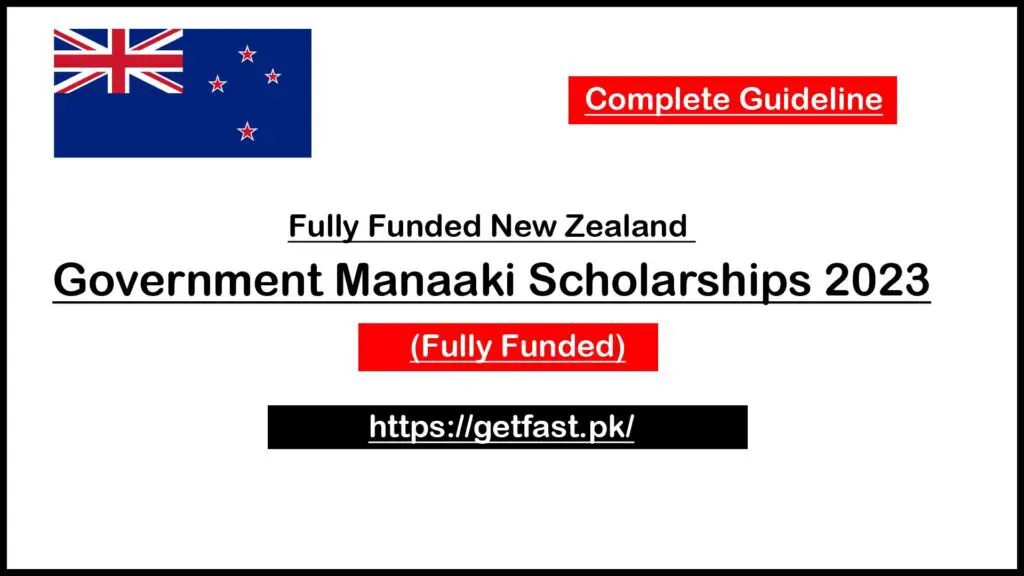 New Zealand Government Manaaki Scholarships 2023: Maybe there is no one of us who doesn't want to study and work in the world's most peaceful country, New Zealand. Applications from all over the world are invited to apply for the New Zealand Government Scholarship 2023-24. These scholarships are available to International Students for all degree levels – of Bachelor's, Master's, and Ph.D. New Zealand Government Scholarships are sponsored by the Ministry of Foreign Affairs & Trade. This post highlights various types of Manaaki Government Scholarships in prestigious Universities in New Zealand. These scholarships are available in all courses like Science and Engineering, Medical, Arts, Law, Economics, Management, Social Sciences, Technology, Environmental & many other fields. Such opportunities change and enrich the lives of deserving people.
New Zealand Fully funded Manaaki Government Scholarships has many exciting and "life-changing" benefits to offer like full tuition fee waiver, registration fees, medical expenses, and travel/airfare. Laboratory, Stationary, and Dormitory and Research allowances/ stipends. Let's dig deeper into more details:
Details of New Zealand Fully Funded Manaaki Government Scholarships:
Sponsoring body: Government of New Zealand.
Applicable levels: Undergraduate, Master, Doctorate, Post Doctorate (Tertiary students).
Scholarship type: Fully funded.
Eligible nationalities: Any.
Duration: 2023-24.
Deadline: Varies from one country to another. However, for most of the universities deadline is between 28 Feb-27 March.
Why choose New Zealand for study?
Friendly people and a peaceful/ welcoming society.
Access to word class, highly acclaimed and accredited education system.
Diverse and multicultural environment with the lowest crime rates in the world.
An opportunity to develop critical thinking in a safe and prejudice-free environment.
Unlike many other countries, New Zealand gives you an opportunity to take on Part-time time jobs while on Student Visa.
Equal employee rights for local, as well as, International applicants.
An opportunity to learn from innovative experts in top-demanded subjects on lower tuition feeds and full scholarships ( you don't have to pay much for this golden chance).
Fully Funded Graduate Scholarships in Canada 2023-24
Types of Fully-funded New Zealand Government Manaaki Scholarships:
The New Zealand government offers various types of Manaaki scholarships to deserving and hardworking students of tertiary level from developing and under-developed countries to study in a New Zealand country or any Pacific university or institute. They are funded by New Zealand Aide Program and administered by the Ministry of Foreign Affairs and Trade. Following are the types of Fully-funded Manaaki scholarships by the New Zealand Government :
1. Scholarships for Undergraduate and Postgraduate Students:
These are fully-funded scholarships for eligible international students at the tertiary level. This scholarship enables undergraduate and postgraduate students to study full-time at a New Zealand eor a Pacific university.
2. Short Term Training Scholarships for Pacific and Timor-Leste citizens.
These are short-term scholarships for new workers/ entry-level jobians to impart them skills training and on-the-job work experience. However, all countries are not eligible except some Pacific countries and Timor-Leste.
3. Short Term Training Scholarships for citizens of Southeast Asia and Timor-Leste.
These short scholarships are introduced for skills training and on-the-job experience of candidates from eligible Southeast Asian countries and Timor-Leste.
4. English Language Training for Officials Scholarships (NZELTO).
These are short-term scholarships for government officials/ servants from eligible African and Asian countries to impart them English Language Proficiency Training.
What are the eligibility criteria for New Zealand Government Manaaki Scholarships 2023-24?
To apply for the Manaaki scholarship, you must meet all of the eligibility criteria. To check whether you meet the criteria or not, fill out the  Online eligibility Questionnaire scholarship.gov.nz to confirm whether you can apply. Some of the important questions to check whether you are eligible for the Fully-funded Manaaki Scholarships or not are:
Your citizenship/ home country.
Your residence period/ stay duration in your home country.
Whether you are a jobian. If yes, how much experience do you have?
Whether your country is eligible for scholarships wrt New Zealand Immigration and Foreign Office Rules.  Check whether your country is eligible for Scholarship in New Zealand 
Your age should be between 18-40 except Samoa for which the minimum age requirement is 17 years.
 Only those who fulfill the  Student visa requirements take up a Manaaki New Zealand Scholarship.
As part of the Manaaki New Zealand Scholarship, you choose your preferred course and educational institution. You must meet the respective entry score requirement and English Language requirement (IELTS, TOEFL, PTE Academic, or Advanced Cambridge English).  You can check the English and Entry requirements of all courses and all institutes
Those applicants are preferred who clearly describe their intention to improve their country's socio-economic development on their application form and how they will do it.
Postgraduate scholarship applicants must have one year of full-time work experience (i.e. 30 hours or more per week), two years of part-time work experience (i.e. up to 29 hours per week).
Fully-funded New Zealand Government Manaaki Scholarships Benefits:
With a full Manaaki New Zealand Scholarship, scholars receive:
Full tuition fees are waived off.
Air travel expenses are covered with a return economy ticket. Participants are given travel insurance.
Medical insurance during your stay in New Zealand.
Basic living costs are covered.
Additional establishment allowance to each student, helping him with set-up costs in New Zealand
Research assistance and thesis costs coverage for postgraduate students.
The partners/ spouses of students are eligible for a work visa that allows them to live and work with their partner in New Zealand during his/ her duration of study.
Fully Funded Study in New Zealand Scholarships without IELTS 2023
How to apply for New Zealand Government Fully-funded Manaaki Scholarships?
The mode of application is online. You have to visit the New Zealand government's scholarship website (www. scholarship.gov.nz)and apply online for a Manaaki New Zealand Scholarship 2023-24.
Click here to apply on the Government of New Zealand website directly
Other Scholarships in New Zealand:
If you are not eligible for the fully funded New Zealand Government Manaaki scholarships, you can check other scholarships in New Zealand.The Study in New Zealand official website lists all fully funded scholarships available to international students.