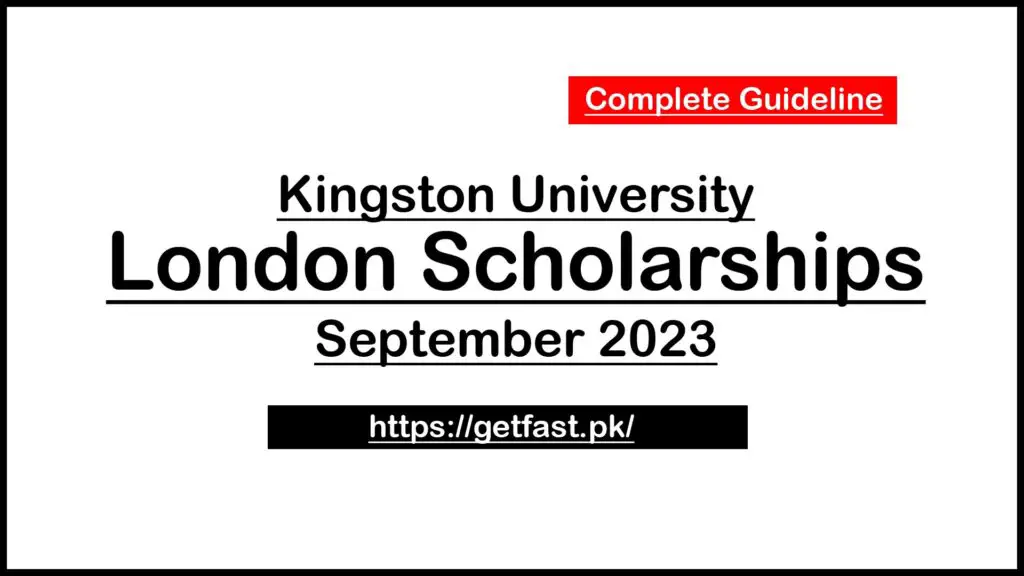 Kingston University Scholarships September 2023 are available for candidates of all nationalities; students from any corner of the world can apply. These scholarships are applicable to all undergraduate, graduate, and post-graduate programs. They are partially funded, which means that students have to cover their academic, as well as, nonacademic expenses (food, accommodation, traveling) themselves. Moreover, these scholarships are not offered guaranteed because applications received are more than the total number of scholarships available.
The deadline to apply for undergraduate and graduate scholarships is in May and the scholarship session would commence in September. Kingston is offering eight scholarships worth £5000 to international students in their first year of study. Applicants have to apply for a course starting in September 2023 before applying for the scholarship. Let's get to know more details below with a complete guideline about how to apply and the link to apply directly on Kingston University's Scholarships portal.
Fully-Funded DAAD Scholarships For Small Enterprise Promotion And Training – SEPT
Details of Kingston University Scholarships 2022-23
University/ Offering body: Kingston University.
Country: United Kingdom (UK).
Category: International Scholarships.
Coverage: Partially funded.
Session: 2022-23
Degree level: Undergraduate, Master
Deadline:  30 May 2023.
Available Disciplines under Kingston University Scholarships
Kingston University Scholarships are available for international students applying for Undergraduate and Master courses in September. Available courses and fields are mentioned below:
Nursing and midwifery
Performance, film, and media
Philosophy
English
Sports science and Nutrition
Surveying.
Human resource management
Humanities
International relations and politics
Journalism and publishing
Law
Life sciences
Management (General)
Marketing
Mathematics
Music.
Accounting, finance, and banking
Architecture and landscape
Art and design
Business
Chemistry and pharmaceutical sciences
Computing and information systems
Creative industries and the creative economy.
Economics
Education
Engineering
Environment and hazards
Geographical information systems and science.
Creative Writing
Financial Coverage Details
Successful candidates are given compensation for their tuition fee equal to the amount of the financial award. In other words, the total amount of the award (£5000) would be deducted from their tuition fee. However, students must make sure they can cover the outstanding amount of fees and living expenses themselves. Moreover, those who are paying tuition fees in installments will receive the £5,000 deduction on their last installment.
Medical (MBBS) Scholarships 2022-2023
Purpose/ Mission statement of Kingston University Scholarship 2022-23
The purpose/ mission statement of Kingston Scholarships 2023 is to pick talented, deserving, and motivating students from all over the world, who have the potential to become enthusiastic ambassadors to represent Kingston on various local and overseas platforms. Their prime duty is to support their mother institution in its recruitment and marketing work.
Points to be remembered
The following points have to be kept in mind before sending out an application for these scholarships:
Documents sent by email are not entrained.
Late applications will not be accepted.
You first have to apply and get selected for a course.
Eligibility Criteria of Kingston Scholarships 2022-23/ Who can Apply
Eligibility criteria to apply for the Kingston University Scholarships is very easy as there are no exclusive requirements. The following are the conditions to apply:
All Nationalities can apply.
Applicant must know the English language and all the documents submitted should be in English.
Applicant must be able to show a valid offer letter for an Undergraduate or Master course at Kingston University.
Applicants have to show their bank statement, which should hold sufficient funds to pay 'overseas fees'.
Documents required for Kingston University Scholarships 2022-23
Academic record.
Reference from the previous university.
Academic transcripts.
Personal statement.
Bank statement.
Email by University (Both conditional and unconditional are acceptable).
How to Apply for Kingston University Scholarships 2022-23
Applicants can send online applications directly on University's website by clicking on their international scholarships section. Click on the university's official link given below to apply online directly: