Paid Dairy Farm Management Training Programs in New Zealand with Full Relocation Support: Are you a student of agriculture/ life or animal sciences/ environmental sciences/ veterinary sciences/ management sciences? Do you like rural and natural environments? If yes, you are a perfect candidate for the opportunity we are going to discuss. It is all about the management of dairy farms under a company known as Dairy Careers (New Zealand's most famous dairy recruitment agency).
You can be sent anywhere in New Zealand for any skilled/ unskilled job role. Depending upon your job role, your qualifications, skill set, and career advancement level, this internship can last anywhere from 4 to 12 months. This is an excellent opportunity to gain dairy world experience by working on a large New Zealand dairy farm and learning how to manage day-to-day farm operations using the latest technology and methods. The most important thing to remember is that only those applicants will be entertained/ accepted for the program who are eligible for the New Zealand Work Holiday Visa. So, please make sure to visit immigration.govt.nz to check your eligibility.
New Zealand is renowned worldwide for its dairy potential, and it accounts for 35% of the world's total dairy trade. Training Programs available are of various spans_ 4 months, 6 months, and 12 months. If you choose 12 monthly training program, it can lead to a full-time dairy job. In this case, you will be required to have a valid work visa, for which your employer will provide you with full guide and support. Read on below to find more about Paid Dairy Farm Management Training Programs in New Zealand with full relocation support and learn while earning with free accommodation and set your career on path to farm management.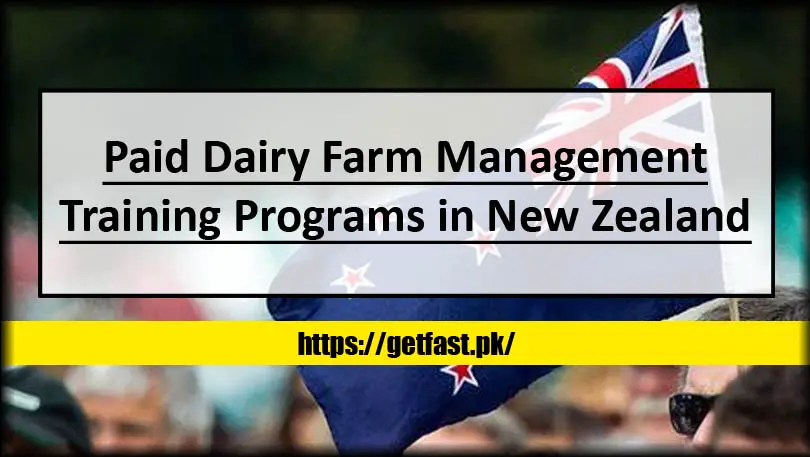 Details of Paid Dairy Farm Management Training Program in New Zealand:
Job title: Dairy Farm Management Internships
Industry: Farm Industry
Expected Salary: $22-30
Training schedule: 60 hours per week
Who can apply: All nationalities
Minimum age: 21 years
Knowledge required: Yes. Ongoing degrees are also accepted
Experience required: Yes. Minimum 6 months of Farm Experience
Free Accommodation: Yes
Requirements to apply for Paid Dairy Farm Management Training Program in New Zealand
As per Dairy Careers' official website, the following are the requirements to apply:
Eligible for all New Zealand Immigration conditions pertaining to a Working Holiday Visa (Check New Zealand Government's official immigration portal for the purpose).
Previous experience on a farm. Between 6 to 12 months.
Able to pass a drug test.
Clear criminal record.
Good command over work level English.
Ability to work overtime/ on the roster during peak times.
Related: Baker Jobs in USA With Visa Sponsorship 2023
Preferred country list for the training program:
Candidates from any nationality, if he/ she is eligible for New Zealand's migration, can apply. Moreover, candidates from the following countries are welcome to apply:
Belgium.
Canada
Denmark.
Estonia.
Finland.
Greece.
Israel.
United Kingdom.
Sweden.
France.
Germany.
Ireland.
Italy.
The Netherlands.
Spain.
Training Program Course Contents:
The course contents/ learning contents depend upon whether you choose 4 months, 6 months, or 12 months training program. However, for its standard 12 months training course, the following are the course contents (for shorter training programs, contents will be gradually eliminated):
Milk Quality: How to manage plants for better milk quality, techniques for quality control, and betterment.
Calf/ Cattle rearing and housing.
Farm chemicals and the related safety or hazard measures.
Health and Safety Standards of a Dairy Farm for the Customers and the Livestock.
Animal welfare and health: Procedure, tips, and technology.
Integrating smart technology and innovative farm techniques.
Tractor skills, motorbike safety, and a safety guideline for all farm vehicles.
Winter and Summer Crops: Climate requirements of a crop.
Irrigation Systems.
Effluent Systems.
Soil and Environmental Sciences.
Pasture Management.
Farm Management.
Farm Budgeting.
Feed Budgeting.
Farm Development.
Benefits of Paid Dairy Farm Management Training Program in New Zealand/ Training Program Feature:
Paid Training Program on market rates ($22-30 per hour).
Free Accommodation.
Help to procure Working Holiday Visa.
You can know each and everything about the life of a dairy farm employee in this 4-12 months training program. A golden opportunity for those who aspire to a dairy farm career.
Airport Pickup.
Opportunity to work with/ learn from New Zealand's biggest dairy company.
Pathway to a permanent, full-time job in New Zealand's promising dairy industry.
Rich Orientation programs for career counseling and professional development.
Continuous Pastoral Support.
Career and Goal Setting Mentoring.
Related: Seasonal Agricultural Jobs in New Zealand 2023
How to apply for Paid Dairy Farm Management Training Program?
You can apply directly on Dairy Careers' website or at NZ Jobs. The only step (that is the most crucial one and requires all your attention) is to create a CV/resume (in English) and a cover letter (in English) telling the employer why you're interested. Click on the link below to post your CV, Cover letter and apply online.
How to create a professional CV and Cover letter for Dairy Farm Management Jobs:
While creating CV and Cover Letter for any profession, you have to keep some technical factors in mind; some factors pertain to the general principles of a CV/ Cover Letter, while others pertain to some specific factors that vary according to the requirements of your chosen profession. Click on the link below to have detailed guidelines and a free template of the Dairy Farm Management Jobs CV and Cover Letter.
More Jobs at Dairy Careers:
Dairy Careers is not only about Dairy Farm Management. There are other exciting job opportunities too like:
Dairy Farmer/ Dairy Farm Worker.
Quality Technician for Dairy Manufacturing.
Dairy Support Winter Farm Hand Positions.
Dairy Manager.
Tractor Drivers.
Quality Assurance workers and so on.