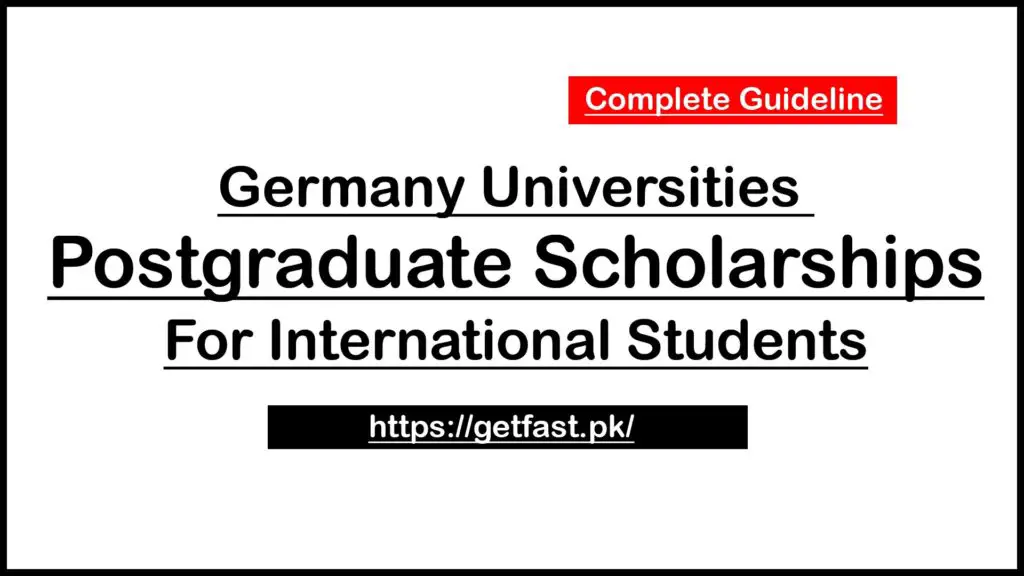 Germany is an excellent place for international students because it has some of the best conditions for getting a degree and experiencing real German life. Germany is a popular place for international students to go to school for several reasons, one of which is that it is cheap for most people.
As an international student, it costs less to live in Germany than in other places outside of Europe where you might study. But if you live in a foreign country and are far from home, you must know how to handle your money perfectly.
It is thought that the cost of living in Germany is about €934 per month. While this might be difficult for overseas students, some organizations provide scholarship opportunities to help defray the costs of higher education. You may find the following list of scholarships for overseas students in Germany helpful.
Scholarship Programs at DAAD
The German Academic Exchange Service (DAAD) is an association of universities in Germany charged with fostering international intellectual exchange. Scholarships and grants are available to international undergraduates, postgraduates, and researchers studying in Germany to promote international academic and scientific collaborations.
Scholarships from the DAAD are given to students who want to study full-time and get a degree. The applicants should have earned their Bachelor's degree within the last six years and worked for at least two years. The DAAD scholarship gives postgraduate students a monthly stipend of 850€ and doctoral students a monthly stipend of 1200€. A wide variety of scholarships and academic programs are available, and you can discover them all in the DAAD database.
Kingston University London Scholarships September 2023 – Complete Guide
DeutschlandStipendium National Scholarship Programme
Students worldwide who are ambitious and do well in school can get money from the Deutschlandstipendium. It provides financial aid to students at any German universities that participate, regardless of the student's or their family's nationality or ability to pay. Students get a monthly stipend of 300 Euros (€150) thanks to a partnership between the government and private sector that sees corporations, charities, and individuals sponsoring one or more students. The universities give out this scholarship, meaning applicants must meet each university's requirements.
The scholarship is given for two semesters, but it may also be suitable for the standard amount of time for school. After two semesters, the university checks to see if the student still meets the criteria for the scholarship. If they do, private funding can continue. As part of this scholarship, there will also be mentoring programs, networking events, and internships.
German Heinrich Boll Foundation Scholarships
About 1,200 scholarships are given out each year by the Heinrich Boll Foundation to ambitious undergraduate, graduate, and doctoral students from all over the world and in all fields. These students should get their degrees at state universities or universities recognized by the state in Germany. Recipients of scholarships are encouraged to excel academically, be politically active, and demonstrate an interest in ideals such as environment, sustainability, democracy, human rights, self-determination, and justice.
Masters students outside the EU will get 850€ per month in addition to their allowances (tuition fees might be possible). EU students at the same level will get 649€ a month plus 300€ for books. It is given for the average length of study, but it can be extended by one semester if needed.
Foreign Ph.D. students will get 1,200 Euros per month in stipends on top of the 100 Euros they receive monthly for mobility and other personal expenses (excluding tuition fees). Ph.D. students from the EU will get $1,350 per month plus a $100 allowance for research costs (excluding tuition fees). The scholarship is given for two years but can be extended twice by a half-year each time.
Konrad-Adenauer-Stiftung Scholarships In Germany
The Konrad-Adenauer-Stiftung Scholarship is for students above average in school and intensely interested in politics. Students from other countries who have finished their undergraduate degrees and are pursuing a doctorate will be given priority in this funding program. Students who want to do a postgraduate, doctoral, or research program can apply for this scholarship. Ph.D. candidates from underdeveloped nations or countries undergoing political transition will be given preference.
Master's and postgraduate students will get 850€ monthly for the next two years. Doctoral students and people coming to Germany to research will get 1,100€ per month for three years. Awarding these scholarships aims to strengthen ties between the recipient's home country and the Federal Republic of Germany by fostering intercultural conversation and international networking.
Germany's Erasmus Scholarship Programs
Erasmus is also brilliant for international students who want to study in Germany full-time. Erasmus is a program that helps pay for overseas students to learn in Germany for a year through a grant paid by all EU member states. It would be best if you enrolled in a college or university to get a scholarship to Germany.
Both your home university and the university in Germany must have signed the Erasmus Charter for Higher Education. The grants will pay for tuition, travel, and basic living expenses. On the Erasmus catalog, you can find the complete list of Erasmus Mundus master courses.
Medical (MBBS) Scholarships 2022-2023
Germany Universities Postgraduate Scholarships For International Students