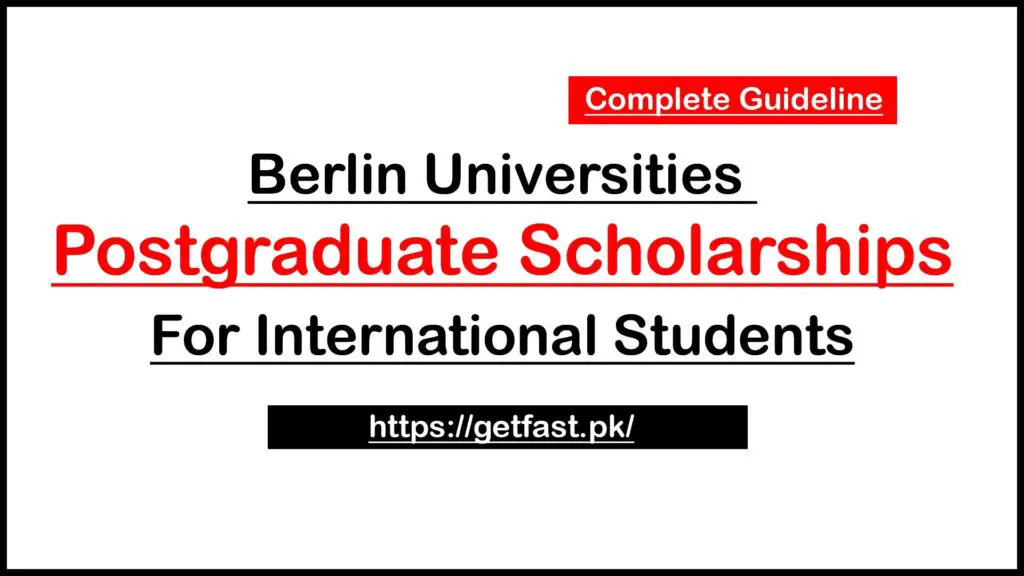 In Germany, international students can enjoy excellent educational opportunities and cultural immersion. The cost of living in Germany is meager, making it an attractive option for international students.
As an international student, you can save money by studying and living in Germany rather than in any other country. However, living far away from family and friends requires excellent money management skills. Here are the list of Berlin universities postgraduate scholarships for international students.
Berlin Scholarship Opportunities For International Students
Scholarship from the Konrad Adenauer Stiftung
The Konrad Adenauer Stiftung (KAS) Scholarship is a highly competitive fellowship program funded by the German political foundation of the same name. The scholarship is intended to help outstanding international students attend an accredited university or technical college in Germany. Full tuition and a monthly stipend will be provided through the scholarship.
Students who are either nearing the end of their undergraduate studies or have already graduated and are interested in pursuing graduate study in Germany are eligible to apply for the KAS Scholarship. The prize is awarded to students who perform academically, show promise as future leaders, and actively work to advance democratic ideals and social equity.
The scholarship will pay for up to two years of graduate school. In addition to financial assistance, KAS scholars can attend foundation-sponsored seminars, workshops, and other activities and connect with KAS alums and subject-matter experts.
DAAD-Rosa Luxemburg Scholarships
The  (DAAD) and the Rosa Luxemburg Foundation provide International Ph.D. in partnership—a scholarship funded by the DAAD-Rosa Luxemburg Foundation. Students outside of Germany who have been accepted to a Ph.D. program at a German university will find this award especially helpful.
A master's degree or its international equivalent and acceptance or enrollment in a Ph.D. program at a German university is fundamentals for consideration for the award. Applicants also require an excellent academic record and a dedication to social justice and political activity.
The Rosa Luxemburg Foundation is a German political organization that backs social and political movements toward greater social justice and equality. The German Academic Exchange Service provides financial aid to international students, scholars, and researchers so that they may come to Germany to pursue higher education and research opportunities.
German Universities Postgraduate Scholarships For International Students
Awarding DAAD-EPOS Scholarships
The scholarship lets the student take classes at the Hochschule für Technik und Wirtschaft Berlin – HTW Berlin at the Master's level in international development studies and economics. The scholarship application period will close on August 31, 2023.
The HTW, Berlin's largest university of applied sciences, offers a Master's degree program in "International and Development Economics" (MIDE) that can be completed in 18 months of full-time study. Students from emerging and transitioning nations, as well as those from Germany and other developed countries interested in the economic challenges faced by so-called "third world" countries, are the target audience for this program. The program aims to prepare students for careers related to international trade and economic growth.
Students having an undergraduate degree in economics, business administration, or another social science with an economics emphasis are the target audience for the Master of Arts in International and Development Economics program.
The DAAD helps educate professionals from developing and recently industrialized countries via its development-focused postgraduate programs. Scholarships are provided to international graduates with at least two years of work experience from emerging and newly industrialized nations.
DIW Berlin FULLY FUNDED Ph.D. Scholarship
DIW Berlin is offering a fully funded doctoral fellowship in Berlin, Germany, beginning in 2023. The funding can be used for any doctoral degree program offered by the German Institute for Economic Research in Economics and Business. As of February 12, 2023, the scholarship application deadline has passed.
They are attending the DIW Berlin Ph.D. The scholarship program is free and lasts for five years. Graduate students who desire to advance their research in a dynamic city like Berlin should use this opportunity. The German Institute for Economic Research is regarded as one of the world's outstanding economics think tanks. It's one of the best places to get a Ph.D. at a reasonable price in Berlin. Through its partnerships with other Berlin universities, the DIW GC provides its students access to a diverse and vibrant academic environment.
Fully-funded DAAD Scholarships for Economic Sciences – Business Administration