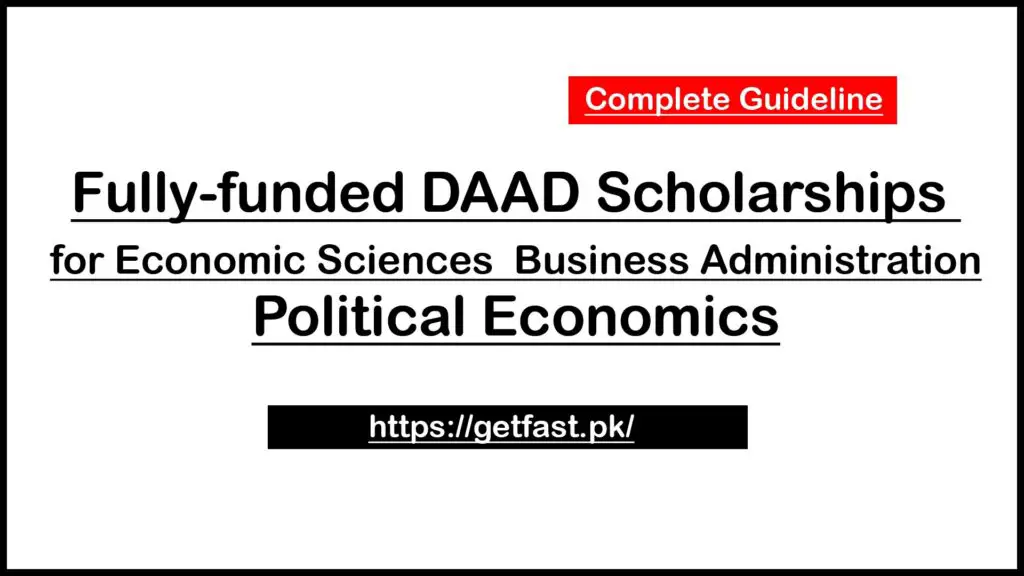 The German Academic Exchange Service (DAAD) scholarships provide foreign graduates from developing and newly industrialized countries with the opportunity to pursue a Master's degree at a state-recognized German university and, in exceptional circumstances, to pursue a doctoral degree and to obtain a university qualification (Master's/Ph.D.) in Germany. Graduates can come from any field of study and must have at least two years of professional experience to be eligible for this scholarship.
Duration of the Scholarship:
Unless funded by the home nation or another financial source, the scholarships offer a monthly stipend of 861 euros for graduates and 1,200 euros for doctoral candidates as well as payments towards health, accident, and personal liability insurance cover and a travel allowance.
For Master's degrees, the scholarship lasts between 12 and 24 months (depending on the specific institution), while it lasts 42 months for doctoral degrees.
Eligibility:
The average recipient of a scholarship:
Is actively employed in a developing nation, either by a public authority, a state, or private enterprise, and as such, is involved in the design and execution of directives and projects with an emphasis on development policies influencing technological, economic, or social areas;
Has earned a Bachelor's degree (which typically takes four years to complete) in a field that is relevant to the position.
At the time of application, has a minimum of two years of relevant professional experience following the first degree (Bachelor's) and has successfully finished an academic degree with results that are significantly better than average (upper third);
In most cases, their academic degrees should be under six years old.
For study courses taught in German (scholarship includes a 6-month German language course), complete either the language examination before the beginning of the study course. Because of this, having a minimum proficiency in German of B1 at the time of application is a prerequisite, and verification of this proficiency must be shown in the form of a certificate.
A demonstration of sufficient proficiency in the English language by the prerequisites outlined for the specific English classes
Kingston University London Scholarships September 2023 – Complete Guide
Scholarships Offered by the DAAD Advantages
Depending on the level of education being pursued, monthly benefits range from 861 euros for graduates to 1,200 euros for doctoral candidates
Contributions to the cost of insurance for medical care, accidents, and personal liability.
Scholarship recipients may be eligible for the additional advantages listed below, depending on the specifics of their situation:
Rent assistance every month
A stipend is paid every month to family members who accompany the traveler
Who Exactly Is Eligible To Apply?
Excellently qualified graduates who will have earned their first degree (Bachelor, Diploma, or another academic degree of equal standing) in Economics and Business Administration by the time they start their scholarship-supported study program at the latest.
Necessary Paperwork for the DAAD Scholarship
You'll find the DAAD application form in the "Application Process" section of the website.
A hand-signed letter of motivation (with a maximum of two pages) that refers to the applicant's current job.
One or more letters of recommendation from faculty (the letters must have a letterhead, a signature, and an official stamp and must be of recent date)
A statement from your employer in your home country confirming that you are currently working for them and, if at all feasible, an assurance that you will continue to work for them.
Demonstrable evidence of language skills:

Tests of English Proficiency: TOEFL or IELTS (Note: We only accept an academic TOEFL)

German is required for the classes taught in German and for the lessons taught in English if those classes are offered.
Instructions For Applying:
The application process must be handled directly through the relevant program. For information regarding the application process, the application deadline, and the documents that need to be submitted, please go to the websites of the relevant courses—the deadline shifts based on the class, often between August and October 2023.