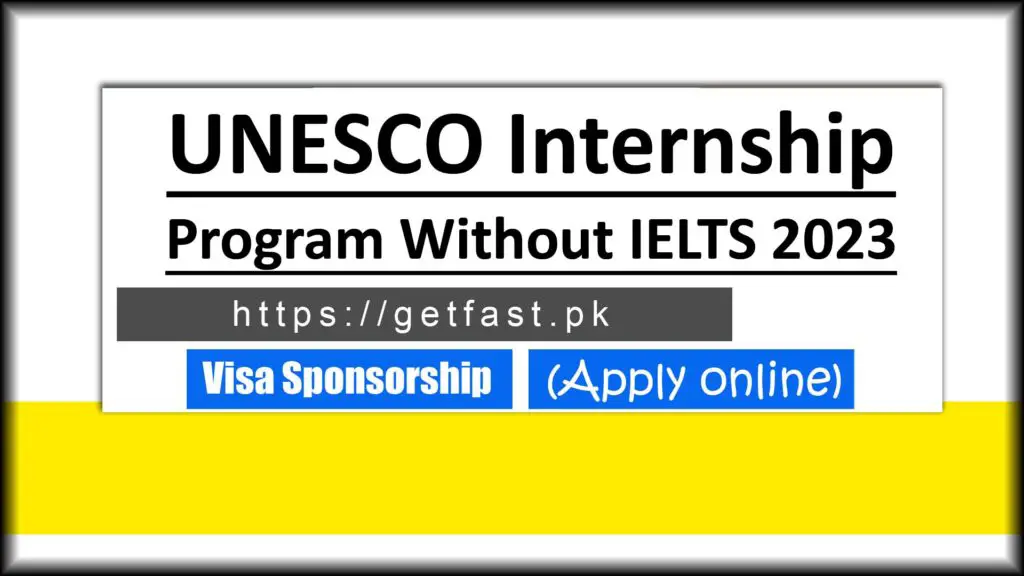 The UNESCO Internship Program 2023 without IELTS: UNESCO Internship Program aims at training and facilitating talented, ambitious, and active students (especially recent graduates) about UNESCO's mandate, program, projects, work, and processes to enhance their practical knowledge about UNESCO's purposes and aims through various tasks, projects assignments, and internships. Other United Nations institutions like UNICEF, WHO, and UNDP also offer various popular internship programs. The UNESCO Internship 2023 without IELTS is open to all students of all nationalities around all over the world. The UNESCO internship and Volunteer opportunity is a prominent feature of UNESCO Careers
UNESCO Internship would be a jewel in the crown feature of your resume/CV. It is a golden opportunity to learn in a diverse and multicultural environment. You will come across the destitute populations of the world living below the poverty line and which help do they need from the individuals of the developed world (something you only read in theory). Let's get to know more about the UNESCO Internship Program without IELTS 2023.
Details of UNESCO Internship Program 2023 without IELTS:
Internship title: UNESCO Internship Program 2023.
IELTS needed: No.
Academic Programs Eligible: Every Academic background is welcome.
Eligible nationality: Every nationality.
Internship duration: six months.
Internship type: Unpaid.
Internship Location: Multiple countries.
Deadline: Multiple.
Minimum age: 18 years.
Medical Insurance: 30,000 USD.
Accommodation provided: No.
Visa expenses covered: No.
Travel expenses covered: No.
Who is eligible for UNESCO Internship Program 2023 without IELTS?
You must be 20 years of age or older.
Those who are enrolled in Bachelors's or Undergraduate Program.
Those students who are enrolled in or have applied for the Master / Graduate programs.Master's degree, or equivalent, second university degree or higher).
Ph.D. students and Post Doctorate students.
You have recently graduated with a Master's degree, second degree, or PHD 12 months prior to the start of the internship.
Those who have done a Bachelor's degree or have completed their full-time university studies but are not enrolled in a Master's degree program are not eligible to apply.
Candidates/ Applicants must be fluent in English/ French Language communication. . Any language other than English or French is an asset and may be required in a working capacity for internships in secretarial and assistantship roles at the Headquarters.
If you have applied for any secretarial/assistant or technical/professional assignment, you must be enrolled in a secretarial school or in a specialized technical/professional institution. Moreover, applicants must have reached the last year of their studies or have recently graduated within the last 12 months.
Skills Requirements for UNESCO Internship Program 2023:
Participants must possess the following skills:
Excellent knowledge of computer skills, Microsoft Office, and other Office-related software
Participants must have teamwork spirit and all the essential capabilities of a team player.
You should be tolerant and accepting towards all kinds of differences, as you will work in an international team environment.
You must have excellent communication skills.
Fully Funded DAAD Scholarships Application Deadlines 2023
Documents needed for UNESCO Internship Program 2023 without IELTS:
ID.
Diploma/ Degree.
Certificate of Enrollment.
Visa/ Passport.
Travel Documents.
Medical certificates should be issued by a qualified medical practitioner.
Motivation letter and résumé.
Any confidential medical records like X-ray reports, etc, shouldn't be shared.
Points to be remembered/ What this internship covers?
Before applying for UNESCO Internship Program 2023, you must remember the following:
You will not be provided financial benefits/ coverage for visa and travel.
The minimum duration of an internship is one month, and the maximum duration is six months. 
This internship does not arrange for your visa; you have to arrange for the visa on your own.
You have to arrange and finance your travel to the location on your own.
You only have one hour to finish the application process.
You can only use either English or French in applying.
The contact details you give (phone number/ email, etc) should be valid for the past six months.
Interns are entitled to 2.5 days of leave per month only during their internship.
Interns have to provide unofficial French or English translations of their documents if they are not in these languages.
No compensation, financial or otherwise for internship assignments i.e. internship isn't paid.
Even if you are eligible, there is no guarantee of your placement because the applications received are more than those that could be placed.
Each application stays in UNESCO'S internship portal for a period of six months, from where it is further accessed by the manager.
If you don't receive any response/ notification mail within six months of sending the application, it means your application isn't successful.
P&H Farming Jobs in Canada with visa sponsorship 2023 – Apply Online
How to apply for UNESCO Internship Program 2023 without IELTS:
All applicants will have to apply online directly on the UNESCO website. You have to submit an online application form and upload the required documents Your application will be further accessed by UNESCO managers based in different countries around the world. Only selected candidates will receive a notification email about their selection. The Link to the Official Website of the UNESCO Internship 2023 Program is given below.