UI/ UX Designer/ Developer Jobs in USA with Visa Sponsorship: For Software Developers, The sky is the limit! Especially, for the countries that are known as " hubs of technology" like Japan, China, and USA. This post is a million dollars post (not because it promises you million dollars!) because it has come to offer you the golden chance to settle in the USA with H1B Visa Sponsorship and Green Card Processing! Pegasys is a professional IT Services Company providing CRM Services, eCommerce Solutions, Internet Marketing, SEO/SEM, Customized Software Development, and Staff Augmentation Solutions to business organizations worldwide. Another great characteristic of the company is its inclusive nature i.e. it invites talent from all around the world. In 2023, the company announced vacancies for all sorts of Software Developers like Java Developers, UI/UX Developers, Net Developers, Salesforce Developers, iOS Developers, etc. In the previous post, we discussed job opportunities for iOS Developer Jobs by Pegasys; In this post, we will talk about UI/ UX Designer/ Developer Jobs. Read on below to find more about UI/ UX Designer/ Developer Jobs in USA with Visa Sponsorship 2023: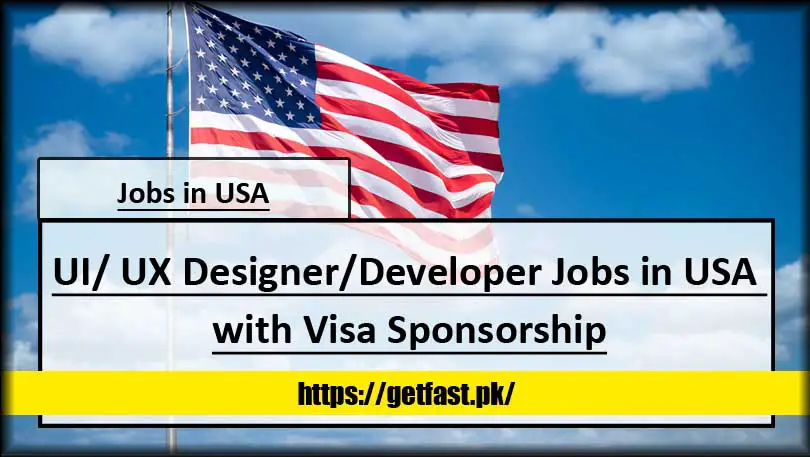 Details of UI/ UX Designer/ Developer Jobs in USA with Visa Sponsorship:
Job Title: UI/ UX Designer/ Developer
Job Region: Northville, USA
Visa Sponsorship: Yes
Accommodation Assistance: Yes
Knowledge required: Any Degree
Experience required: Yes
Expected Salary: Depends upon your experience and Project
Related: Java Developer Jobs in USA with Visa Sponsorship 2023
Requirements of UI/ UX Designer/ Developer Jobs in USA with Visa Sponsorship:
Any Degree background can apply, but you should have the relevant UI/ UX Developer Course Certification.
You should be entitled legally to work in the USA.
You should be a minimum of 18 years of age.
You have to go through police vetting.
You should have a valid passport.
Minimum of 2 years of UI/UX design experience for digital products or services.
Proven work portfolio of professional UI/UX design work for both web and mobile platforms.
Sound knowledge of the following technologies and software: Sketch, InVision, Visio, HTML, CSS (SCSS), iOS, Android, Design Systems, and Adobe Creative Suite.
Excellent verbal and written communication.
Good time-management skills.
Strong Creative and Technical Skills.
Benefits of UI/UX Designer/ Developer Jobs in USA with Visa Sponsorship:
Competitive Salary.
TN (For Canadian & Mexico Citizens), and E3 (For Australian Citizens) & also do Green Card Processing for eligibles from other nationalities.
Accommodation Support.
Amazing long-term opportunities for career advancement.
Opportunities for other Software Developing Careers.
Collecting work experience with Pegasys would be an asset for your future jobs.
According to EEO Guidelines, your information would be kept confidential.
Job description of a UI/ UX Designer/ Developer Job:
Like Front End Developers, they create the interface of an app or website and make it aesthetically appealing.
Designing UI elements and tools such as navigation menus, search boxes, tabs, and widgets.
Using wireframes, visual and graphic designs, flow diagrams, storyboards, site maps, and prototypes for testing UI Elements.
Collaborating with software engineers, product managers, and marketing teams to deliver a consumer-focused experience.
Adhering to the style and graphic design standards as set by the company.
Related: Lead Educator Jobs in Australia with Visa Sponsorship (Apply Online)
How to Apply for UI/ UX Designer Jobs in USA with Visa Sponsorship:
Before going to online job search portals to find UI/ UX Developer Jobs in USA 2023 Visa Sponsorship Jobs and reaching potential employers, you should try to make and upgrade your CV according to the latest job market trends. Then, you are expected to follow the following steps:
Make your account on Indeed or any other job search portal in case you don't have one.
After providing the information asked for, you will be sent a verification email in your mailbox.
If you can't find the mail in your mailbox, find it in spam or bin folders.
Tap it to activate your account.
Type "UI/ UX Designer Jobs with Visa Sponsorship", "UI/UX Developer Jobs with Visa Sponsorship", "Software Developer Jobs with Visa Sponsorship"
Select all USA in the location bar right beneath the Search Bar.
Click on your desired job role and provide the CV and all the necessary information asked.
Keep checking the mail for the response.