The 11th generation 2023 Toyota Corolla in Pakistan features an updated and contemporary external design, as well as a roomier interior. The current generation went into production in 2013, with subsequent updates occurring in 2017 and 2023. There are now six different 11th-generation Toyota Corolla models.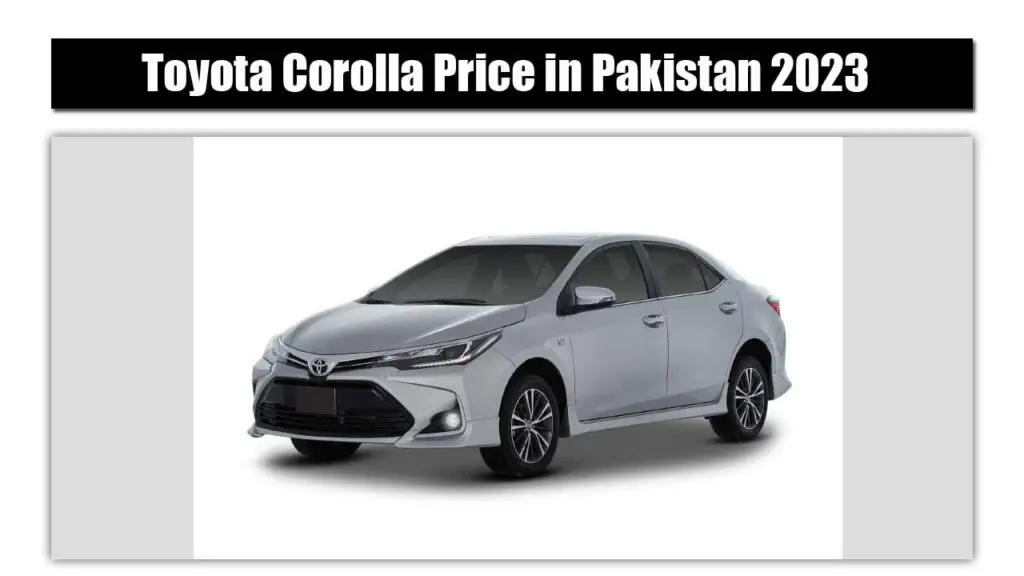 Price of Toyota Corolla in Pakistan in 2023 24 September, 2023
Starting at PKR 6,169,000 for the entry-level Altis X Manual 1.6, the Toyota Corolla 2023 in Pakistan can be had for as much as PKR 7,799,000 for the top-of-the-line Altis Grande X CVT-i 1.8 with a black interior. These costs reflect the base price of the vehicle, or "ex-factory," and do not include destination or other fees.
The exterior of a Toyota Corolla
The appearance of the 11th generation Toyota Corolla is updated to look sophisticated and classy. It has narrow, side-swept headlights, a wide grille with chrome accents, and a trapezoid-shaped air inlet at the front.
Sharp and stylish
Sharp and stylish side-swept taillights, a large rear bumper, and chrome trim that runs along the trunk distinguish the vehicle's rear end. The X Package Emblem on the back of the Altis 1.8L CVTi makes it easy to spot.
The 11th-generation Toyota Corolla's distinctive design language helps it stand out from the crowd, even though its various trim levels share a similar look. Sunroofs are available on both the Special Edition and X Package models; the latter also adds a moonroof and fog lights.
Interior of a Toyota Corolla
Black and beige plastic trim pieces are standard in the 11th-generation Toyota Corolla's cabin, with an all-black option available in the Corolla Altis Grande.
The front and back seats of the Altis 1.8L CVTi are upholstered in ivory cloth, whereas in the Altis Grande, leather is used everywhere. Air conditioning, an information system, power steering, an Eco meter, and a tachometer are all included on the base model.
Satellite navigation, multi-function steering wheel controls, cruise control, front and back cameras, paddle shifters, hill start aid, and traction control are just some of the advanced equipment standards on higher trim levels.
Related: Toyota Land Cruiser Latest Price in Pakistan 2023
Leather Seats
Leather seats, a light in the glove box, and a USB port in the back are other nice touches. The inside of the 11th-generation Toyota Corolla is roomy, functional, and luxurious. The back seats may be folded down to expand cargo capacity.
Airbags
Two airbags protect the front passengers, and a seatbelt reminder helps keep everyone safe. The push-button start/stop feature is convenient and contemporary, and the auto-dimming rearview mirror aids visibility when driving at night.