English Language Teacher Jobs in Saudi Arabia with Paid Work Visa, Free Accommodation, and Annual Air Tickets: In preparation for opening our new center, ESL Cafe is looking for 2 energetic, native teachers who can deliver interactive, fun, and dynamic classes to students at every level, and consistently inspire, motivate and support students to reach their personal learning objectives. Provisional Start: During Q1 2024 City: Riyadh
Applicant must be between 23 to 39 years old and should have a minimum 1 year of experience. Native Speakers are preferred, but non-native Western Trained Speakers will be preferred. Let's get to know more about other job details like Job/Visa requirements, Job Duties, and Benefits of English Language Teacher Jobs in Saudi Arabia with Paid Work Visa, Free Accommodation, and Annual Air Tickets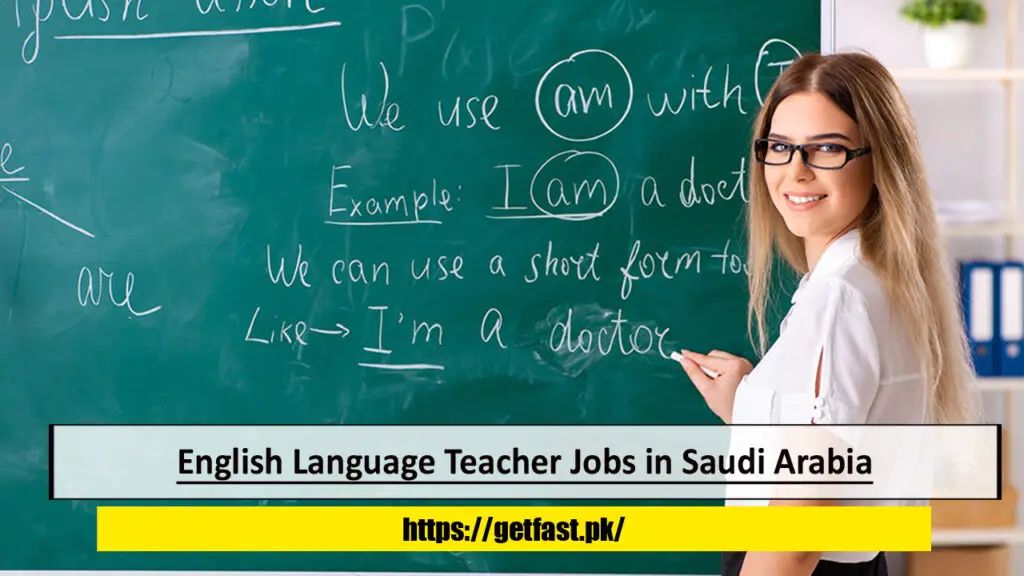 Details of English Language Teacher Jobs in Saudi Arabia with Paid Work Visa
| | |
| --- | --- |
| Job Country | Saudi Arabia |
| Industry | Education |
| Job Type | English Teachers |
| Minimum Experience Required | 1-3 years |
| Education Required | Basic English |
| Any Age Limit | Minimum Bachelor's degree |
| Visa | Sponsorship |
| Relocation | Yes |
| Accommodation | Yes |
| Employment Term | Full-Time and Permanent |
| Salary Hourly | USD 3200-3500 |
Related: Sushi Chef Jobs in UAE with Free Flight and Visa
Requirements of English Language Teacher Jobs in Saudi Arabia with Paid Work Visa, Free Accommodation, and Annual Air Tickets
Native speaker of English (Only American, British, Australian, and Canadian nationals for visa purposes)
– University degree (Preferable to be in English)
– CELTA or equivalent certificate in TEFL
– Energetic Teachers in the classroom
Nice to have:
– Adaptability and willingness to work with different cultures and values
– Desire to grow within the company and a strong interest in working globally
– Readiness to learn and develop professionally.
Competencies Essential For Success In The Role:
– Interpersonal Skills
– Patient, responsible and empathetic
– Passionate about teaching English and changing Students' futures
Experience & Background:
– Teaching experience (minimum 1 year)
– Professional attitude and well presented
Key Result Areas/Critical Success Factors:
The successful candidate will be able to:
– Motivate Students who are behind their learning goals to commit and recuperate
– Build consistent study habits through correct advice and mentoring for Students
– Show flexibility by working shifts that suit Student needs
Job Duties of an English Language Teacher:
Designing English lessons that align with the school curriculum and delivering them in an engaging and creative way to students, so every student can learn at his own pace.
Providing students with feedback on their progress and areas for improvement, also helping them with that.
Using a variety of teaching strategies and techniques to support student learning, including the use of technology, class activities (individual and group), giving lecture handouts, extra coaching time, suggesting easy learning websites, sharing learning videos, giving practice workbooks, etc.
Collaborating with other teachers and staff to ensure a comprehensive learning experience for students that each one can pick in his/ her own way.
Maintaining accurate records of student attendance, grades, and progress
Participating in school events and activities as required.
Conducting special Spoken English, English Grammar, and Literature crash courses/ sessions to make students master every area.
Benefits of English Language Teacher Jobs in Saudi Arabia
Monthly Salary 3200-3500 USD (Tax-Free)
Quarterly Bonus upon Reaching Service KPIs
End-of-Service Benefits (as per Saudi Labor Law)
Medical Insurance: Fully Covered
Annual Air Ticket: 1 Annual, Round Ticket to home country (applicable to only WSE sponsored employees) for each completed year of service 1 Ticket for the first arrival + 1 Ticket to return to home country by the end of the contract
Vacation: 30-day Paid vacation + around 15 days paid national holidays
Visa Fees: Visa fees are reimbursed after arrival and work Permit/iqama expenses are Covered
Exit-Re-Entry Visa: Covered (Once Annually)
Support: airport picks up, transfer to temporary hotel, orientation, assistance with opening a local bank account and support in finding an apartment, 7-day covered accommodation upon arrival, health insurance, visa support, Native speaking managers, etc.
Contract Duration: 1-year Academic contract (Renewable contract)
Career Path: Ongoing training and professional support and Development
Career Path and opportunities to grow to higher positions (Teacher Trainer, Service Manager). Opportunities to travel to other WSE centers across the Kingdom to exchange experience and to attend training (Expenses are covered)
WSE Environment: A Very Positive and Friendly Working Environment
Who can Apply for English Language Teacher Jobs in Saudi Arabia
Native English Speakers will be preferred for this role. However, Western Trained Candidates i.e. Cambridge, IB Trained Candidates from all nationalities can apply.
Related: Taxi Driver (Uber and Bolt) Jobs in Poland with Visa Sponsorship
How to Apply for English Language Teacher Jobs in Saudi Arabia
Click on the link below to apply directly on the job advert site
English Language Teacher Jobs in Saudi Arabia with Paid Work Visa, Free Accommodation, and Annual Air Tickets- Apply Now