Delivery Driver Jobs in Canada (LMIA Approved): Choice Truckload based in Edmonton, Canada is looking for a Full-Time Truck Driver for Goods Delivery. Candidate should be self-motivated with good interpersonal skills. The job is permanent and full-time and is LMIA Approved. You will get CAD 20.9 per hour for 40 hours a week. This job has multiple hirings i.e. 3 vacancies at a time. The candidate should be physically fit, should be very punctual, and should be willing to do overtime when required. Let's talk more about Delivery Driver Jobs in Canada (LMIA Approved).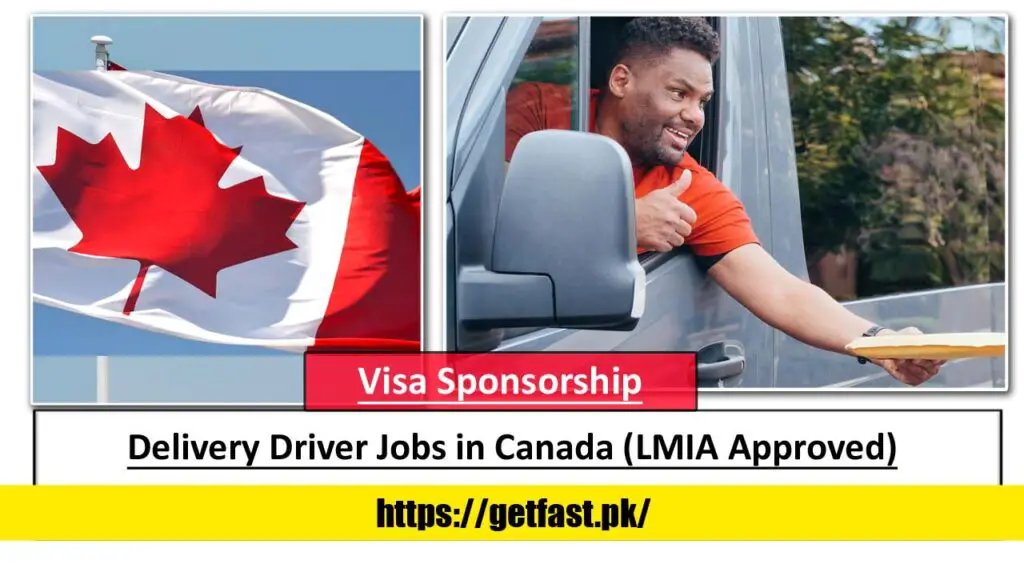 Details of Delivery Driver Jobs in Canada (LMIA Approved)
| | |
| --- | --- |
| Job Country | Canada |
| Industry | Logistics/ Transport |
| Job Type | Driver Job (Full-Time and On-Contract) |
| Minimum Experience Required | No |
| Education Required | Basic English |
| Any Age Limit | No |
| Visa | Sponsorship |
| Relocation | Yes |
| Accommodation | No, but accommodation assistance will be provided |
| Salary Per hour |  $20.9 per hour |
Requirements of Delivery Driver Jobs in Canada (LMIA Approved)
No education requirements
Minimum IELTS with a score 5.
Candidate must lift 30 lbs minimum
Experience is not required as training will be given to the suitable candidate.
Candidate should be well-organized and client-focused.
Must be well-versed with Google Maps, and other navigation, and trip-planning tools.
Candidate should meet general LMIA requirements as described Here
Related: Seasonal Housekeeper Jobs in UK with Visa Sponsorship (Free Accommodation)
Who can apply for Delivery Drivers Jobs in Canada (LMIA Approved)
People apply from India, Nigeria, Philippines, Pakistan, Kenya, Cameroon, Ghana, Nigeria, Canada UAE (United Arab Emirates), Trinidad & Tobago, South Africa, Saudi Arabia, and Mexico. You can be from any nationality.
Benefits of Delivery Driver Jobs in Canada (LMIA Approved)
Competitive Salary
Visa Sponsorship
Accommodation Assistance
Job Description of a Delivery Driver:
Actively guide the safe execution of work to develop a safe working environment and demonstrate that safety is a fundamental priority in the organization.
Transport a wide range of products
Conduct safety and preventative maintenance checks, as well as inspections of vehicles for mechanical components and potential hazards.
Drive trucks into loading or unloading positions using appropriate maneuvering techniques.
Report faults, accidents, or violations.
Be sure to record all work and rest intervals, as well as mileage.
Keep all your paperwork, including bills of lading, proofs of delivery, and receipts for gasoline and tolls.
Comply with the company's policies and procedures and any rules and regulations about operating a truck, including those about size, weight, route designations, parking, and breaks.
Must pay and receive goods' payment.
The candidate would be required to drive both light and heavy vehicles.
Keep track of fuel costs.
Related: Seasonal Warehouse Worker/ Operative Jobs in UK with Visa Sponsorship
How to Apply for Delivery Driver Jobs in Canada (LMIA Approved)
If you are interested, apply through the email address given below