Austria Scholarships 2023 Without IELTS:  Everyone wants to be lucky enough to study in a country with a cutting-edge educational system, matchless natural beauty, and all the educational benefits one could dream of. While students from the European Union and the European Economic Area enjoy full off on tuition fees, the students outside the EU and EEA enjoy world-class education at very affordable rates. In spite of the low cost of education in Austria, you can still find ways to save money due to the affordable still high standard of living there. International students can enroll in the top universities in Austria, which are frequently ranked among the best in the world. While most of the study programs in Austria are in German.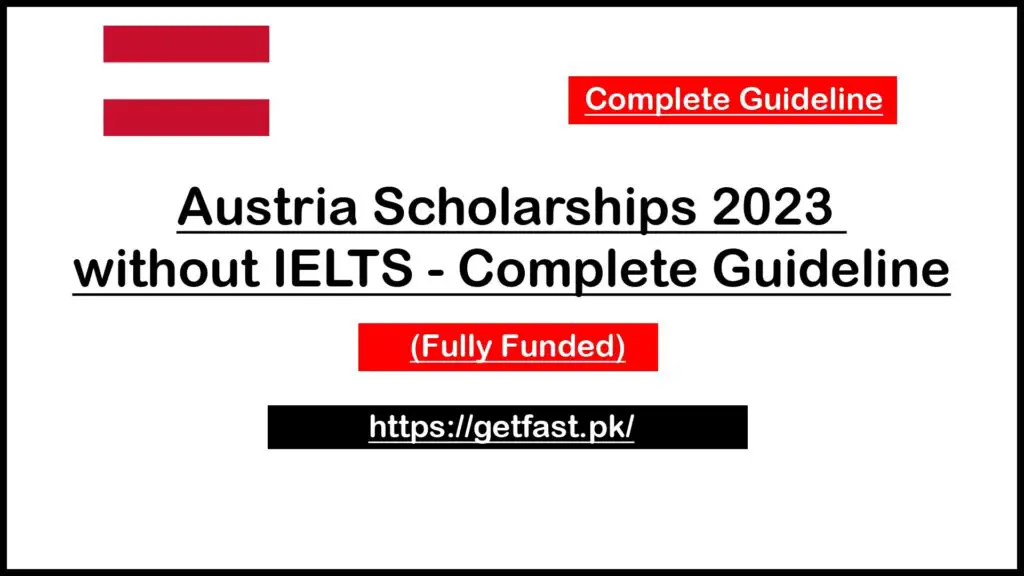 Austria Scholarships 2023 without IELTS Details:
If you want to take advantage of Austria's golden academia, This is the time to apply for one of the numerous fully-funded scholarship opportunities at leading educational institutions across the whole country. These awards are funded and powered by both government and non-government organizations. The funds/ financial grants you receive will allow you to focus on your studies with no fuss about tuition fees, accommodation, living costs, and other expenses. Let's dig deeper to know more details:
Scholarship Country: Austria
Institutes Offering: Various
Type: Fully Paid
Available degree programs: Various.
Deadline: Varies from one scholarship to another
Degree Level: Short Courses/Bachelor's/Master's/Ph.D.
Austria Scholarships 2023 without IELTS Benefits/ Awards:
Living expenses are covered.
Medical expenses are covered.
Payment of tuition fee and all other educational expenses (like study material, research allowances, etc).
Travel expenses are covered.
Food expenses are covered (in transit only).
The research fee would be reimbursed.
Austrian Universities offering scholarships without IELTS:
Vienna University.
Johannesse Keppler University.
Technical University Graz.
The University of Salzburg.
Modul University, Vienna
University of Innsbruck.
University of Applied Sciences Technikum Wien.
Institute of Science and Technology Austria
Vienna University of Economics and Business.
UNESCO Internship Program Without IELTS 2023
List of Austrian Scholarships without IELTS 2023:
1. Austrian Government Scholarships.
Deadline: From 1st March to 1st September 2023.
Eligible nationalities: All nationalities
Course Level: Undergraduate, Masters, PhD.
Eligibility criteria: 1. Must have completed 12 years of education in undergraduate programs.
2. Must have completed 16 years of education for graduate programs.
Must have a Master's degree for Ph.D. programs.
Must not be an Austrian citizen or hold dual Austrian nationality.
Must be less than 35 years old for Bachelor's and Master's programs.
Must be less than 40 years of age for PhD programs.
These partial/ fully-funded Scholarships are offered by the Federal Ministry of Education, Science, and Research (BMBWF). The expenses and benefits depend upon the course you choose and the scholarship you qualify for. However, some common benefits are Monthly Scholarship installments, Travel Allowance, Accommodation, and Medical Insurance. It is possible to qualify for these scholarships offered by the Foundation of the Republic of Austria for Undergraduate, Graduate, and Doctorate study programs and study without IELTS.
Fully Funded DAAD Scholarships Application Deadlines 2023
2. Institute of Science and Technology Austria Scholarships.
IST Austria accepts scholarship applications once a year for their PhD programs. Applicants who have only done their Bachelor's can also apply directly. Scholarships are available for the disciplines of Biology/ Life Sciences, Computer Sciences, Mathematics, Neurosciences, and Physics.
The benefits you receive include a Full tuition fee, Medical allowance, subsidized On-Campus Accommodation, Monthly Stipend, and No IELTS requirement.
3. Austrian Development Corporation Scholarship.
Deadline: 31st March 2023.
Eligible nationalities: All nationalities.
Offered Programs: Undergraduate- Doctorate.
Available study fields: Hospitality management, Tourism management.
Scholarships available: ADC priority countries scholarship program, Developing countries scholarship program.
Austrian Development Corporation Scholarship offers many partially-funded and fully-funded scholarships at the Undergraduate, Graduate, and PHD levels. This program offers splendid benefits like full tuition fee coverage, accommodation, monthly stipend, airfare, medical insurance, food allowance, excursion money, No IELTS requirement, etc.
Documents needed for Fully-funded Austrian Scholarships without IELTS:
The following documents are necessary to apply for Fully-funded Austrian Scholarships 2023 without IELTS: All documents should be written in English.
Academic record/ Degrees.
CV/ Resume.
Valid transcript of educational documents.
Three Recommendation Letters from Professor.
Austria Scholarships 2023 without IELTS – Complete Guideline