Australian Companies Willing to Sponsor Visa in 2024: Australia is in desperate need of foreign workers. The number of occupations with workers in short supply jumped to 332 in 2023 from 286 in 2022, according to JSA's annual skills priority list. The figures mean that 36 percent of occupations experienced worker shortages over the past year, up from 31 percent in 2022 and 19 percent in 2021.
Technicians and Trade Workers, and Professional occupations (health, engineering, information communication technology (ICT), and science roles) have the highest shortages, particularly in regional and remote areas.
However, we should remember that this chronic skill shortage is not only limited to Skilled professions or the professions listed above; there are various other unskilled and semiskilled job roles that are in need of workers like Food and Beverage Staff, CSRs, Admin Staff, etc. There are a hundred reasons why migrate to Australia. In this post, we will list all those reasons along with Requirements to work for Australian Companies, Experience and Qualifications requirements, Benefits of living there, and last but foremost, Names of the Australian Companies Willing to Sponsor a Work Visa in 2024 and direct links to apply for the jobs available therein. Let's get started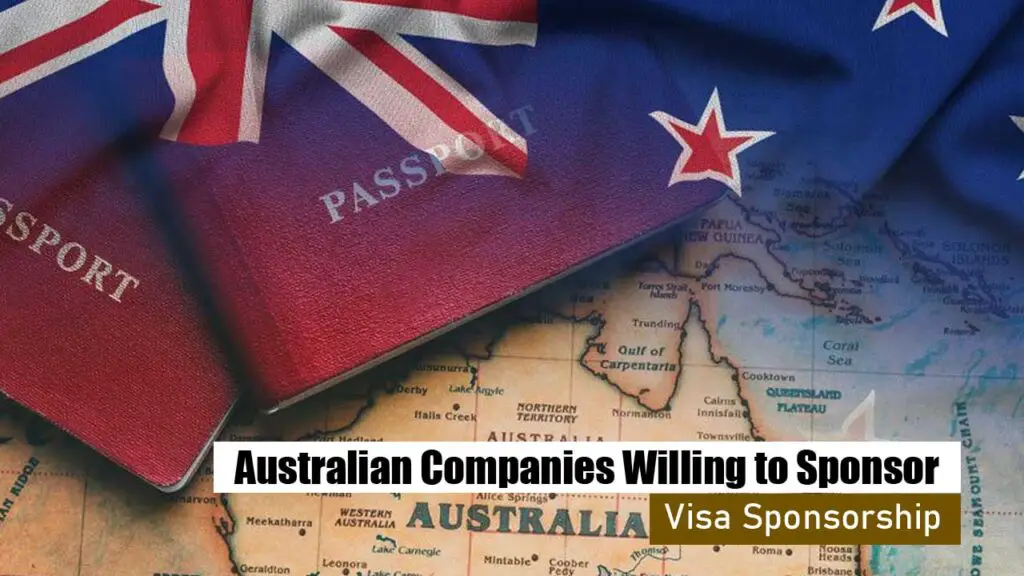 Requirements of Australian Companies Willing to Sponsor Visa in 2024
Australia Work Visa Requirements:
There are ten types of work Visas and various immigration routes to Australia. While specific requirements may vary a bit, general and core requirements for every type of work permit are listed below
Have the skills necessary for the job (skills assessment will be required, with some exemptions).
Be on the relevant list of eligible skilled occupations
be nominated by an Australian employer.
Meet Health and Character requirements.
Have at least Basic English Competency
Have at least three years of relevant work experience.
Be under 45 years of age (with some exemptions).
Is Everyone Eligible for an Australian Work Permit/ To Join Australian Companies Willing to Sponsor Visa?
Work visas exist for the following professions:
skilled workers
people participating in specific activities
highly specialized workers
trainees, short-term
experienced businesspeople
investors
How Many Types of Work Visas Are There for Australia and Which One is the Best?
Employer Nomination Scheme or ENS Visa
Regional Sponsored Migration Scheme (RSMS) visa
Skilled Independent Visa
Skilled Nominated Visa
Temporary Skilled Shortage Visa
Skilled Regional Provisional Visa
Temporary Work (Short Stay Specialist) visa
Temporary Work (International Relations) visa 
Distinguished Talent Visa
Business Talent Permanent Visa
What is the Average Minimum Salary in Australia?
The average annual salary in Australia is $68,900 and $35.30 per hour. It is just the average salary for basic workers but skilled and experienced workers also earn around $108,980 annually. The average salary also varies depending on the field of work and the job role of workers.
Why Work in Australia – Benefits of Joining Australian Companies Willing to Sponsor a Visa
With a strong economy, high standard of living, excellent work-life balance, opportunities for skilled migrants, a multicultural society, education and training opportunities, and entrepreneurship opportunities, Australia offers a range of benefits for professionals from around the world. Below are some of the reasons to never waste this life changing opportunity of joining Australian Companies Willing to Sponsor a Visa in 2024
Have a Great Earning Experience
Even though the cost of living in Australia is high, higher than even the United Kingdom, Ireland, and the United States, the pay is even higher. Australia has one of the highest average wages in the world. You could easily make a lot of money, often more than double your current salary. Some job sectors pay even more. Various resources have validated that a one-week wage here is equivalent to one month in the UK or the US. Even with the higher living costs, you could earn well and balance accordingly while saving yet a lot. Many people find this a pretty compelling reason to work in Australia.
Ample Job opportunities Waiting for you
As per a survey conducted in February 2021, the unemployment rate in Australia is incredibly low, that is, 5.8%. This reason is another aspect of why working in this nation is a safe and secure idea. While in other countries there are job shortages, Australia has a skilled worker shortage. Thus, there are more job openings for ex-pats or freshers who are suitably skilled in one field of expertise. This provides many opportunities for working vacationers to find well-paying jobs!
Grab some Excellent Health Benefits
The country is well-known for its world-class healthcare system, Medicare, which offers free medical care in public hospitals and lower prescription drug costs to Australian citizens. Certain visitors may also be eligible for Medicare, depending on their circumstances. There is also a private healthcare system, and you may be required to obtain private health insurance before arriving as a working holidaymaker.
The work environment is one you have always craved for
Aside from the pay and job opportunities, the pleasant working environment is a significant advantage of working here. It is both flexible and supportive for an individual. Australia, in general, provides an excellent work-life balance. The majority of the jobs are standard 9-5 jobs with excellent benefits. You also get most of the weekends all by yourself.
Australian Companies Willing to Sponsor a Work Visa in 2024
Air Tasker
Airtasker is Australia's no. 1 marketplace for local services, creating more than $1b in income for the Australian community members. With more than $1 billion in job opportunities since we began: creating jobs and income isn't just a by-product of the work they do, it's our core purpose.
They're a proudly Australian company headquartered in Sydney and employing more than 150 full-time employees. The company not only performs outsourcing duties to the Australian residents but also offers Visa Sponsorship and PR support for foreign candidates because they don't care where do you come from. Air Tasker has many job roles to offer foreigners with Visa Sponsorship like:
Cleaning Jobs
Delivery Driver Jobs
Data Entry Jobs
IT and Tech Jobs
Assembly Jobs
Bookkeeping Jobs
Driving Jobs
Agri Labor Australia
Agri Labour Australia provides specialist recruitment and workforce optimization solutions exclusively for the agriculture industry. Our family-owned award-winning business is one of the only recruitment firms in Australia with a singular focus on agriculture. They work with many of the country's largest producers and independent farmers to fulfill their recruitment needs and help them maximize the potential of their workforce. They are also an equal opportunity employer, helping their overseas residents workers to join them in Australia. Here is the list of those jobs that foreign workers can apply for:
Fruit / Vegetables Picking Jobs
Fruit and Vegetables Packing Jobs
Farm Jobs/ Crop Production
Poultry and Livestock Farm Jobs
Dairy Farm Jobs
Canva
Canva is a free-to-use online graphic design tool. Use it to create social media posts, presentations, posters, videos, logos and more.
They' re a global team with campuses and remote opportunities in locations all around the world. But for those who want to join the company in Australia, they offer Full Support with a Visa and PR process. Joining Canva, Foreigners can undertake the following rules:
Graphic Designers
Video editors
Digital Media and Planner
Photos Content Reviewer
Social Media Marketing or Digital Media Marketing Specialist
Head of Business Products Marketing
B2B Marketing Research Manager
Big Commerce
Big Commerce is an e-commerce company based in Collingwood, Melbourne offering Digital Marketing Services for businesses. The company believes in Global Talent and Employment Perspective that's why recruits foreigners from every corner of the world.
Digital Marketing Specialist
E Commerce Coordinator
Web Developers
Strategic Project Manager
E-commerce Project Manager
Customer Care Advisor
Red Rooster Australia
It is one of the leading Fast Food Chains in Australia including Subway, KFC, McDonald's, etc. There are 327 Red Rooster Restaurants all over the Australia. They encourage a multicultural and diverse workforce, giving the following job opportunities to foreign workers:
Waiter/ Waitress
Franchise Manager
Sous Chef/ Executive Chef
IT/ Marketing Team
Bussers
Related: Food Production Picker Jobs in UK with Visa Sponsorship
Health Engine
Australia's largest online health marketplace. Over 3,632,164 appointments to choose from. Healthengine is your home for healthcare. It gives the services to book Book Doctor, GP, Dentist, or Healthcare Specialist Appointments Online. Millions of Appointments with Trusted Practitioners Available 24/7. Although most of the jobs are available online, still they help foreigners to join physically in Australia for the following jobs:
Python Developer
Scrum Master
Cobol Programmer
Entry level Social Media Manager
How to Apply for More Australian Companies Offering Work Visa in 2024
You can find those companies' names and the jobs advertised by them on the biggest Australian Job Search Platforms like Work Force Australia and SEEK Australia. You can also click on the following link to apply for the jobs advertised by Australian Companies Willing to Sponsor a Work Visa in 2024.
Australian Companies Willing to Sponsor Visa in 2024