The current price of Yamaha YBR 125G in Pakistan is PKR 436,000
Yamaha presents a wholesome new experience of biking with its new YBR 125G. The YBR 125G is intelligently designed keeping into account the true taste of passionate bikers. Yamaha YBR 125G has an overall look of a trail bike. It possesses the same engine as the of Yamaha YBR 125. Yamaha YBR 125G has powerful shocks that are the key to this bike. The alluring speedometer has a gear indicator and fuel indicator.
Yamaha YBR 125G Photos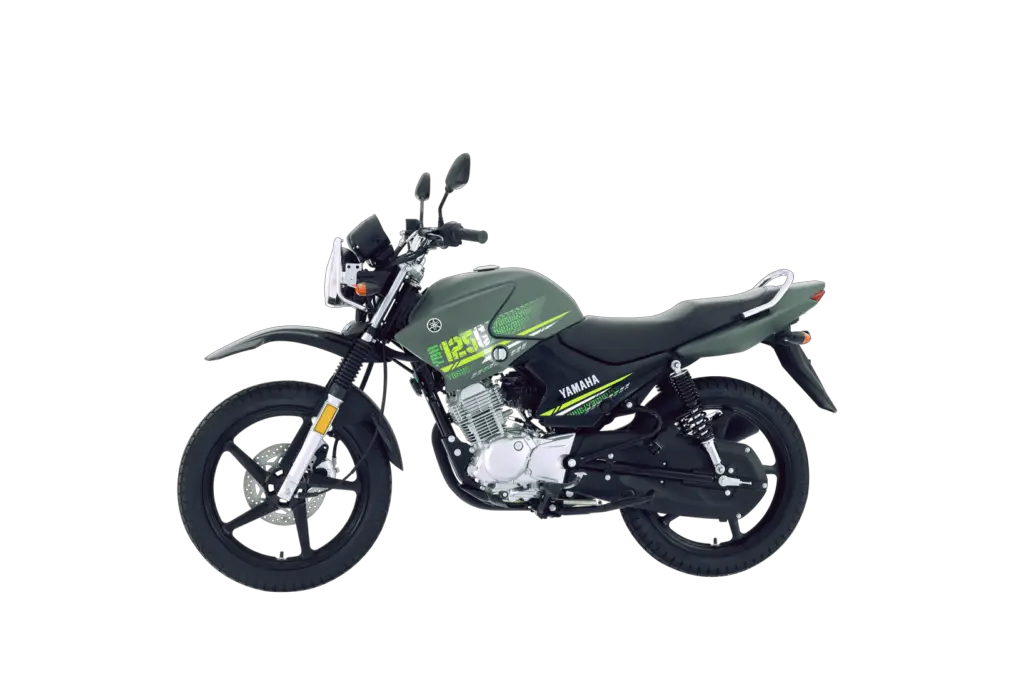 Yamaha YBR 125G Specs
The YBR 125G comes with a 4-stroke, air-cooled, SOHC engine with a displacement of 124 cm3. The bore and stroke measurements in YBR 125G are 54.0 mm x 54.0 mm, respectively. It comes with 5-speed constant mesh transmission and a compression ratio of 10.0:1. The wheelbase of the YBR 125G is 1300 mm with a ground clearance of 145 mm.
The fuel capacity in YBR 125G is 13L. Its overall dimensions are 1990 x 745 x 1080 mm with a seat height of 785 mm.  The front tire has a 3 mm width with a diameter of 18 inches and 47p speed index while the rear tire has a 90mm width, 90mm height, and 18 inches diameter. The dry weight of Yamaha YBR 125G is 113 kg.
Related: Yamaha YBR 125 Price in Pakistan
Yamaha YBR 125G Features
The Yamaha YBR 125G comes with a two-valve engine and a DCI ignition system of 12V DC. It comes with both electric starter and kick starter features. The front has a 12V halogen bulb headlamp with a smoked shield. The front brake is a single disc brake while the rear brake is a drum brake.
YBR 125G Design
Yamaha YBR 125G has a sporty design suitable for an off-roading bike. It comes with a special dual front fender. The long front shock absorber with rubber boots makes the ride comfortable, safe, and exciting. The seat is sporty and stylish with a tail-up design.
The rear suspension has the feature of 5-step adjustment which makes riding on bumpy tracks easier. The Yamaha YBR 125G also has block-pattern tires for better grip. On top of that, it comes with a cast wheel and chrome protector muffler which gives it a stylish look.
YBR 125G Ride & Handling
The Yamaha YBR 125G is built for riding on rough tracks and for off-roading. Its sporty design is accompanied by a better rear suspension for a smoother ride. It also comes with better stability than the YBR 125G and can be easily taken on twisty roads. Its smaller wheelbase challenges stability but adds to its swiftness and speed. 
Yamaha YBR 125G Mileage
The Yamaha YBR 125G has a fuel capacity of 13 liters and a fuel consumption of approximately 60 km/l.
Yamaha YBR 125G Resale
Yamaha YBR 125G has a good resale value in the Pakistani market. It is still dominated by Honda CG 125 but does better than Suzuki 110 and 150 bikes due to the availability of spare parts and because of the expanding dealer network. Currently, it is easy to resell a Yamaha YBR 125G in Pakistan.