German and international students choose computer science as one of the most popular majors in the country. The country's robust job market for computer science graduates is a significant draw for talented individuals worldwide.
Students select computer science degrees at universities based on factors such as the courses' real-world applicability and the quality of the facilities available to them in the labs. Since computer science is a degree for the 21st century, it's essential to give students the tools they'll need to adapt to new technologies.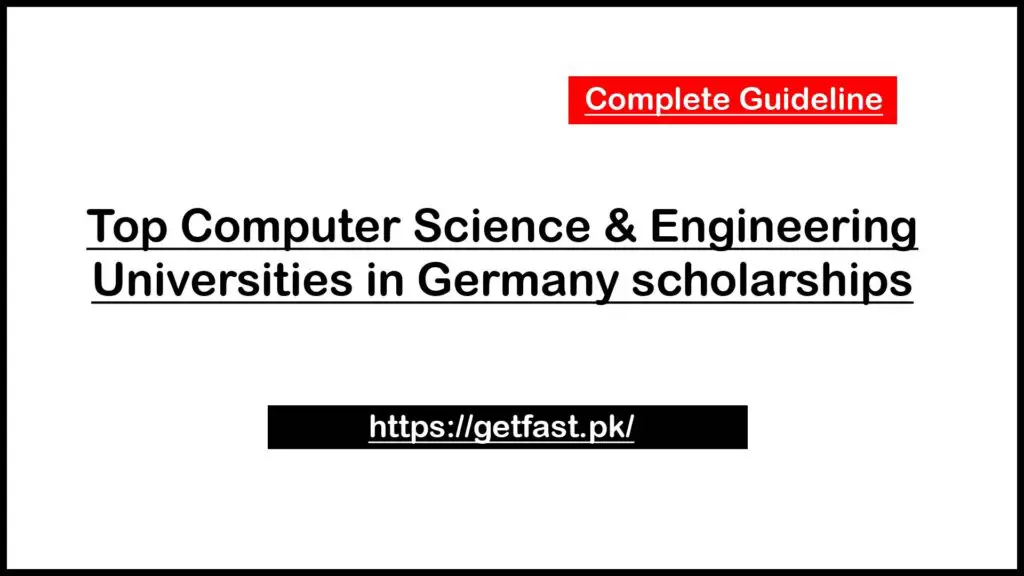 German University Computer Science Selection Considerations
When choosing a school to be significant in computer science, the quality of its IT resources should be your priority. During their studies, students should evaluate the computer lab in terms of its software and hardware, the quality of its upkeep, and the availability of computer workstations.
Integration of subfields
Learning to Solve Problems
The ratio of international students, the language taught, and whether or not the course is part of a joint degree program are all indicators of its international focus.
When deciding on a college, a prospective student's carrier orientation should be considered. Consideration must be given to whether the institution assists in securing employment following graduation.
Institutions with a High National Ranking
Jacob University
The university's computer science program is a rigorous and popular option for those interested in learning the fundamentals and how they might be used in the real world. Today, practically any career path can benefit from a foundation in computer science. That's why getting a degree from a reputable institution is so important if you want to find work after graduation.
ULM University
Among schools in Baden-Wuerttemberg, ULM ranks eighth. In 2009, it partnered with its engineering and computer science departments and psychology divisions. So, students benefit from acquiring new information and abilities because of the unconventional pairing of these disciplines. The human behind today's cutting-edge innovation is as important as the technology and software they create. Innovations arise because of the way people think. Earning a degree from ULM is an opportunity that should be considered.
The Passau University
Located in historic Passau, next to the Inn River, this university is one of the newest in all of Bavaria. Since its founding in 1978, it has grown to become one of Germany's premier computer science universities. The university's faculty is top-notch. Thus its students learn a lot of helpful information. Students can put their theoretical learning to use in real-world contexts thanks to the university's excellent research facilities.
The Technical University of Kaiserslautern
Since its founding in 1970, this university in Rhineland-Palatinate has retained its status as the region's premier educational institution for technical disciplines. Fourteen thousand two hundred students are studying various fields at the university. The size of the student body at TU Kaiserslautern is manageable, and teachers maintain excellent communication with their classes. There is a clear delineation between the technical abilities taught in computer engineering and those trained in electrical engineering. In addition, students receive the training and knowledge they need to enter the workforce upon graduation.
University of Aachen (RWTH)
It was established in 1880 and had a long history of giving a top-notch education in various fields, including engineering. At RWTH Aachen, undergraduates study fundamental disciplines like mathematics, physics, and electrical and mechanical engineering. These foundational courses are repeated over four semesters, after which students move on to more advanced material in their chosen disciplines. The curriculum also emphasizes the development of robust theoretical frameworks.
HassoPlattner Institute
In the 1999–2000 academic year, the school accepted new students. The institution is unique in Germany because it offers a bachelor's and a master's degree program in IT systems engineering. Students can improve their understanding of interconnected IT systems by taking this class. Students of exceptional ability who are interested in pursuing a computer science degree with an engineering focus can enroll in this program. The university also stands out because of its excellent faculty and plentiful employment opportunities for graduates.
Berlin Universities Postgraduate Scholarships For International Students