Stonemasons Jobs in Australia with Visa sponsorship 2023 is an excellent opportunity for talented and experienced construction labourers in under-developed Asian and African countries. Stonemasons and other labour categories are not paid well in those countries. So, a stonemason career in Australia wouldn't only pay you well but will grant you many amazing benefits; the greatest of them is 482 skilled worker visa sponsorship.
Our today's employer, Eficaz Recruitment, is looking for talented stone men for their civil engineering team. But, the number of job roles backed by visa sponsorships is limited in number. That's why we have decided to keep our followers updated and inform them in time so that they don't miss this life-turning career-boosting opportunity. In this post, you will find everything like what are the job responsibilities of a stonemason, what are the requirements of this job, what is the average salary of a stonemason across the Australian territories, and how you can eligible for 482 work visa sponsor.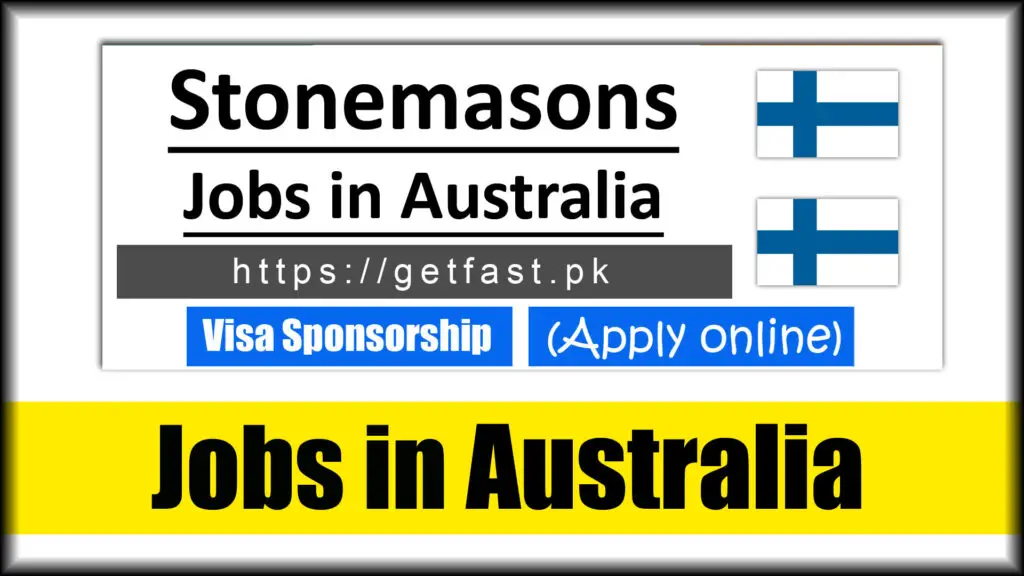 Details of Stonemason Jobs in Australia with Visa Sponsorship:
Job title: Stonemason
Region: Sydney, Australia
Knowledge required: Not high
Experience required: Yes
Free food: No
Free Transport: No
Free Accommodation: No
Free Medical Insurance: Yes
Visa Sponsorship: Yes
Relocation: Yes
Expected Salary: $65,000 – $75,000
Requirements of Stonemason Jobs in Australia with Visa Sponsorship:
As a skilled job role, this job role requires proper vocational qualification, training, and experience. Here are the main requirements:
The knowledge required is not high. You only require Masonry Vocational Training or Masonry Training Certificate. You can find many  Online Distance Learning Stonemasonry Courses. Level 1 to Level 3 diplomas are available. Level 3 makes you the highest level professional. You are also required to have a high school diploma.
Those who have attended an accredited/ registered trades school or vocational training centre for stonemason apparel
Minimum 3 years of experience and a maximum of 5 years of experience are needed.
All the 482 visa requirements like valid passport, health certificate, police clearance certificate, etc.
Warehouse Workers Jobs in Finland with visa sponsorship 2023 – Apply Online
Job responsibilities of a Stonemason:
Read and interpret construction blueprints and all technical drawings.
Report to the manager/ supervisor about the materials, quotes, and equipment needed.
Coordinating with the construction crew and crane operators to keep the structure right in accordance with the structural plan.
Cut, build, and repair stones and stone structures.
Experienced with other elements like granite and quartz.
Use bricks, concrete blocks, and natural and manmade stones to build walls, stone fences, walkways, monuments, and other commercial and artistic structures.
Mixing grout and cement.
Operating hoists and heavy machinery to move stones and stone structures.
Should be able to differentiate between high-quality and low-quality stones, so that the best stone could be selected for the building.
Should be able to tactfully remove the wedges and fill the stone gaps to give them an attractive and seamless finish.
Benefits of Stonemasonry Jobs in Australia with Visa sponsorship:
You are granted a 2-4 years of stay/ residence permit with 482 skilled visas. If you perform well and prove yourself a right candidate, your employer would grant you a permanent job, which will be further used as a validation factor for your permanent Immigration.
You would be granted permanent residence/ immigration within 3 to 6 months as soon as your employer extends your job tenure.
Attractive salary packages.
Paid holidays/ annual leaves.
The best way to accelerate your migration journey to Australia.
Employee social benefits.
Average Salary of a Stonesmason in Australia.
The average Salary of a Stonesmason in Australia depends upon many factors including experience, level of skills, if you have accredited stone masonry trade qualifications or not, location within Australia, and above all, experience. However, according to Au Talent's survey of anonymous employers and employees, the average salary of an entry-level stonemason in Australia is between AUD 65000-75000 per year.
Why Stone masonry jobs in Australia?
While this is true that we have entered the era of modern skyscrapers and sky-high buildings, high-fi, modern, and glass houses, the traditional trade of stone masonry is still in demand both artistically and commercially. Everything from ordinary homes to cathedrals to castles and tombs is made up of stone structures in today's world. Australia is a country that is facing dire labour shortages (along with Germany); construction workers are amongst the top ten in-demand professions in Australia requiring international applicants to fill the talent gap. This is the reason why many Overseas recruiting agencies pick up potential labour across the seven continents and import them to Australia where employers are ready to sponsor them for the skilled worker visa and take work permits from the Ministry of Labour on their behalf.
Stone Masonry Jobs in Australia with Visa Sponsorship 2023 is perhaps the perfect way to have an access to the developed world where you can learn and grow professionally besides making good money. High-end colleges and universities are not for everyone but the right to move on towards something better is there for everyone!
Agricultural / Farm Jobs in Germany 2023 with Visa Sponsorship – Apply Online
How to Apply for Stonemasonry Jobs in Australia with Visa Sponsorship?
By clicking on the link below, you will be routed to the official job search portal, use the application button given below the job description.
You can also use/ search yourself for the job by using the search box and the location box, to narrow down your job search results. Type your job title, e.g., "Stonemasonry jobs in Australia with Visa sponsorship", "Stonemasons jobs in Australia for foreigners", "Construction Jobs in Australia".
It's better to make your CV or Resume and Cover letter up-to-date as there is a high chance that your employer uses German as a working language. Make your Resume/ CV up-to-date.
Examine the job posting details like job description, job requirements, job responsibilities, etc.
Ensure you meet all requirements before you apply. Examine the job role and its requirements carefully.
Click the "Online Application" button given below.
Fill out the necessary details being asked and submit the application.
Verify the reception of a confirmation email for your sent job application.