How to Subscribe monthly SUPER DUPER PLUS Internet offer.
Jazz monthly SUPER DUPER PLUS offer Subscription code is : *707#
For Unsubscribe Jazz Monthly Supper duper Dial and tap on the call button *707*4#
Jazz monthly super duper MB check code *707*3#
Description
In This Jazz Monthly SUPER DUPER PLUS Data offer, You will get 300 All-net calls, send 5000 SMS, and use the internet for 30 days. All of these things are in just Rs. 977 (inclusive of GOV tax) per month for 30 days. This offer will automatically be going to expire after completing 30 days at midnight 12 PM.
is Jazz monthly super duper plus offer main ap ko malyin gay 15 GB of internet data 3000 Jazz to Jazz minutes ur 5000 Sms sirf 999 plus tax main.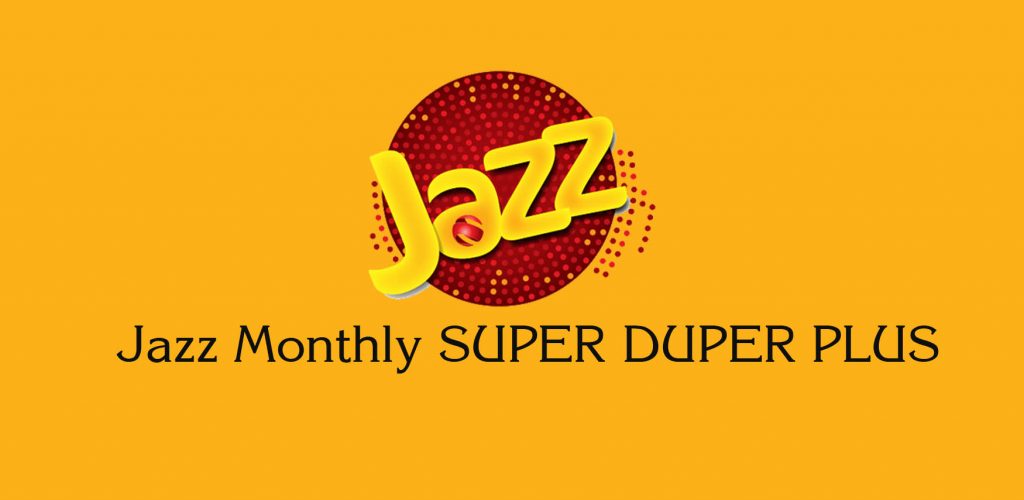 Terms & Conditions
This Jazz DATA Offer is non-recursive and customers will have to dial *707#. This is off available for the Offer more than once.
All Jazz And other minutes will be posted at the time of subscription and will expire at 12:00 PM after 30th days
In this Jazz offer, all Minutes / SMS / Data will be usable 24 hours a day (no time limit)
Limited time offer, It is subject to change anytime
You can use Data MBs are for 2G/3G/4G
Overage of Rs.2/MB applies for all mobile internet bundles
About Speed: internet speed will depend on multiple factors like sim, device, web pages accessed, time of day, number of simultaneous users, distance from 2G/3G/4G site, etc.
If you are not subscribed to any bundle base rate will be charged Rs.5/MB. The charging pulse will be 512 KB
The last one is Call setup charges are not applicable for this bundle. However, a balance of Rs. 0.15 needs to be maintained to make calls through bundle".
These all Term and Conditions from Jazz Network.
More Jazz Packages
تفصیل
اس جاز ماہانہ سپر ڈوپر پلس ڈیٹا کی پیش کش میں ، آپ کو 300 آل نیٹ کالز ، 5000 ایس ایم ایس بھیجنے ، اور 30 دن کے لئے انٹرنیٹ استعمال کرنے کی سہولت ہوگی۔ ان تمام چیزوں کو 30 دن کے لئے صرف 977 روپے (GOV ٹیکس سمیت) میں۔ یہ پیش کش آدھی رات 12 بج کر 30 منٹ پر مکمل کرنے کے بعد خود بخود ختم ہوجائے گی۔
ماہانہ سپر ڈوپر پلس انٹرنیٹ پیش کش کو کس طرح سبسکرائب کریں۔
جاز ماہانہ سپر ڈوپر پلس پیش کش سبکریپشن کوڈ ہے: #707*.0
ان سبسکرائب کے لئے جاز ماہانہ رات کا کھانا ڈوپر ڈائل کریں اور کال کے بٹن پر ٹیپ کریں #4*707*0
جاز ماہانہ سپر ڈوپر  چیک کوڈ # 3*707*0 MB
شرائط و ضوابط
یہ جاز ڈیٹا آفر ناقابل تلافی ہے اور صارفین کو * 707 # ڈائل کرنا پڑے گا۔ یہ آفر ایک سے زیادہ مرتبہ دستیاب ہے۔
تمام جاز اور دیگر منٹ سبسکرپشن کے وقت پوسٹ کیے جائیں گے اور 30 دن کے بعد شام 12 بجکر 30 منٹ پر ختم ہوجائیں گے۔ اس جاز میں تمام منٹ / ایس ایم ایس / ڈیٹا دن میں 24 گھنٹے استعمال کے قابل ہوگا (وقت کی کوئی حد نہیں)
محدود وقت کی پیش کش ، یہ کسی بھی وقت تبدیل کرنے کے تابع ہے
آپ ڈیٹا ایم بی کا استعمال 2G / 3G / 4G کے لئے کر سکتے ہیں
اوسطا 2 / ایم بی ہر موبائل انٹرنیٹ بنڈل پر لاگو ہوتا ہے
اسپیڈ کے بارے میں: انٹرنیٹ کی رفتار متعدد عوامل پر منحصر ہوگی جیسے سم ، ڈیوائس ، ویب صفحات تک رسائی ، دن کا وقت ، بیک وقت استعمال کرنے والوں کی تعداد ، 2G / 3G / 4G سائٹ سے دوری وغیرہ۔
اگر آپ کسی بھی بنڈل بیس پر سبسکرائب نہیں کرتے ہیں تو 5 / MB ایم پی وصول کیا جائے گا۔ پلس چارج کرنا 512 KB ہوگا
آخری یہ ہے کہ اس بنڈل کے لئے کال اپ سیٹ چارجز لاگو نہیں ہیں۔ تاہم ، روپے کا بیلنس بنڈل کے ذریعے کال کرنے کے لئے 0.15 کو برقرار رکھنے کی ضرورت ہے۔
جاز نیٹ ورک کی یہ تمام میعاد اور ضوابط۔