How to Subscribe Monthly HYBRID Internet Offer
Jazz monthly HYBRID offer Subscription code is : *430#
For Unsubscribe Jazz Monthly HYBRID Dial and tap on the call button*430*4#
Jazz monthly HYBRID MB check code *430*3#
Description
In This Jazz Monthly HYBRID Data offer, You will get 50 All-net calls, send 2500 SMS, and use the internet for 30 days. All of these things are just Rs. 489 (inclusive of GOV tax) per month for 30 days. This offer will automatically be going to expire after completing 30 days at midnight 12 PM.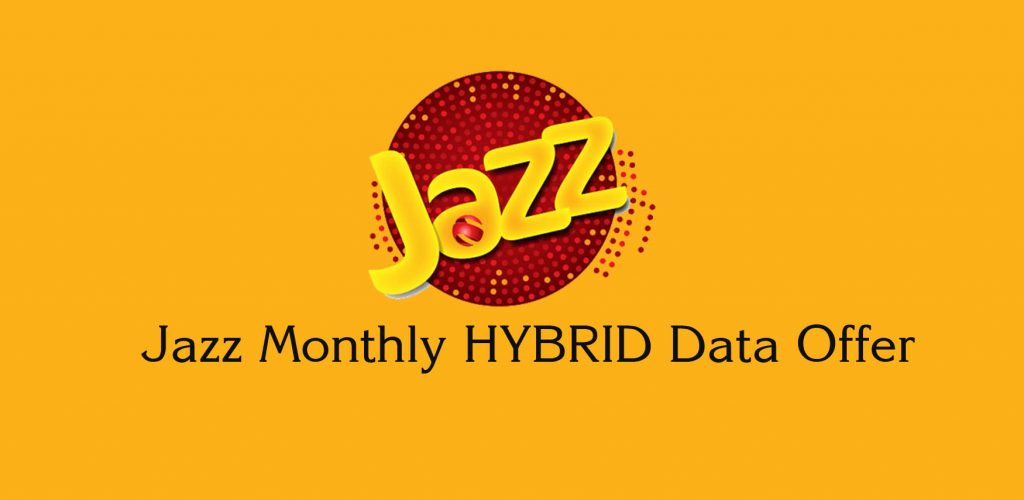 Is Mobilink Jazz Monthly HYBRID Data Offer main ap ko malyin gay 2 Gb internet ur 2500 Jazz Mins and 2500 Sms 30 din kay leya. Is Mobilink Jazz Monthly HYBRID Data Offer main ap ko all in one services malyin ge. Yeh offer 30 din kay bad kud he band ho jay ge.
Terms & Conditions
This offer have Limited time offer, it is subject to change anytime
Internet offer can be subscribed and consumed in 2G/3G/4G networks areas
Call set up fee is applicable
Bundle minutes / SMS / MBs will be usable 24 hours a day (no time restriction)
Jazz company will not  allowed Multiple subscriptions
Overage of Re.1.2/MB applies for all mobile internet bundle
Actual internet speed will depend on multiple factors like sim, device, web pages accessed, time of day, number of simultaneous users, distance from 2G/3G/4G site etc
If you are not subscribed to any bundle base rate will be charged i.e. Rs.5/MB. Charging pulse will be 512 KB
Click here for General Terms & Conditions.
More Jazz Packages
تفصیل
اس جاز ماہانہ HYBRID ڈیٹا کی پیش کش میں ، آپ کو 50 آل نیٹ کالز ، 1000 ایس ایم ایس بھیجیں ، اور 30 دن تک انٹرنیٹ استعمال کریں گے۔ یہ ساری چیزیں صرف 444 روپے میں (GOV ٹیکس سمیت) ہر مہینے 30 دن میں۔ یہ پیش کش آدھی رات 12 بج کر 30 منٹ کے بعد خود بخود ختم ہوجائے گی۔
ماہانہ HYBRID انٹرنیٹ کی پیش کش کو کس طرح خریداری کریں۔
جاز ماہانہ HYBRID پیکیج کے رکنیت کا کوڈ ہے: * 430 #
رکنیت ختم کرنے کے لئے جاز ماہانہ ڈائل کریں اور کال کے بٹن پر ٹیپ کریں * 430 * 4 #
جاز کے ماہانہ MB چیک کوڈ * 430 * 3 #
Terms & Conditions
اس پیش کش کی محدود مدت کی پیش کش ہے ، یہ کسی بھی وقت تبدیل ہونے کے تابع ہے
انٹرنیٹ کی پیش کش کو 2G / 3G / 4G نیٹ ورک والے علاقوں میں خریداری اور استعمال کی جاسکتی ہے
کال اپ سیٹ فیس لاگو ہے
بنڈل منٹ / SMS / MBs دن میں 24 گھنٹے استعمال کے قابل رہیں گے (وقت کی کوئی پابندی نہیں ہے)
جاز کمپنی متعدد خریداریوں کی اجازت نہیں دے گی
Re.1.2 / MB کی اوسط ہر موبائل انٹرنیٹ بنڈل پر لاگو ہوتی ہے
اصل انٹرنیٹ کی رفتار متعدد عوامل پر منحصر ہوگی جیسے سم ، ڈیوائس ، ویب صفحات تک رسائی ، دن کا وقت ، بیک وقت صارفین کی تعداد ، 2G / 3G / 4G سائٹ سے دوری وغیرہ۔
اگر آپ کسی بھی بنڈل بیس پر سبسکرائب نہیں کرتے ہیں تو چارج ہوگا یعنی 5 روپے / ایم بی۔ پلس چارج کرنا 512 KB ہوگا
عمومی شرائط و ضوابط کے لئے یہاں کلک کریں۔