*117*4#
Subscription Code
How to Subscribe to DAILY MEGA Data Internet offer.
Jazz DAILY MEGA Data OFFER offer Subscription code is :*117*4#
Jazz DAILY MEGA Data OFFER Unsubscribe Code: This offer will expire automatically.
Description
In This Jazz DAILY MEGA Data, You will get  1 GB of data for 1 day and 24 hours. This Daily offer is Rs 27+tax for 1 day. This offer will automatically go to expire after completing 1 day at midnight 12 PM.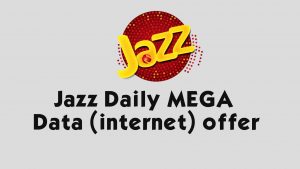 Terms & Conditions
 By dialing *117*4#, the customer will be subscribed to Daily Mega Offer for exactly 24 hours.
This bundle is non-recursive and customers will have to dial *117*4# again to avail of the bundle more than once
Free Data MBs are for 2G, 3G & 4G
Limited time offer, It is subject to change anytime
In case bundle incentives are exhausted, the consumer will be charged on the overage rate of PKR 2 / MB
In case of internet usage without subscribing to any bundle, data will be charged at the base rate of PKR 5/ MB
تفصیل
اس جاز ڈیلی میگا ڈیٹا میں ، آپ کو 1 دن 24 گھنٹوں کے لئے 1 جی بی ڈیٹا ملے گا۔ یہ روزانہ کی پیش کش 1 دن کے لئے 27 + ٹیکس میں ہے۔ یہ پیش کش آدھی رات 12 بجے دن 1 دن مکمل کرنے کے بعد خود بخود ختم ہوجائے گی۔
ڈیلی میگا ڈیٹا انٹرنیٹ کی پیش کش کو کس طرح سبسکرائب کریں۔
*117*4# جاز ڈیلی میگا ڈیٹا آفر آف سکریپشن کوڈ ہے
جاز ڈیلی میگا ڈیٹا کی پیش کش کو ختم کردیں کوڈ: یہ پیش کش خود بخود ختم ہوجائے گی
Terms & Conditions
بالکل ٹھیک 24 گھنٹوں کے لئے صارفین کو ڈیلی میگا آفر کی رکنیت حاصل ہوگی۔
یہ بنڈل غیر متواتر ہے اور صارفین کو ایک بار سے زیادہ بنڈل حاصل کرنے کے لئے دوبارہ * 117 * 4 # ڈائل کرنا پڑے گا۔
مفت ڈیٹا MBs 2G ، 3G اور 4G کے لئے ہیں
محدود وقت کی پیش کش ، یہ کسی بھی وقت تبدیل کرنے کے تابع ہے
اگر بنڈل مراعات ختم ہوجائیں تو ، صارف سے پی کے آر 2 / ایم بی کی اوورج ریٹ وصول کیا جائے گا
کسی بھی بنڈل کی رکنیت حاصل کیے بغیر انٹرنیٹ کے استعمال کی صورت میں ، پی کے آر 5 / ایم بی کی شرح سے ڈیٹا وصول کیا جائے گا۔