How to Subscribe to DAILY Karachi(Sindh) Internet offer
Jazz DAILY Karachi(Sindh) offer Subscription code is *522#
Jazz DAILY Karachi(Sindh) offer Unsubscribe Code: This offer will expire automatically.
Description
In This Jazz DAILY S DAILY Karachi(Sindh) offer You will get  250 MB data and unlimited Jazz to Jazz free calls and 1500 free SMS for 1 day. This is in Rs 12+tax for 1 day. This offer will automatically go to expire after completing 1 day at midnight 12 PM. This offer is only for Sindh people.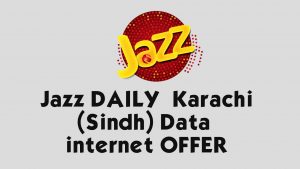 The offer is valid in the following cities
Badin Berani Bhit Shah Chuhar Jamali Dadu Darro Daulatpur Daur Digri Diplo Gaarho Gharo Golarchi Hala Hub Hyderabad Islamkot Jam Nawaz Ali Jamshoro Jati Jhampir Jhuddo Johi Karachi Keti Bandar Khairpur Nathan Shah Kharo Chan Khipro Kot Ghulam Muhammad Kotri Kunri Matiari Matli Mehar Mirpur Bathoro Mirpur Khas Mithi Moro Nagarparkar Naukot Nawabshah Noori Abad Qazi Ahmed Saeedabad Sakrand Samaro Sanghar Sehwan Shahdadpur Sinjhoro Sujawal Tando Adam Tando Allahyar Tando Bago Tando Ghulam Ali Tando Jam Tando Jan Muhammad Tando Muhammad Khan Thana Bula Khan Thatta Makli Umarkot Winder.
Terms & Conditions
Offer is subject to change anytime
Terms and conditions apply
The company reserves the right to withdraw the offer at any time
Offer is available in Hyderabad, Dadu, Jamshoro, Kotri, Mirpur Khas, Tando Adam, Tando Alayaar, and other areas
The call set-up fee is applicable
Unwanted and unethical (unreasonable) messages can be reported by texting SENDER's NUMBER (SPACE) message to 9000 –PTA
If you are not subscribed to any bundle, the base rate will be charged i.e. Rs.5/MB. Charging Pulse will be 512 KB
تفصیل
اس جاز ڈیلی ایس ڈیلی کراچی (سندھ) کی پیش کش میں آپ کو 250 ایم بی ڈیٹا اور لا محدود جاز سے جاز کو مفت کال اور 1500 مفت ایس ایم ایس 1 دن کے لئے ملے گا۔ یہ 1 دن کے لئے 12 + ٹیکس میں ہے۔ یہ پیش کش آدھی رات 12 بجے دن 1 دن مکمل کرنے کے بعد خود بخود ختم ہوجائے گی۔ یہ پیش کش صرف سندھ کے عوام کے لئے ہے۔
ڈیلی کراچی (سندھ) انٹرنیٹ کی پیش کش کو کس طرح سبسکرائب کریں۔
*522# جاز ڈیلی کراچی (سندھ) میں سکریپشن کوڈ کی پیش کش ہے
جاز ڈیلی کراچی (سندھ) ان سبسکرائب کوڈ کی پیش کش: یہ پیش کش خودبخود ختم ہوجائے گی۔
پیش کش مندرجہ ذیل شہروں میں درست ہے
بدین ، بیرانی ، بھٹ شاہ ، چوہڑ ، جمالی ، دادو ، ڈارو ، دولت پور ، داور ، ڈگری ، ڈپلو ، گڑھو ، گھارو ، گولڑچی ، ہالا ، حب ، حیدرآباد ، اسلام کوٹ ، جام نواز علی ، جامشورو ، جاتی جامپیر ، جھڈو جوہی ، کراچی ، کیٹی بندر ، خیرپور ناتھن شاہ کھارو چن کھپرو کوٹ غلام محمد کوٹری کنری مٹیاری ماتلی مہر میرپور بٹورو میر پور خاص مٹھی مورو نگرپارکر نوکوٹ نواب شاہ نوری آباد قاضی احمد سعید آباد سکندڑ سامارو سانگھڑ سہون شہداد پور سنجورو سجاول ٹنڈو آدم ٹنڈو الہندو ٹنڈو گلہ ٹنڈو ٹنڈو جان محمد ٹنڈو محمد خان تھانہ بولا خان ٹھٹھہ مکلی عمرکوٹ ونڈر۔