Honda HR-V, 2023 prices in Pakistan, are introduced at PKR 7,899,000 for the entry-level VTi model and went up to PKR 8,199,000 for the top-of-the-line VTi-S model. Honda HR-V prices in Pakistan are listed here as "ex-factory" prices.
The Japanese Honda Vezel is a tiny crossover that does not use Hybrid technology; the worldwide Honda HR-V 2023 is a variation of this vehicle.
The third-generation HR-V is made in the country of sale in two different versions: the VTI and the VTI S. In Japan, this vehicle is sold under the name Honda Vezel, indicating that it is a subcompact crossover SUV.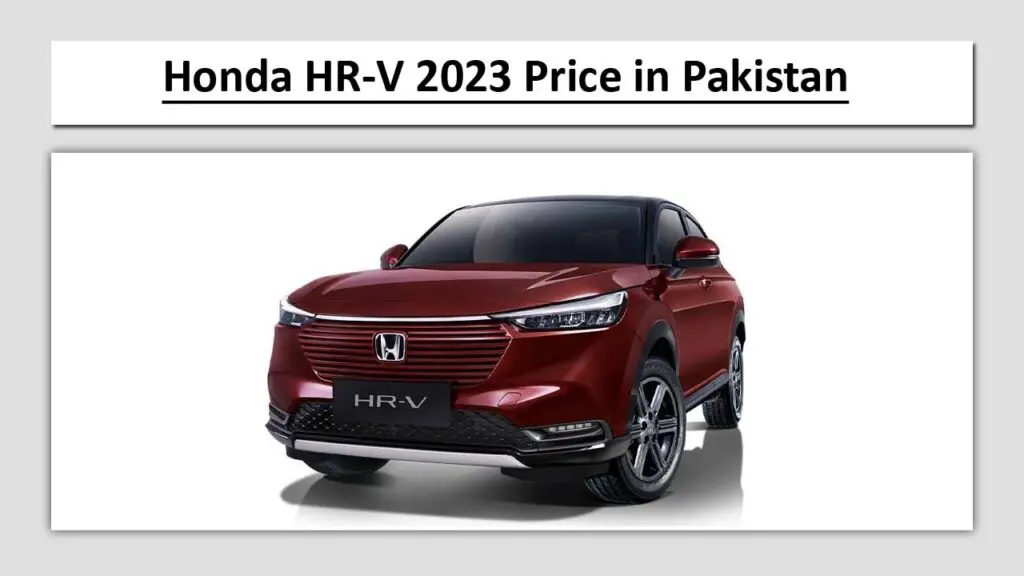 Honda HR-V  Exterior
The top trim of the HR-V 2023 features all-LED headlights with sequential indicators, giving it a rugged and menacing appearance. LED fog lights are standard, and the front grill is painted to match the body with a silver trim at the bottom. The HR-V 2023 rides on 17-inch grey alloy wheels in the VTI S trim and 17-inch chrome wheels wrapped in 215/60/R17 GTR rubber.The sides are encased in piano black, and the roof is also black. When it comes to the back of the car, the taillights are crucial, especially since they are equipped with modern-looking running LEDs. There is also a rear wiper and camera, as well as the usual piano black and mesh silver trim down low.
Honda HR-V Interior
The HR-V has a quite attractive and well-organized cabin. The accepted design language is identical to that of modern Honda automobiles, with an upright dashboard and sparse interior design. Black fabric seats come standard in the base model, but cherry red and grey leather choices are available for the VTI s. Two analogue gauges and a 4.2-inch MID screen make up the instrument cluster. An Android-based panel of 9 inches in size houses the entertainment system. However, unlike most crossovers on the market, this vehicle does not have a panoramic roof. The materials and construction inside are of the highest standard.
Conclusion
The international second-generation Honda HRV was introduced by Honda Atlas Cars Pakistan Limited in Pakistan as the first-generation Honda HRV. The Honda Vezel Hybrid and the 2nd-generation Honda HR-V are virtually indistinguishable, but for the front grille and the hybrid system. Hi-rider, Revolutionary Vehicle, or HR-V for short.