The Honda CD 70 is a four-stroke motorcycle that was formerly known as the Honda 70. Honda is a Japanese business. From 1970 to 1991, it was manufactured by Honda, and then beginning in 1991, production was transferred to Atlas Honda in Pakistan. The first question on every biker's mind, when a new model comes out, is how much more or less it costs than the previous year's model. Does the price tag match the bike's features and upgrades?
The current price of a Honda CD70 2023 in Pakistan is Rs. 165,900. Compared to the CD70 rate from the previous year, this one is over PKR 49,000.
Price Comparison of Common Honda CD70 Models
By carefully analyzing these models, we can learn about the tendencies and changes in their prices. Originally, the Honda 70's rectangular speedometer was calibrated up to a maximum of 60 miles per hour (97 kilometers per hour). The company promoted a top speed of 58 mph (93 km/h). Both the appearance and the engine have undergone a number of revisions and improvements throughout time. In 1984, it was renamed the Honda CD 70 when its engine, carburetor, and rear turn signals were upgraded.
Honda 70s feature certified Euro II engines that, with careful maintenance, can last for quite some time. According to Honda, there are 101 improvements to the design and engine of the new CD 70 model year 2023.
Honda CD 70 Photos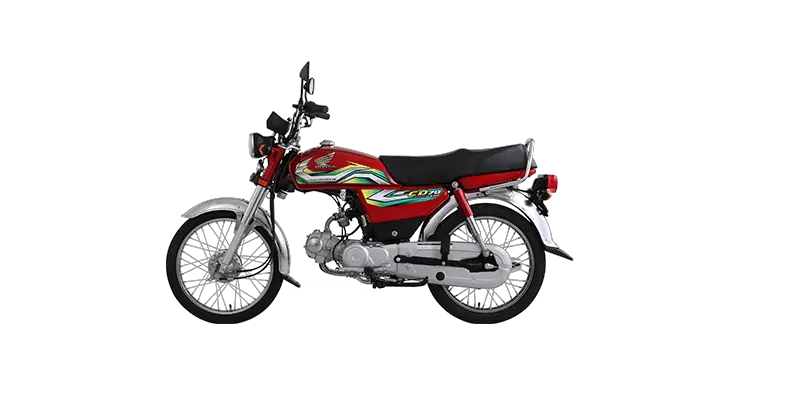 Specifications for a Honda CD-70
The CD 70 2023 is powered by a 4-Stroke Overhead Cam Air-Cooled motor with a 72 cm3 displacement, a diameter of 47.0 mm, and a stroke of 41.4 mm. It has a ground clearance of 136 mm and is 1897 x 751 x 1014 mm in total. It comes standard with four constant-mesh gears and a number of wet clutch plates.
The dry weight for the CD 70 is 82 kg, and its compression ratio is 8.8:1. Tire sizes in both the front and back are 2.25 x 17 (4 PR).
Features of CD-70
The CD 70 2023 model year update features an all-new engine design and updated visuals. A high-quality drive chain and muffler exhaust reduce road noise, while also providing a comfortable ride.
Related: Honda CB125F Price in Pakistan (Updated)
Honda CD-70 Layout
The Honda 70 2023 looks nearly identical to the previous generation in terms of its elegant profile. The CD 70 has a sturdy frame that resembles a backbone. Its design prioritizes both the vehicle's aesthetic and the passengers' comfort. The supportive seat has a bar across the bottom to prevent sliding. The 2023 model sports a new cover sticker and minor exterior design changes to the gas tank. The spokes on both wheels are now thicker than they were before, and the rear wheel is significantly stronger.
Ride and Handling, Disc 70
The CD 70 2023 model's updated engine significantly improves the bike's performance. The wheels have been reworked to improve stability, and the rear wheel is now much stronger. There is a 3-year warranty in case there are any problems with the engine after purchase.
Mileage on a Honda 70
According to the manufacturer, the CD 70 Motorcycle can travel 70 kilometers on a single tank of gas. It can hold up to 8.5 liters of gas and has a 1-liter reserve. 
Sell Used Honda CD 70s
Honda motorcycles, and the CD 70 in particular, have traditionally held a high resale value in Pakistan, and the 2023 model is no exception. If it has been well-maintained, it can be resold immediately for a handsome profit.