Healthcare Assistant Jobs in UK with Visa Sponsorship for Foreigners: If you've got a kick for the healthcare profession and the UK is your dream job destination then you are in safe hands! We have come up with full details of sponsor visa-backed healthcare assistant jobs in the UK, such as job details, conditions to apply, benefits and perks, average salary, and platforms where you can get found by healthcare professionals. The assistant healthcare role is your gateway to enter other senior and responsible roles in the UK's healthcare system and is an essential skill accrediting foreigners for visa sponsorship.
There are many private and nonprofit organizations besides the NHS (National Health Services) that require honest, compassionate, and hardworking people to join their team and enable the sick and needy to lead a normal and healthy life in their own homes.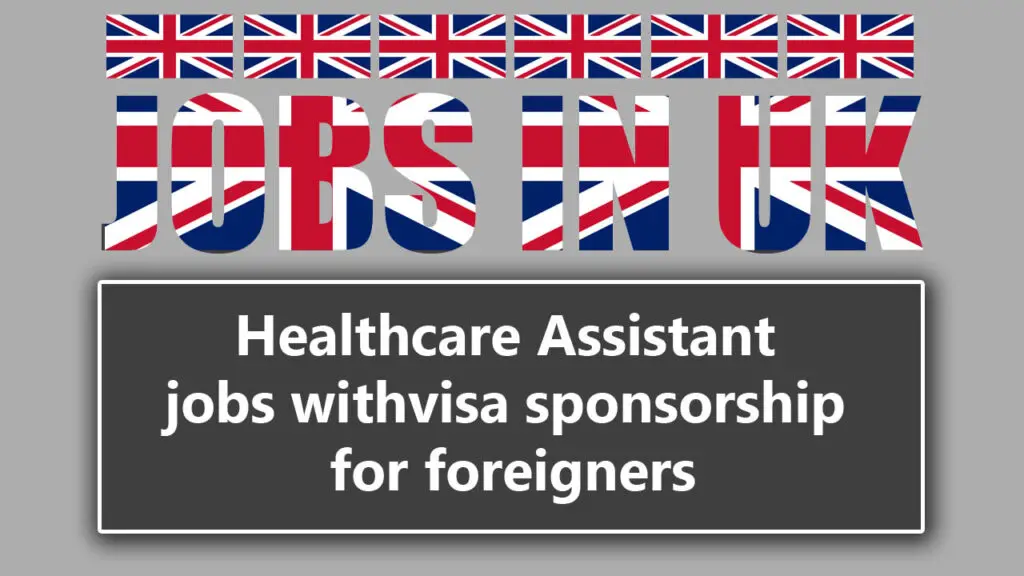 Healthcare Assistant Job details 
Job title: Healthcare Assistant/ Extra Care
Average Salary: £12.10 per hour
Available shifts: All shifts available (morning, evening, and night)
Alternate weekends permitted: Yes
Experienced required: No
Knowledge required (NHS and other national services): good literacy and numeracy/ GCSEs or equivalents/ any healthcare certification like NVQ or BTEC 
Knowledge required (private and nonprofit organizations): No qualifications are required as special training is provided!
Access to vehicle required: No 
Minimum age limit: 20 years
Standard Working Week: 37.5 hours a week
Job type: Permanent flexible
Personal skills required 
Help feeding patients and serve them food 
Helping them dressing, toileting, bathing, 
Help them move or any locomotion
Making their beds
Taking care of their medication
Participating in their daily activities like chit chat
Monitoring their medical conditions and health checks like recording BP, pulse, temperature, breath, etc.
If you are working in any GP surgery or healthcare center, your responsibilities increase, such as: 
Taking lab samples and processing them
Sterilizing surgery equipment
Keep a check on consulting rooms stock and restocking if necessary
Benefits and Perks 
There are many benefits and perks of working as an assistant healthcare worker in the UK with visa sponsorship. Here we have listed a few of them: 
Handsome and Competitive Salary
Pension scheme
Free DBS (Disclosure and Barring Services)
Specialized training at each step of your career ensures your ongoing professional development.
Reasonable days of  annual leave (28 days)
Enhanced/ top Occupational paternity and maternity pay 
Death in service insurance
Visa Sponsorship
Community Welfare 
Who is eligible to apply?
Whether you are a UK citizen, UK national, non-national resident or a foreigner wishing to settle in the UK, you can apply for a healthcare assistant profession. As a foreigner, you need a work visa to stay and pursue your career in the UK. Fortunately, there are many government and private organizations as well as NGOs that welcome foreigners with open arms and grant them visa sponsorship to work. 
 Other digital job search giants like Indeed and LinkedIn also help you get found by healthcare professionals who authorize you for a healthcare assistant job with visa sponsorship. 
How to Apply for a Healthcare Assistant Job in UK with visa Sponsorship
Here is a step-by-step guide on how to apply as a healthcare assistant:
Go for online job searching portals like Indeed and LinkedIn so that you get to know about the name of organizations where you are needed, job criteria and whether you qualify that criteria or not. You also come to know about other related job roles, etc.
Having known the name of organizations, you can search for the websites of individual organizations and drop a general application there either as a job aspirant or as a volunteer that could potentially lead you towards a full-time job.
To develop a professional network in the healthcare sector, look for paid or unpaid volunteer ships and socialize with already working professionals to learn about new job opportunities in the healthcare assistance sector and tips and tricks to enter the field.
Before applying for visa sponsorship, try to get a degree or apprentice certification in healthcare, like BTEC or NVQ. This can project you as a more competitive candidate.