Warehouse Workers Jobs Canada (LMIA Approved): The Warehouse Worker position at T.W.D Freight Handlers Inc., Canada is open. This comprehensive guide will provide an overview of the role, responsibilities, qualifications, and benefits associated with this position. No experience and education are required, and you can go to Canada through more than one Unskilled Worker Route. If you are interested in working as a Warehouse Worker with visa sponsorship, keep reading to learn more.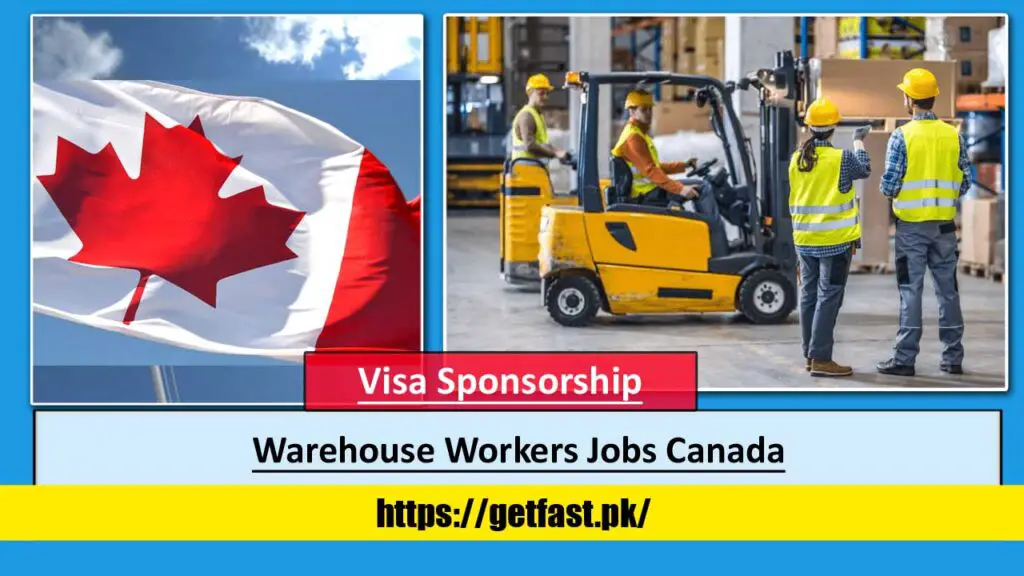 Job Details of Warehouse Workers Jobs Canada (LMIA Approved)
| | |
| --- | --- |
| Job Country | Canada |
| Industry | Logistics |
| Job Type | Warehouse Worker |
| Minimum Experience Required | No |
| Education Required | Basic English |
| Any Age Limit | No |
| Visa | Sponsorship |
| Relocation | Yes |
| Accommodation | No |
| Employment Term | Permanent and Full-Time |
| Salary Hourly | CAD 20 per hour |
Related: Admin Officer Jobs in Australia with Visa Sponsorship (Apply Online)
Requirements of Warehouse Workers Jobs Canada (LMIA Approved)
Previous experience as a Warehouse Worker is prefered.
You should have basic knowledge of Warehouse Environment
Physical Fitness to stand for long periods of time and lift heavy items
Basic understanding of production processes and safety protocols.
Attention to detail and an ambition for perfection.
Eligibility for a work permit in Canada through one of These routes
Immediate availability to start work.
Job Duties of a Warehouse Worker:
Handle shipments by processing, loading, and unloading orders.
Receiving and processing incoming stock and supplies, and displaying stock on shelves.
Prepares orders by processing customer orders, requests, or other supply orders like pulling out materials, packing them in boxes, labeling boxes, and placing orders in the delivery area.
Complete/ execute the delivery process by driving a truck or van (delivery vehicle) to and from vendors.
Maintain warehouse equipment and vehicles by completing preventive maintenance requirements and arranging repairs.
Operating and maintaining forklift Operator.
In charge of all inventory control measures like recording and locating stock location orders and completing all printing, marking, and labeling requests.
Provides quality service by following organization standards.
Must maintain a clean work environment by keeping shelves, pallet areas, and workstations neat.
Inspecting inventory for damages, and faults, or noting any customer complaint thereof.
Completes stock and inventory reports by entering the required information.
Benefits of Warehouse Worker Jobs (LMIA Approved)
Attractive Salary Packages.
37.5 hours per week work schedule.
Paid time off (30 annual holidays per year).
Many employers offer free food and residence.
Free Medical Insurance.
Long-term benefits like profit-sharing, jubilee, etc.
The salary and benefits for the Warehouse Worker position will depend on factors such as experience, qualifications, and company policies. T.W.D Freighthandlers Inc. offers competitive compensation packages, including health benefits and opportunities for career growth.
Who can Apply for Warehouse Worker Jobs (LMIA Approved)
All Asian, African, and Latin American countries, can apply for Warehouse Worker Jobs (LMIA Approved)
Pakistan
India
Bangladesh
Anguilla
Antigua
Barbuda
Barbados
Mexico
Jamaica
Dominicia
Sudan
Grenada
Trinidad
Tobago
Lucia
Vincent
The Grenadines
Kitts-Nevis
Montserrat
Saudi Arabia
UAE
Related: Poultry Farm Jobs in Australia with Visa Sponsorship (Apply Online)
How to Apply for Warehouse Worker Jobs (LMIA Approved)
If you are seeking a Warehouse Worker position in Canada with visa sponsorship, T.W.D Freighthandlers Inc. is a company worth considering. By fulfilling essential responsibilities in a dynamic and supportive environment, you can contribute to the smooth operation of the warehouse and logistics processes. Apply today and take the first step towards a rewarding career in the logistics industry.