Where to Look for Work-From-Home Jobs in the United States: The development of remote work has made it easier than ever to look for employment options without leaving the house. If you're looking for remote work in the United States, start your search with these top five resources. Do you wish to work from home? Find legitimate, well-paying remote work opportunities with this simple top remote job website list. Here are some of the best resources for finding remote tech jobs, freelance gigs, and more.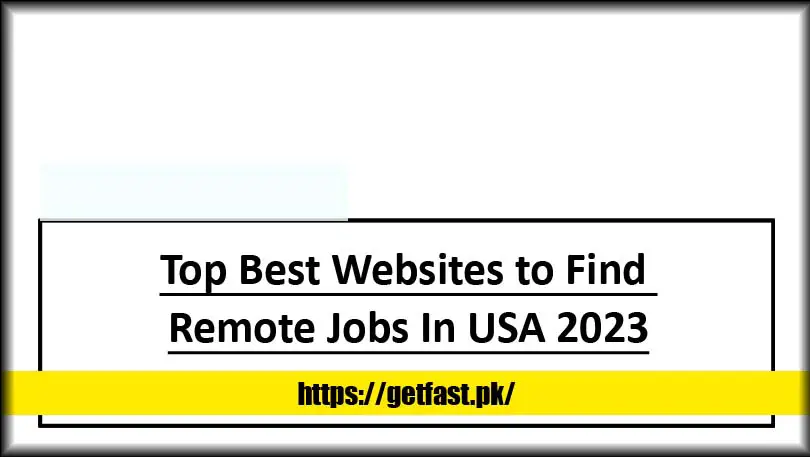 Listed below are the best websites to use in 2023 to look for remote jobs in the United States.
Arc
Arc is a global developer community and employment board. This may prove helpful if you are just getting started with modern technology. View openings for junior developers on the Remote Junior Developer Jobs & Internships website (new tab). Finding true entry-level developer roles might be challenging, but this is a fantastic place to look.
VIRTUAL VOCATIONS
Jobs in fields like technical writing and paralegal work are listed on the Virtual Vocations job board, which is run entirely online. The site features a blog in addition to a job board.
FlexJobs
FlexJobs is a popular resource for finding telecommuting jobs around the United States. Jobs in customer support, advertising, content creation, and more are all on the table. In addition to posting jobs, FlexJobs offers a variety of resources for those looking for work, such as career guidance and resume critiques. While access to their job posts requires a monthly subscription, many users find the service's high quality and variety of positions to be well worth the cost.
Related: What are Green Card, Sponsorship Jobs?
We Work Remotely
We Work Remotely is a popular resource for finding telecommuting jobs in the US. Design, programming, marketing, and customer service are just few of the many available fields. We Work Remotely also features articles and tips for job searchers interested in remote work and flextime. They also have a forum where remote workers may talk to one another and trade tips and tricks.
Indeed
Indeed, one of the most popular job boards has a special area devoted to telecommuting jobs. Keywords, geography, and job classification are all useful in the search for remote work. In addition to posting available jobs, Indeed also features a resume creator and email alerts to help you get seen by recruiters. With millions of postings, Indeed is a great place to begin your search for a remote position.
oportunityjobs.com
oportunityjobs.com is a wonderful resource for furthering your career; it features up-to-date listings of scholarship opportunities, job postings, and visa sponsorship details. Thanks to its clean layout and straightforward navigation, this website is a breeze to explore. Keep one step ahead of the competition by investigating exciting job opportunities, seizing scholarship prospects, and launching the potential for visa sponsorships. You can rely on the information, tools, and guidance provided here to help you achieve professional success.