The Gold price in Pakistan Today 29 October 2022 is Rs. 137,500 per tola and Rs. 117,800 per 10 gm.
Gold Rates in Pakistan differ as per global market rates and you can easily check the price for the respective cities. However, these rates are elaborated by the Sarafa markets and gold market of Pakistan.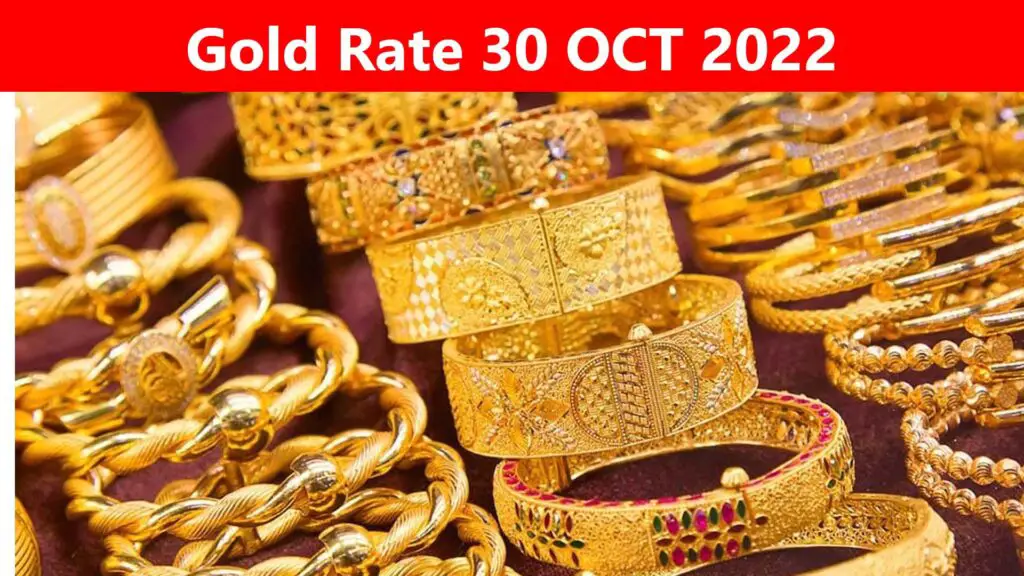 Just check out the below-mentioned table for gold rate in Pakistan today, for different Pakistani cities such as Karachi, Rawalpindi, Quetta, Multan, Sialkot, Lahore, Peshawar, Faisalabad, Islamabad, and Gujranwala. Gold prices in Pakistan for 22 carat, and 24 karat, are mentioned in the table.
Gold Price in Pakistan ( 29 October 2022)
| GOLD PURITY | RATE |
| --- | --- |
| Gold 24K per 10 Grams | Rs. 117,800 |
| Gold 24K per Tola | Rs. 137,500 |
| Gold 22K per 10 Grams | Rs. 107,983 |
| Gold 22K per Tola | Rs. 126,041 |
Gold Price Today In Major Cities Of Pakistan
| CITY | GOLD 24K PER TOLA | GOLD 22K PER TOLA |
| --- | --- | --- |
| Karachi | Rs. 137,500 | Rs. 126074 |
| Islamabad | Rs. 137,500 | Rs. 126074 |
| Lahore | Rs. 137,500 | Rs. 126074 |
| Multan | Rs. 137,500 | Rs. 126074 |
| Peshawar | Rs. 137,500 | Rs. 126074 |
| Abbottabad | Rs. 137,500 | Rs. 126074 |
| Rawalpindi | Rs. 137,500 | Rs. 126074 |
| Haripur | Rs. 137,500 | Rs. 126074 |
Latest Gold Price in Pakistan
Gold is a word synonym for something pure, exquisite, and expensive. Gold is widely used as jewelry in our subcontinent culture, and its demand rises during the wedding season. If you are planning to make Gold jewelry, find the latest Gold rates in Pakistan Today by its purity, either 18, 20, 22, or 24 carats.
Gold rates may differ from city to city depending on a variety of factors such as demand, interest rates, state taxes, gold traders, bullion associations, transportation costs, fabricating charges, and so on. Gold is a popular investment tool all over the world, particularly in Pakistan.
How Many Grams In 22k Gold?
The gold price is usually calculated on a fraction basis and for 22 Karat gold, it is 22/24. However, the 22k gold possesses 8.33% alloy metal and 91.67% gold. So, a 22K 10gm gold bar has 9.1666 grams of gold in the alloy.
What Is Gold Rate In Pakistan Today Per Tola?
Today gold rate in Pakistan per tola is Rs. 137,500 as the latest updated price on 30 Oct 2022
How Much Is A Tola?
The measurement of tola varies in different countries. However, the Gold rate in Pakistan one tola is equal to 11.66 grams.
Gold In Pakistan
Gold is widely used in Pakistan for several years, many women in Pakistan is likely to use gold as their accessory while other will use it as a viable source of investment. However, if we had talked about Gold Price so the price of gold is accumulated in London Bullion Market and sometimes by IMF, which had the sole authority to set the gold standards and its price.
Apart from that, the rate of gold is not fixed and it is fluctuating from time to time because several factors depend upon it. In Pakistan, the Gold Rate in Pakistan is always at a higher level because the Pakistani Rupees is always considered a low currency as compared with other world currencies. Likewise, if we look at Gold Price Pakistan History so Pakistan has never stable rate and the fact is so oblivious Pakistan has faced serious economic crises and severe inflation.
Gold Price Factors
Presently will impact the gold rate today in Pakistan and other global markets due to the following factors.
• When globally the demand for Gold is high the price will ultimately high.
• When the supply of gold is short from the market because central banks keep their reserves then the price of gold will also be high.
• When the interest rate is increased the gold rate also increases
• When the dollar is up the gold rate is also up, as they are closely tied with each other.