what is the Streaming offer Subscription code?
The STREAMING OFFER subscription code is *78#
STREAMING OFFER: IF you are a Youtuber then This Ufone daily youtube offer is best for new YouTubers. in this offer, you will get 500 MBs for youtube only. The time limit for this offer is 1 day and 24 hours. This offer is 10 rupees + tax. The subscription fee is for this offer 10 rupees + tax.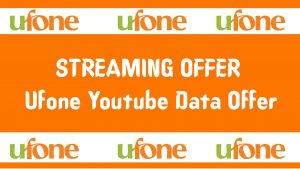 To get More Ufone Packages Click Here
Terms & Conditions
All prices are inclusive of Taxes.
Bucket subscribers will get the maximum available speed. Actual Internet speed will depend on multiple factors such as location, time, device, web pages accessed, number of subscribers, etc.
All Whatsapp calls will be charged from data bucket resources.
All buckets are valid for prepaid customers only.
Dial *706# to check the remaining resources of the buckets.
All prices are inclusive of taxes.
Every session reserves some volume of data to enhance customer experience.
Once the data bucket expires, multiple sessions will be charged separately on the default mobile package rate.
After the consumption of the offer volume, the internet will remain active and will be charged at default tariff i.e. Rs. 2.75 + Tax per MB at a charging pulse of 512 Kbs. On the usage of 25 MBs, you will get 150 MBs free till midnight and so on
Why I am being charged on 4G/LTE when my mobile data is turned off? What should I do?
Inherent to 4G/LTE technology, the data connection of 4G/LTE subscribers remains established despite data settings being switched off from the handset. However, a very limited volume of the internet is consumed in such a case. So, it is suggested to change network settings to 2G/3G from the handset when turning OFF Mobile Data.
General Terms & Conditions for Daily Bundles
A fair Usage Policy (FUP) of 500 MBs per day is applicable on social freebies of Daily Light, Daily Heavy, and Special Daily.