Quran teaching job in Oman with visa sponsorship 2023 is a great career opportunity for those who don't have any high-fi worldly education but have a Madrassa education. Quran teachers (especially online Quran teachers) have an ever-increasing demand after COVID-19. Despite everything being back to normal, people still prefer online teaching and learning mode, especially housewives, jobians, young kids, etc. This means that the job market for Quran/Islamic teachers has increased more than ever as they can be employed online, in mosques, schools, Islamic centers, Welfare or Free education NGOs, etc.
The UAE, the Gulf countries, and all of the Arab world grant many rights and privileges to local as well as foreign applicants in their Labor Laws. Oman accepts the Quran teachers from all over the world, like Pakistan, India, Bangladesh, Sri Lanka, and African Muslim countries. Pakistan's national newspapers regularly advertise job vacancies in Oman for around a year. You apply for the job then comes the visa process later. Luckily, this job is Visa-sponsored, which means that you don't have to apply and wait for the visa. Let's get to know about the job details and apply online directly in the bottom-most section. So, let's get started: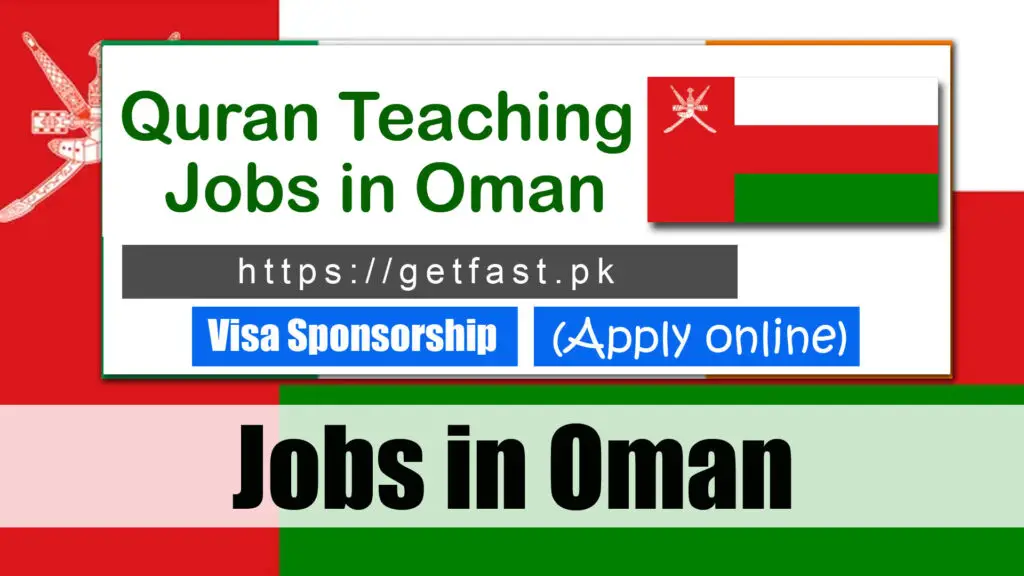 Job Details:
Job title: Quran Teacher
Region: Muscat, Oman
Advertising agency: N W International
Job newspaper: Khabrain Jobs
Job type: Contract basis
Contract duration: 2 years
Free Food: Yes
Free Accommodation: Yes
Free Medical: Yes
Salary package: 350 Riyal per month
Free transport: Yes
Duty timing: 2 hours in a day, 2 hours in the evening
Related: Bike Rider Jobs in Qatar Food delivery with Visa sponsorship
Job Benefits:
Attractive Salary Package.
All males and females can apply.
Free food.
Free Accommodation.
Free transportation.
All Medical expenses are covered by the company.
Job is contract based but good and consistent performance can extend the contract.
Only four hours of duty.
Visa Sponsorship.
Flight as soon as the job is confirmed.
Job Requirements:
As per the paper Ad, the following are the main job requirements:
You should be a certified Qari/Qariah, which means that you should have the relevant Madrassah education like Tajweed and Qirat course, Aalim Course, one-year Nazra-e-Quran course, or any other Islamic education. Similarly, already practicing Qari and Qariyah in mosques or any certified Islamic institute would be preferred.
You should have a good grip over all ten Qirat rules i.e. سبعة عشر قراءة.
Excellent English and Tajweed Skills are required.
Candidates with Hifz or any Islamic education (Dars e Nizami, Nazra Teaching course, Bachelor's in Islamic Studies, Hadith and Fiqah, Alima course) would be preferred.
2 years of experience in Quran teaching.
Fornal visa documents as required by the recruiter.
Related: Tralla driver jobs in Saudi Arabia 2023
Other Visa-sponsored jobs in Oman for foreigners
Hotel management jobs (especially Housekeeping attendants).
Driver Jobs (especially Heavy vehicles drivers).
Tourism industry jobs.
Electricians.
Sales and Marketing executives.
Lady drivers
Beauticians.
Kindergarten teachers.
Childcare workers.
IT professionals.
Electricians.
Engineers.
General helpers.
Steel Fabricators/ Welders.
Factory workers.
Related: Supermarket General Workers Jobs in Malaysia
How to search for visa-sponsored Quran teaching jobs in Qatar?
Create an account on any job search portal like Expat Jobs Oman or Indeed, etc. You can search directly by our creating any account or you can search directly on Google. However, logging in with your account allows you to apply and see more relevant job notifications in your mailbox.
Search your specific keywords in the search bar, like "Quran teaching jobs in Oman with visa sponsorship", "Quran teaching jobs in Oman for foreigners", and " Qari Jobs in Oman with visa sponsorship."
To get more results and more relevant ones, search general keywords like "Teaching jobs in Oman for foreigners", "Islamic teaching jobs in Oman", and "Teaching Jobs in Oman with visa sponsorship."
Click on your relevant ad.
Submit the CV.
Keep checking your mail for a response.
How to apply
Apply on your phone/laptop through online job search websites, Apps, E-newspapers, etc.