Private Nurse/ Nanny Jobs in Qatar with visa sponsorship 2023: Are you a nursing professional with a professional nursing degree and experience? Couldn't find a chance to get to the UK, USA, Europe, Australia, and other Western countries? Qatar would be the ideal destination for you, not only for its ultra-modern metropolitan silhouette but also its friendly immigration conditions towards international workers.
This post discusses a Private Nurse job vacancy for a male principal of a VIP family in Doha, Qatar. The employer organization's name is Educated Households, which is a domestic staff recruitment agency, based in London. The organization aims at placing élite educated private staff (private nurses, housekeepers, nannies, maids) with VIP families in the Middle East and around the globe.
The company is currently seeking a TAGALOG-speaking REGISTERED NURSE for a VIP family in Doha, Qatar with at least 5 years of nursing or hospital experience. The candidate must already be based in Doha (ideally); Overseas workers are also accepted with visa sponsorship. Work visas will be arranged by the hosting family.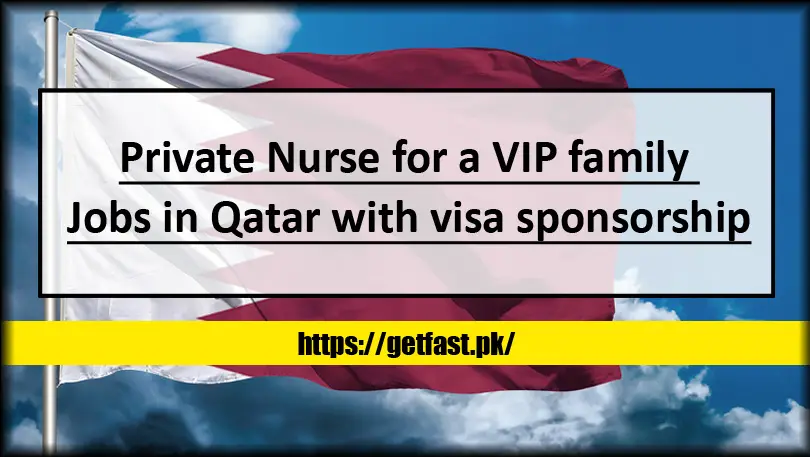 Details of a Private Nurse Job for a VIP Family:
Title: Private Nurse/ Nanny
Employer organization: Educated Households
Company's Headquarters: London
Vacancy: 1
Minimum knowledge: At least Bachelor in Nursing
Minimum experience: 3-5 years
Who can apply: All nationalities
Expected Salary: Above- Market. Will be negotiated during the interview
Expected benefits: Will be negotiated in the interview
Job Requirements of a Private Nurse for a VIP Family:
Candidate should have at least a Bachelor's Degree in Nursing.
 Candidate should have a minimum of 3 to 5 years experience working as a nurse or working in a hospital setting
Be willing/ experienced with/comfortable with male patients.
Candidate should be based in his/ her country of origin while applying for this post.
The candidate should be based preferably in Doha, Qatar. However, all nationalities are eligible to apply.
Job obligations/ responsibilities of a Private Nurse for VIP family:
 Be willing/ comfortable with/ experienced with working within a private household environment and looking after a male stakeholder.
Promote the overall mental/ physical wellness of the Principal by providing high-quality nursing healthcare. Candidate should be well-versed in all theoretical/ practical/ everyday nursing and healthcare techniques.
 Conduct routine checkups.
Provide first-aid when needed.
Administer medication and consult respective doctors, physicians, and health consultants to provide treatments as per their instructions.
Make recommendations about healthcare and coordinate daily physical activities like light exercises, light physiotherapic moves, walking in the fresh air, etc.
Prepare and maintain an organized documentation system/filing system for the principal's health record.
Average Salary of a Registered Nurse in Qatar:
The salary of a registered nurse depends upon many factors, particularly your location (registered nurses based in Qatar are paid more competitive rates than those who reside outside Qatar), qualifications, and experience (the factors which matter the most). According to Indeed. QA, the salary of a registered nurse in Qatar is between QAR 6204 per month and 10,170 per month. VIP families pay more, and the benefits of this job mention that the selected candidates will be paid above-market rates. So, this job is more than any good opportunity!
Benefits of Private Nurses Jobs in Qatar for a VIP Family:
Above-Market Salary Rate.
Work visas will be sponsored by the family.
Other job benefits will be negotiated during the interview.
How to apply for Private Nurses Jobs for a VIP Family in Qatar?
By clicking on the link below, you will be routed to the official job search portal, use the application button given below the job description.
You can also use/ search yourself for the job by using the search box and the location box, to narrow down your job search results. Type your job title, e.g., " Registered VIP Nurses Jobs in Qatar", "Registered Nurses Jobs in Qatar", "Nurses Jobs in Qatar", "Healthcare Jobs in Qatar", "Nurses for VIP families in Qatar", "VIP Nurses Jobs in Qatar "
Select Doha, Qatar as your desired location to make your search results more precise.
It's better to update your CV or Resume and Cover letter according to the latest market trends as there is a high chance that your employer might notice the layout/ presentation.
Examine the job posting details like job description, job requirements, job responsibilities, etc.
Ensure you meet all requirements before you apply. Examine the job role and its requirements carefully.
Click the "Online Application" button given below.
Fill out the necessary details being asked and submit the application.
Verify the reception of a confirmation email for your sent job application.
Click here to apply for this job
Private Nurse for a VIP family Jobs in Qatar with visa sponsorship 2023