Potato Grading Workers / Potatoes Picking Backpackers Jobs in Australia for Foreigners: Potatoes Harvesting Jobs is the best option for backpackers in Australia, who want to work on Working Holiday Visa because they can be grown all over Australia at various times of the year. It is also a great option for those who want a 2nd or 3rd-year extension in their Holiday Work Visa. Potatoes grow very well and easily in all Australian States, growing in both warm and cold climates.
Potatoes can grow everywhere_ in large pots, small patches, or raised beds. The only thing that should be kept in mind is that they shouldn't be grown in frost season as they need nearly 90 days free of cost and extreme cold. Similarly, too much hot weather (like around Jan-Feb) is also not ideal. According to Aus Veg, Potatoes are by far the biggest vegetable commodity grown in Australia by volume. This indicates the job potential for Potato Harvest Workers/ Potato Picking Workers. Today's post has brought one such amazing opportunity by the Mitolo Group for our subscribers in Adelaide, South Australia. Read on below to find all important job details and descriptions like skills and experience requirements, visa options, and a link to apply online.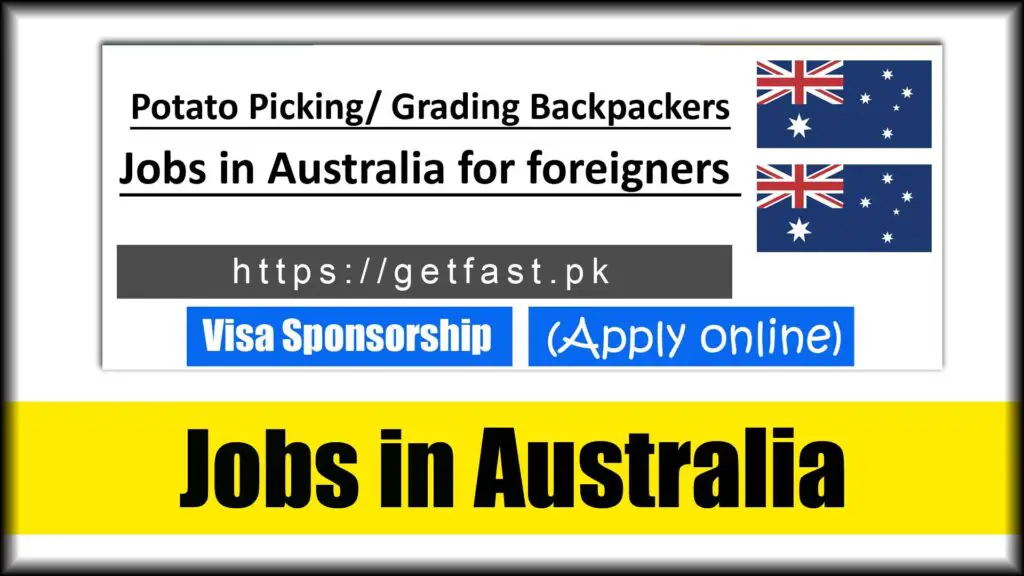 Details of Potatoe Picking / Grading Backpacker Jobs for Foreigners:
Job Country: Australia.
Employer's location: Virginia, Adelaide, Australia.
Employer's name: Mitolo Family Farms.
Industry: Agriculture/ Farm Jobs
Job Title: Potatoe Harvest Workers/ Potatoe Pickers/ Potato Farm Workers.
Job type: Part-time/ Rotating Shift basis. (Finishing time can vary).
Experience Required: No
Knowledge Required: Not High
Age Limit: No
Visa Sponsorship: Varies from one employer to another.
Valid visa types: 2nd and 3rd year working holiday visa, Work visa, Seasonal worker visa, Student visa, and PR holders.
Accommodation: Varies from one employer to another.
Expected Salary: AUD 22.03 with %15 for PM Loading.
Expected Season: All around the year but not during extreme weather.
About Mitolo Family Farms:
The company is the biggest potato and onion-producing company in South Australia. It is the biggest supplier of the freshest produce to Australia's supermarkets, market wholesalers, and numerous export markets with 26 farms in South Australia and NSW. Other famous products in the company's product line are also extra virgin Olive Oil, Mitolo Wines, and Mitolo Potato Crisps. With 51 years in the industry, the company has an employee family ranging from 500-1000 members. Mitolo is an international supplier, supplying its high-grade potatoes and onions abroad.
Apple Picking Jobs in Australia For Unskilled Foreigners in 2023- Apply Online
Potato Harvest Season in South Australia:
South Australia is blessed to have soil that can grow potatoes 365 days a year, which means that potatoes can be planted at almost any time of the year. However, the best yield is reaped in late winter/ early spring or late summer/autumn. Potatoes grow best in the cooler weather of spring and autumn. Potatoes typically mature within 90-120 days of planting. During hot weather, potatoes are harvested between Dec-Feb in South Australia, and in cold weather, they are harvested around June-August in South Australia.
Requirements of Potatoe Picking/ Grading Backpackers Jobs:
Candidate should be physically fit and strong enough to carry a heavy picking bag of between 2- 20 kg bags, while also capable of climbing up and down the ladders.
Candidate should be able to work for long hours and overtime.
Candidate must have flexible working conditions and team player spirit.
Previous experience in potato picking/ packing is an advantage but not essential.
Candidate should be a 2nd or 3rd Year Working Holiday visa holder.
Candidate should be able to arrange own accommodation.
Candidate should be able to transport his own transport as there is no public transport available nearby.
Candidate should have sharp inspection and grading qualities.
The candidate has to work a few days to learn the technique required to become a fast picker. In other words, it is self-job site training.
The candidate has to take care of his own safety.
Self-motivated with a can-do attitude.
Job responsibilities/ obligations of a Potato Grading Worker/ Backpacker:
Manually cultivating and pruning potato plants.
Taking care of farms like regularly performing weeding, rock picking, hoeing weeds, and racking old leaves, loosening the soil around the plants, leveling the earth, etc.
Manually/ By hand thinning apples from the trees.
Keeping a record of packing bags stock with respect to the expected level of the total produce. Getting bags ready before harvest.
Cleaning farm.
Candidate must be able to stay back at short notice.
Disposing of overripe or rotten potatoes or defective bags.
Final grading and inspection of potatoes.
Handling bags between 2 to 20 kgs.
Load graded potatoes into packaging bags while taking care of/ avoiding any possible damage.
Some graders/packers are also required to drive tractors or other vehicles to deliver fruit and vegetables to the packing shed.
Packing and stacking of packaged potatoes without damage.
Unskilled jobs in Germany for Foreigners 2023 (Apply Online)
Benefits of Potatoe Picker/ Grader Jobs:
The base hourly rate for Level 1 is $22.03 with 15% loading for PM shifts.
All Leave Entitlements.
Mittolo Family has many farms in Adelaide. The current job posting is recruiting for two locations i.e. Angle Vale Road, Virginia, Taylors Road, Penfield Gardens.
Shifts on a 3-week rotating roster: AM shifts Monday to Saturday from 5 am and PM shifts Monday to Friday from 2 pm.
Adelaide also has many other potato farms due to having favorable conditions for growing potatoes.
How to apply?
By clicking on the link below, you will be routed to the official job search portal, use the application button given below the job description.
You can also use/ search yourself for the job by using the search box and the location box, to narrow down your job search results. Type your job title, e.g., " Farm Jobs in Australia for foreigners/ with visa sponsorship", "Farm Jobs in Australia for Working Holiday Workers", "Vegetable Picking / Grading Jobs in Australia for foreigners/ with visa sponsorship", "Potatoe Picking or Grading Jobs in Australia for foreigners", "Agriculture Jobs for Working Holiday Visa", "Agriculture Jobs in Australia with visa sponsorship."
Select Adelaide, Australia in the location bar right beneath the search bar.
It's better to update your CV or Resume and Cover letter according to the latest market trends as there is a high chance that your employer might notice the layout/ presentation.
Examine the job posting details like job description, job requirements, job responsibilities, etc.
Ensure you meet all requirements before you apply. Examine the job role and its requirements carefully.
Click the "Online Application" button given below.
Fill out the necessary details being asked and submit the application.
Verify the reception of a confirmation email for your sent job application.
More Visa-sponsored Backpacker Jobs in Australia
Click here to get a guide about and apply for more Visa-sponsored Backpacker Jobs in Australia for unskilled foreign workers/ Working Holiday Visa Workers.