Podiatrist Job in a UK's company with free visa sponsorship: Podiatrist (often confused with orthopedics) are foot and ankle specialists that treat everything about foot health, movement issues, and foot dermatology. They may or may not specialize in foot surgery. Although this profession is on the lower tier than the full-time doctors and surgeons, being a specialized medical skill, it earns you an envious salary figure!
The employer organization's name is Sanctuary International (also called Sanctuary Personnel) which is one of the UK's leading healthcare and social care recruitment agencies. The company is based in Ipswich, England, and it successfully runs many other businesses like Sanctuary Social Care, Sanctuary Executive, Sanctuary Health, and Sanctuary Criminal Justice. As this company is a multinational company, it operates in other European countries, along with the Middle East and Asia. This job offer has brought to you Sanctuary Personnel's job vacancy for an overseas (Saudi-based) podiatrist in London, UK, which means that the applicant ( of any nationality) should be based in Saudi Arabia while applying. It pertains to a permanent/ full-time job vacancy with a fully supported relocation package (flight from the base country to the UK and taxi from airport to the accommodation). Let's further discuss this amazing job opportunity: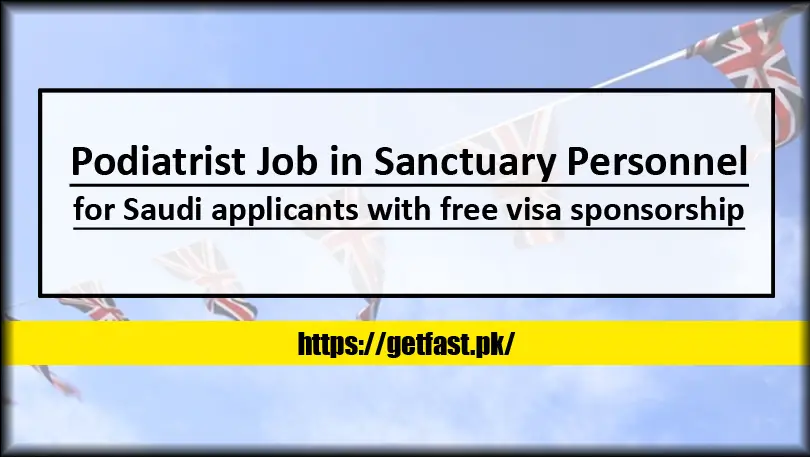 Details of the Podiatrist Job in Sanctuary Personnel for Saudi Applicants:
Job title: Podiatrist
Location: London, UK
Employer organization: Sanctuary Personnel
Vacancy: 1 M/ F
Minimum knowledge: Full degree in Podiatry or equivalent
Minimum experience: At least 12 months
IELTS required: Yes
Related: Private Nurse for a VIP family Jobs in Qatar with visa sponsorship 2023
Requirements of Podiatrist Job in Sanctuary Personnel for Saudi Applicants:
Minimum Bachelor's Degree or any equivalent qualification in Podiatry
At least 12 months of post-study experience
Have the IELTS test passed in the previous 2 years with an overall score of 7, with no element below 6.5 (this is the minimum score to be approved by the HCPC registration body in the UK)
Legally permitted to work in the UK.
Benefits of Podiatrist Job in Sanctuary Personnel:
Certificate of Sponsorship by the employing company that earns you UK's work permit.
UK Work visa for permanent, full-time work.
Free flight from home country to the UK.
Taxi from your UK airport to your accommodation.
First 3 months of free accommodation.
If you are sent to work with NHS, it pays a "High-Cost Area Supplement" on top of the above salaries to reflect the higher cost of living in London. Private employers also have similar salary brackets.
Being the winner of the 'Best Candidate Care' at the Recruiter Awards, Sanctuary Personnel proud fully employs candidates from diverse ethnic backgrounds. So candidates from all nationalities can apply.
Job Responsibilities/ Obligations of a Podiatrist:
Treating all foot and ankle ailments from surgical conditions to dermatological problems like ingrown toenails, heel fractures, heel spurs, callus, foot skin infections, nail infections, and arch problems.
Treating foot and ankle problems associated with other health conditions like diabetes and obesity.
Help people with walk/ movement issues.
Prescribing orthotics, medications, and other therapy measures concerned with foot and lower leg.
Performing orthopedic treatments i.e. related to soft tissues, bones, and muscles.
Treat injuries of foot, ankle, and lower legs.
Average Salary range of a Podiatrist working with Sanctuary Personnel:
The average salary of a Podiatrist in Sanctuary Personnel, UK depends upon many factors, especially experience, seniority level, and whether he works with NHS or any private employer. According to the official web page of the organization, the following is the salary chart of a Podiatrist depending upon his career seniority level:
Band 5 (Non-senior) – from £25,655 up to £31,534 per year depending on experience.
Band 6 (Senior) – from £32,306 up to £39,027 per year depending on experience.
Band 7 (Managerial) – from £40,057 up to £45,839 per year depending on experience.
Related: Truck Dispatcher Job in Canada With Visa Sponsorship (Apply Online)
How to apply for Podiatrist Job in Sanctuary Personnel as a Saudi applicant?
By clicking on the link below, you will be routed to the official job search portal, use the application button given below the job description.
You can also use/ search yourself for the job by using the search box and the location box, to narrow down your job search results. Type your job title, e.g., " Podiatrist Jobs in Sanctuary Personnel", "Podiatrist Jobs in the UK", " Sanctuary Personnel Jobs", "Sanctuary International Jobs", "Healthcare Jobs Sanctuary Personnel."
Select London, UK as your desired location in to make your search results more precise.
It's better to update your CV or Resume and Cover letter according to the latest market trends as there is a high chance that your employer might notice the layout/ presentation.
Examine the job posting details like job description, job requirements, job responsibilities, etc.
Ensure you meet all requirements before you apply. Examine the job role and its requirements carefully.
Click the "Online Application" button given below.
Fill out the necessary details being asked and submit the application.
Verify the reception of a confirmation email for your sent job application.