Messenger Jobs in Dubai and Sharjah 2023: Do you have experience in factories/ warehouses as a loader? If so, today's post is for you. There is probably no job easier than loading/unloading freight and package delivery. It is physically demanding but there is no high-end qualifications and experience required.
As discussed in the previous posts, foreign workers have more than 80% share of the UAE's workforce population. These statistics imply another fact: UAE is very generous in sponsoring employment visas! This post further supports this fact by bringing another exciting job offer on the table. The job doesn't have many requirements/ high-fi eligibility criteria but has many benefits to offer! We are talking about the Messenger Jobs in Dubai and Sharjah with Visa Sponsorship (2023). In this post, you can know all the job details and apply online directly by clicking on the link given in the bottom-most section.
You can get selected for the job on an interview basis. If the interviewer shortlists you, your visa process starts. Let's dig deeper into this job: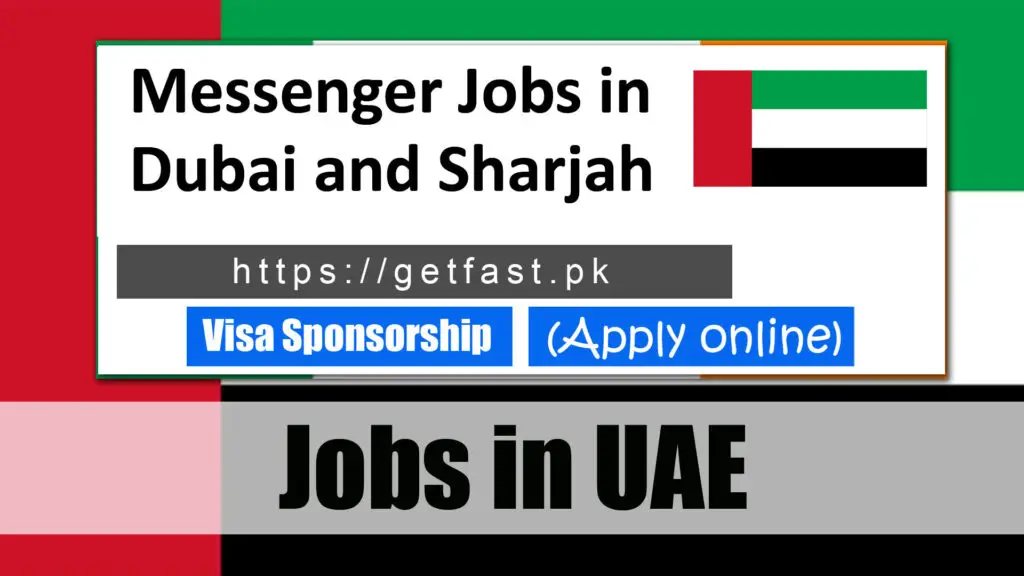 Job Details:
Job title: Messenger/ Courier boy/ delivery boy.
Location: Dubai, Sharjah, UAE.
Job Industry: Labour jobs.
Hiring Company: TroMax.
Minimum knowledge: Middle.
Minimum experience: 02 years.
Job type: Full-time.
Duty timing: 8 hours a day for 26 days.
Salary Package: 1100 Dirhams+ Overtime.
Free food: No.
Free Accommodation: Yes.
No.of hirings: 100 M
Age limit: 20-38 years.
Free Medical: Yes.
Free transport: Yes.
Mode of hiring: Test interview.
Related: Admin Assistant Jobs in Italy with Visa sponsorship
Job Requirements:
You should be between 20 to 38 years of age.
You should be well-versed in reading, writing, and speaking Basic English.
You should have a minimum of 2 years' of experience.
Only males can apply.
High school education is preferred.
A driving license is preferred.
All visa documents as prescribed by the agency.
Job Benefits:
Permanent job offer for the right candidates.
Pathway to permanent employment and residence in the UAE.
Food isn't expensive in Dubai, Sharjah, and Abu Dhabi.
Free Accommodation.
Free Transport
All medical expenses are covered by the company.
Visa Sponsorship/ Direct Employment Visa.
Flight as soon as the job is confirmed.
Related: AC Pipe Fitters Jobs in UAE with visa sponsorship
Is this job paying you fairly?
Salary figures can vary substantially due to a worker's experience, location, relevant skills, etc. However, according to a Salary expert, an entry-level messenger (1-3 years of experience) earns 104,473 AED per year, which is 8,706.08 per month. For senior-level workers (more than 8 years of experience), Salary experts and Indeed report the average salary to be between 2500-3500 AED. So, in light of the above figures, this ad is paying you fairly.
Job duties of a messenger/ courier or delivery boy:
Your job duties are very simple but physically demanding in nature. According to Better Teams, a Messenger/ General helper in factories or warehouses performs the following duties:
You should be aware of the total number of parcels and packages in each shift. Some messengers are also trusted with documents, written, and verbal messages.
You need excellent multitasking and planning skills because you need to check, sort, fetch, and sign the incoming packages at all their collection points as well as dispatch the outgoing ones in a timely manner.
You should know all direct and alternative delivery routes and should be able to plan the shortest and most expedient route for a courier.
Obtain required signatures when necessary. Obtain and record daily payments.
Unload items from the large freight trucks to the smaller vehicles like bikes for delivery.
Maintain, store, and process all the accurate documents/emails/ messages related to the receipt and delivery process like payment receipt, order booking mail or message, tracking time of the delivery, tracking parties, etc.
You may also be required to schedule and perform maintenance tasks on delivery vehicles.
May perform other clerical, and freight handling duties as required.
Related: Healthcare Assistant Jobs in Ireland with visa sponsorship
Interview questions for Messenger Jobs.
As you would be shortlisted for the job on an interview basis, performing well in the interview is key. You can Google the exact keywords in the heading for the most common/ anticipated questions for the messenger job interview. PDFs, Templates of the questions are also available on various websites to download. Here is the link of the top 5 questions for the messenger job interview with some useful tips for the candidate:
How to apply?
You can make an account on any online job searching website or online newspapers, login, and submit your CV to apply. For this job ad, click below to apply directly on the ad website:
Click here to apply for the job
More Visa-sponsored jobs in the UAE Warehouses.