Lead Educator Jobs in Australia with Visa Sponsorship: Today's job post is solely dedicated to Teachers, Educators, especially those who have spent a valuable time of their lives in schools, nurseries, daycare units, etc. If you have a diploma in the relevant field or you are eligible to pass the skills migration test, the golden chance to migrate to Australia with Visa Sponsorship is yours. Eligible candidates will have Relocation Support and Visa Sponsorship opportunities by Seedling & Co. Previously, we talked about the Assistant Educator Jobs in Australia, now this post is for Lead Educators/ Senior Teachers/ Teachers. If you believe that every child is gifted and can do something different by unlocking the magic of childhood, this post is for you. Read on below to find more about Lead Educator Job in Australia with Visa Sponsorship: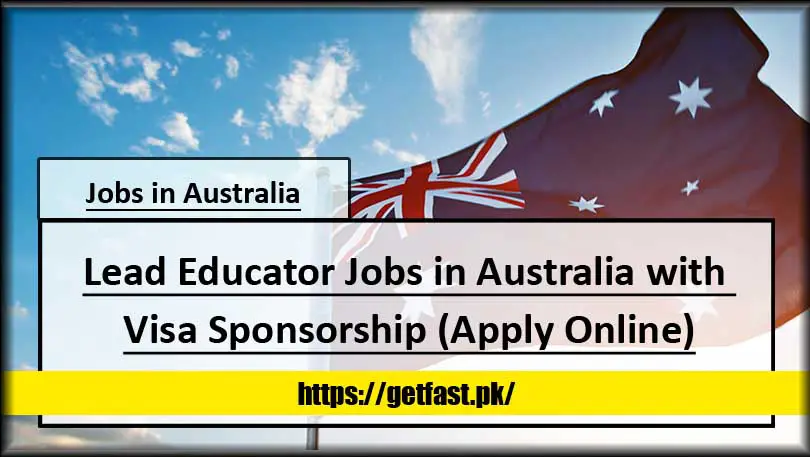 Details of Lead Educators Jobs in Australia with Visa Sponsorship:
Job title: Lead Educator
Job Location: Logan Reserve, Brisbane QLD
Employer's name: Seedlings & Co
Visa Sponsorship: Yes
Relocation Support: Yes
Expected Salary: $56,000 – $67,000 per year
Employee benefits: Yes
Related: Carpentry and Mason Jobs in Oman 2023 with Visa Sponsorship
Requirements of Lead Educator Jobs in Australia with Visa Sponsorship 2023:
Must have a Teacher's Training Diploma, any diploma or degree in Early Childhood Care and Education, or any other relevant field.
At least 3-5 years of experience working in nurseries, schools, or any other child care units as a Full-Time Teacher/ Head Teacher. to pass the skills migration test. However, this condition is not mentioned as a must in the job ad.
Must hold a current Working with Children Check, First Aid Certificate, and CPR certificate.
You must be an adaptable teacher, changing your teaching methodology, behavior, etc, with the interests and needs of the child.
You must be thoroughly invested and have a rich experience in child development and education in the first 5 years.
have a thorough understanding of the planning cycle and is able to work closely with the team to deliver a rich curriculum
– Looking for work stability with a company.
Benefits of Lead Educator Jobs in Australia with Visa Sponsorship 2023:
Cash bonus to top team performers every 6 months and above award rates to successful applicants.
Competitive Salary i.e. $52,000 – $63,000 per year.
Subsidized study and training programs for those who wish to upskill.
At least 5% discount at the grocery, fuel, and retail stores, also called Corporate Rewards Program.
Annual Mandatory Training Programs.
Professional Support and Development with Leading Consultants.
Job duties of Lead Educator Jobs in Australia with Visa Sponsorship:
Giving personalized attention to students working in collaboration with Assistant Teachers.
Training/ Coaching Assistant Teachers/ Trainees/ Internees for classroom operations and management.
Prepare teaching materials, activities materials, and setups, equipment, props, etc, with the help of Assistant Teachers.
Provide a secure, nurturing environment in the classroom.
Prepare students' worksheets, feedback, etc, with the help of Assistant Teachers.
Listen to process improvement ideas to teachers by Assistants, Internees, and other juniors, while trying to implement them.
Provide feedback, concerns, and information to parents.
Enable a child to learn and explore through playful activities.
Help students learn social skills, ethics, good behavior, etc, especially students with emotional regulation issues.
Support children with special needs through special education and behavior-learning techniques.
Related: Potato Picking Grading Backpackers Jobs in Australia for foreigners (2 July, 2023)
How to Apply for Lead Educator Jobs in Australia with Visa Sponsorship:
Make an account on SEEK, in case you don't have one.
Click on the verification mail in your mailbox, spam, or bin folder to activate your account.
Search "Teacher Jobs", "Lead Teacher Jobs", "Educator Jobs", "Lead Educator Jobs" etc, or any other related term in the search bar.
Select All Australia or Brisbane in the location bar just beneath the search bar.
Click on your desired job role.
Submit your CV along with all the necessary information asked.