Jobs in Dubai with Visa Sponsorship 2024: Considering the demographics of the UAE population, the nationals make up a mere 11%, while expatriates are 89%. The current net migration rate is 1.93 per 1000 population, According to a November Report by Global Media Insight. Indian, Bangladeshi, Nepali, Sri Lankan, and Pakistani workers make up 90 percent of the workforce. Population growth in the United Arab Emirates is among the highest in the world, mostly due to immigration. In low-skilled and semi-skilled jobs, workers from Asia and the MENA region are employed primarily.
Dubai is a vibrant and cosmopolitan city with a diverse economy. It is a major hub for business, finance, tourism, and trade. Owing its largest percentage of expatriates and foreign Workers in the world, Dubai offers a highly competitive Job Market with every type of Skilled and Unskilled Job Position. Therefore to get a life promising career in Dubai, education and experience is not compulsory.
Salaries and Benefits offered are envious. Let's talk about everything about Visa Sponsorship Jobs in Dubai like What are the Requirements of Dubai Work Permit, Available Jobs with Visa Sponsorship, Application Links, and How to Apply.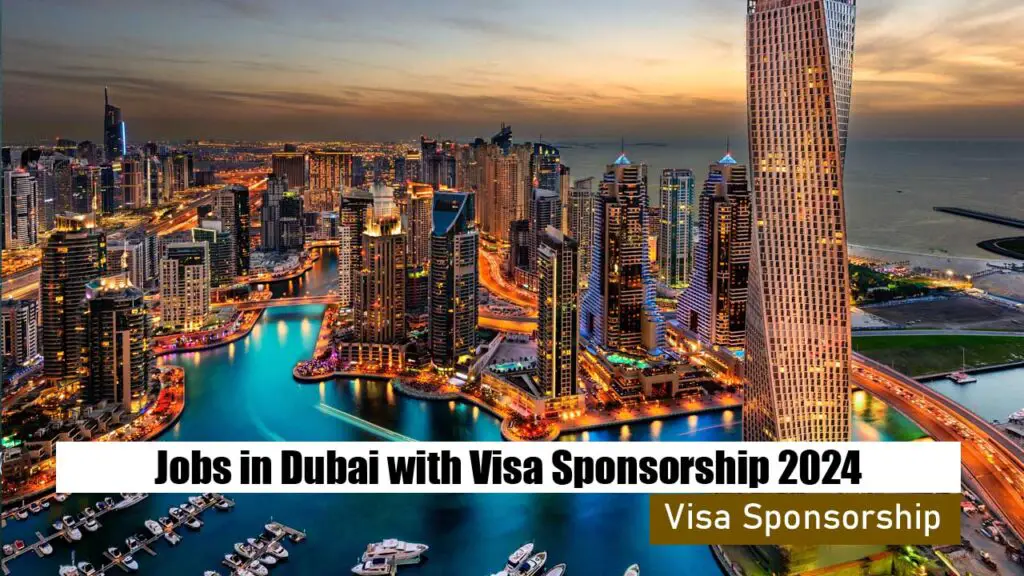 Requirements of Jobs in Dubai with Visa Sponsorship 2024
To obtain a residence visa in the UAE, employees will need the following documents:
A valid passport and a photocopy
Passport photos
An Emirates ID card
An entry permit from the Ministry of Labor
The results of a medical screening
A copy of a company card from the employer
A copy of the company's commercial license
The employee may apply for a work permit after obtaining a residence visa. To get a work permit, the employee will need all of the documents listed above as well as a work permit application form, which must be completed in Arabic, and an employment contract or job offer from a company in the UAE.
How Many Types of Work Visas are There for Foreigners?
On September 5th, 2022, the UAE government implemented new immigration regulations including a new residency visa system that introduces several new categories.
Under the new regulations residence permits for work include:
Residence permits for contractual employment – an employer-sponsored resident permit that requires Ministry of Human Resources and Emiratization (MOHRE) approval and an employment contract
Green Visa – a 5-year self-sponsored residence permit for investors, highly-skilled workers, and freelancers
Why Jobs in Dubai with Visa Sponsorship?
Dubai is the hub of Global Employment
Foreign workers have well protected rights and privileges outlined by the UAE Constitution
Higher salaries
Envious Employee Benefits
Professional Development
Permanent Employment Opportunities
High Demand Jobs in Dubai with Visa Sponsorship
As we discussed before, every unskilled and skilled job role from a cleaner to CEO could be found in Dubai, as it's highly diverse and multicultural economic landscape has room for everyone. However, the following jobs are in the highest demand and most highly paid
Engineers.
Software developers.
Data scientists.
Digital marketers.
Healthcare professionals.
Teachers.
Sales professionals.
Customer service representatives.
Lawyers and Solicitors
Accountants
Management Professionals
Human Resources Professionals
Teachers
Related: Agricultural Worker Jobs in New Zealand with Visa Sponsorship – Apply Now
Visa Sponsorship Jobs in Dubai with Visa Sponsorship 2024
KFC Jobs in Dubai with Visa Sponsorship 2024
Permanent Job Positions in Dubai City, Dubai with Visa extension
Free Staff Meals, Free Uniforms, Competitive Salary, Accommodation Assistance
Skilled Jobs
Restaurant Manager, Kitchen Manager, Project Manager, Maintenance Technicians, Real/ Assistant Real Estate Managers, Accountants, Marketing Specialists, IT Team.
Unskilled
Barista, Kitchen Helper, Dishwasher, Waiter/ Waitress, Barista, Dish Washer
Supermarket Jobs in Dubai with Visa Sponsorship
Dubai, Sharjah, Ras Al Khaimah, Abu Dhabi
Permanent and Multiple Vacancies (Part Time and Full Time)
High School Diploma, Basic English, Physical Endurance
AED 1500-3000 per month
Warehouse Jobs in Dubai with Visa Sponsorship
Permanent and Full Time Positions for AED 2000 per month
Dubai City, Dubai
No education and experience. Physical strength is a must
Multiple Skilled and Unskilled Jobs available from Warehouse Executive to Accountant
IT Jobs in Dubai with Visa Sponsorship and Employee Benefits
Permanent and Full-Time Job Positions in Dubai and Sharjah
AED 4,094–AED 15,000 a month
Whether you are an Indian, Pakistani Canadian, US, or UK citizen, or any foreigner currently residing in this Emirate, these information technology jobs will allow you to pursue a rewarding career in many available fields, such as helpdesk, networking, consultancy, healthcare, hotel, asset management, and more. Both males and females can take advantage of this opportunity with visa sponsorship and get the chance to engage in revolutionary projects. So, why aren't you doing it? Submit your application right away!
Housekeeping Jobs in Dubai with Visa Sponsorship
Dubai, Ras Al Khaimah
No experience and education are needed. Permanent and Full-Time Job Positions
An incredible job opportunity in the hospitality sector is at your doorstep because numerous hospitals, 5-star hotels, restaurants, and other establishments are actively offering Housekeeping Jobs in Dubai. Opened to both males and females, these roles are in high demand for their attractive combination of great benefits and diverse opportunities.
AED 21.6K- AED 164K a year
Store Keeper Jobs in Dubai with Visa Sponsorship
Permanent and Full Time Job Position in Dubai City for AED 3.5 K a month
No education is needed except Basic English. No experience needed
Managing stock inventory with robust knowledge of inventory management software. Managing all documents of stock level and inventory control
Teaching Assistant Jobs in Dubai with Visa Sponsorship and Employee Benefits
Permanent and Full-Time Job Positions with AED 2.5K per month in Dubai, Abu Dhabi
High School to Bachelor's Degree with at least one year of experience
Exposure to a multicultural work setting with professional development opportunities
Conclusion
Jobs in Dubai with Visa Sponsorship 2024 are for every skilled and unskilled worker whether he has a high qualification and experience or not. If you know the procedure to apply for a work permit and for Visa Sponsorship Jobs, the sky is the limit for you