Located in Ghana, Miro Forestry Ghana Limited produces timber and develops sustainable forestry plantations. Plantations are located in the area of Agogo and Mampong, while the company itself is headquartered in Drobonso, sekyere Afram Plains District in the Ashanti Region of Ghana.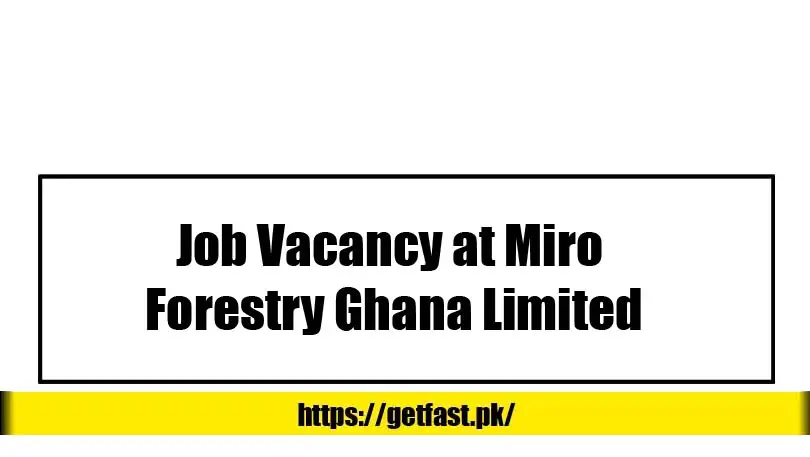 Job Duties for a Workshop Supervisor That Are Currently Being Recruited
Safety of workshop staff and safe working conditions; Control of work allocation and subordinates; Workshop housekeeping; Workshop equipment and tools control; Report problems and incidents concerning vehicles and equipment to Technical manager/senior silviculture forester/general manager; Service and repair of labor trucks; Service and repair of tractors and heavy equipment like dozers, graders, etc.; Service and repair of staff vehicles like pick-ups.
Competencies Required and Prior Experience
Have worked in industrial maintenance for a minimum of five years.
• Extensive background in the maintenance industry combined with strong academic credentials. Skills in supervision and rapid strategic thinking.
• Flexibility with regard to working hours and the ability to work under duress.
• Trustworthy, assertive, and able to take charge or delegate.
• Bachelor's Degree, Associate's Degree, or Technical Certificate (Mechanical). The ability to use a computer is a plus.
Qualifications
• At least five years of experience in the maintenance and servicing of heavy equipment and vehicles
• Polytechnic certificate in mechanical or motor engineering or comparable computer expertise, i.e., Microsoft Office, etc. Knowledge in service scheduling, recordkeeping, and workshop management
How to Apply
Instructions for Sending in Your Resume to Miro Forestry Ghana Limited
Send your resume and cover letter to ghanahr@miroforestry.com if you're interested.
Remember to start the subject line of your application email with the position's title.
Date of Final Payment: May 12, 2023
Job Duties for an Occupational Health and Safety Officer That Are Currently Being Recruited
Engage regularly with relevant stakeholders and train employees on OHS issues; Design and develop an occupational health & safety management plan (OHSMP); Actively work towards the company achieving FSC certification; Health and safety management system; Incident, accident, and near Miss Management; Road safety Management; Actively work towards the company's full compliance with the international labor organization (ILO) guidelines.
Related: Tullow Oil Calls for Job Applications
Responsibilities for Hiring a Human Resources Officer
Support in completing job application materials and documentation and preparing for employment interviews and examinations. Assist in generating monthly department reports Effective monitoring of the Clocking system at all locations. Maintained employee information by entering and updating employment and status-change data; developed and maintain the personnel filing system; aided in liaising between the labor union and management; continuously updated disciplinary records.