10 GB
Free MBs(+5GB 2AM-2PM)
How to Subscribe to Weekly Sindh HAFTAWAR Internet Data Offer?
Jazz Weekly Sindh HAFTAWAR Internet Data Offer Subscription code is Dial *406#
JazzWeekly Sindh HAFTAWAR Internet Data Offer Unsubscribe Code: *406*4#
Description
In This Jazz Weekly Sindh HAFTAWAR Internet Data Offer, You will get free 10GB (5GB 2 AM to 2 PM) of internet data for 7 days. This is Rs 222+tax for 7 days 1 week. This offer will automatically be going to expire after completing 7 days (1 week) at midnight 12 PM.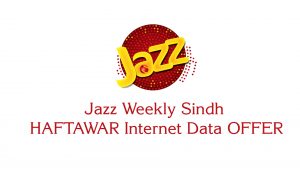 Terms & Conditions
Offer can be subscribed multiple times, the incentive would be added and the latest validity would be applicable
The offer can be subscribed through subscription string *406#
Upon dialing *406#, the customer will be subscribed to Apna Sheher Haftawar Offer for exact 7 calendar days, the offer will expire at midnight of the 7th calendar day (including subscription day)
There is no call set-up fee
This bundle is non-recursive and customers will have to dial *406# again to avail of the bundle again
All free minutes will be posted at the time of subscription and will expire at 23:59 hrs of the 7th calendar day
Free Minutes / SMS / Data will be usable 24 hours a day (no time limit)
5GB incentive is usable round the clock while the other 5GB is available from 2 AM to 2 PM
Free Data MBs are for 2G/3G/ 4G
Offer is subject to change anytime
Terms and Conditions apply
Badah, Bhiria City, Choondiko, Daharki, Dokri, Gambat, Garhi Khairo,
Garhi Yasin, Ghauspur, Ghotki, Hyderabad, Jacobabad, Jamshoro, Kandhkot,
Kandiaro, Karachi, Kashmore, Khairpur, Khan Bela, Khangarh, Khanpur,
Kot Diji Kotri, Lakhi Larkana, Liaqatpur, Mehrabpur, Miro Khan,
Mirpur, Mathelo, Mirwah, Nasirabad, Naudero, Naushero, Feroze Pacca, Chang Pano Aqil,
Pirjo Goth, Qambar, RahimYar Khan, Rato Dero Sadiqabad, Saleh Pat Shahdadkot,
Shikarpur, Sobho Dero Sukkur, Tharu, Shah Thul Ubauro Warah
Click here for General Terms & Conditions.
تفصیل
اس جاز ہفتہ وار سندھ ہفتار انٹرنیٹ ڈیٹا کی پیش کش میں ، آپ کو 7 دن کے لئے 10GB (5GB 2 AM سے 2 PM) انٹرنیٹ ڈیٹا مفت ملے گا۔ یہ 7 دن 1 ہفتہ کے لئے 222 + ٹیکس میں ہے۔ یہ پیش کش آدھی رات 12 بج کر 7 منٹ (1 ہفتہ) مکمل کرنے کے
بعد خود بخود ختم ہوجائے گی۔
ہفتہ وار سندھ ہفتور انٹرنیٹ ڈیٹا آفر کو کس طرح سبسکرائب کریں؟
*406# جاز ویکلی سندھ ہافٹاور انٹرنیٹ ڈیٹا کی پیش کش کے رکنیت کا کوڈ ہے
جاز ویکلی سندھ ہفتور انٹرنیٹ ڈیٹا آف ان سبسکرائب کوڈ کی پیش کش کرتا ہے
شرائط و ضوابط
پیش کش کو متعدد بار سبسکرائب کیا جاسکتا ہے ، حوصلہ افزائی شامل کی جائے گی اور تازہ ترین صداقت لاگو ہوگی
پیش کش کو خریداری کے سلسلے * 406 # کے ذریعہ خریداری کی جاسکتی ہے
* 406 # ڈائل کرنے پر ، گاہک کو عین مطابق 7 کیلنڈر دنوں کے لئے اپنا شیر ہفتور آفر کی رکنیت حاصل ہوگی ، پیشکش ساتویں کیلنڈر دن کی آدھی رات کو ختم ہوجائے گی (بشمول سبسکرپشن ڈے)
کال اپ سیٹ فیس نہیں ہے
یہ بنڈل غیر متواتر ہے اور صارفین کو دوبارہ بنڈل سے فائدہ اٹھانے کے لئے * 406 # ڈائل کرنا پڑے گا۔
سبھی مفت منٹ سبسکرپشن کے وقت پوسٹ کیے جائیں گے اور ساتویں کیلنڈر دن کے 23:59 بجے ختم ہوجائیں گے
مفت منٹ / ایس ایم ایس / ڈیٹا دن میں 24 گھنٹے استعمال کے قابل ہوگا (وقت کی کوئی حد نہیں)
5 جی بی کی ترغیب چوبیس گھنٹے استعمال کے قابل ہے جبکہ دیگر 5 جی بی 2 صبح سے 2 بجے تک دستیاب ہے
مفت ڈیٹا MBs 2G / 3G / 4G کے لئے ہیں
پیشکش کسی بھی وقت تبدیل کرنے کے تابع ہے
شرائط و ضوابط لاگو ہوتے ہیں
باداہ ، بھیریا سٹی ، چونڈیکو ، ڈہرکی ، ڈوکری ، گمبٹ ، گڑھی کھائرو ،
گڑھی یاسین ، غوث پور ، گھوٹکی ، حیدرآباد ، جیکب آباد ، جامشورو ، کندھ کوٹ ،
کنڈیارو ، کراچی ، کشمور ، خیرپور ، خان بیلہ ، خان گڑھ ، خان پور ،
کوٹ دیجی کوٹری ، لکھی لاڑکانہ ، لیاقت پور ، محراب پور ، میرو خان ،
میرپور ، میتھیلو ، میر واہ ، نصیر آباد ، نوڈرو ، نوشیرو ، فیروز پیکا ، چانگ پانو عاقل ،
پیرجو گوٹھ ، قمبر ، رحیم یار خان ، رتو ڈیرو صادق آباد ، صالح پیٹ شہدادکوٹ ،
شکارپور ، سوبھو ڈیرو سکھر ، تارو ، شاہ تھول اوبورو وارہ