Jazz weekly SUPER PLUS Internet Data Offer
Description
In This Jazz Weekly SUPER PLUS Internet Data Offer, You will get free 12GB DATA (6GB 2 AM to 2 PM ) of internet data for 7 days. This is in Rs 250+tax for 7 days 1 week. This offer will be automatically going to expired after completing 7 days (1 week) at midnight 12 PM.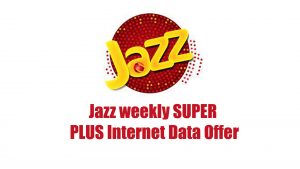 | PACKAGE NAME | Jazz weekly SUPER PLUS |
| --- | --- |
| Subscription Fees | Rs.250 (Incl. Tax) |
| Valid Date (Duration) | 7 Days(weekly offer) |
| Free Internet (Data) MBs | 12 GB DATA (6 GB 2AM – 2PM) |
| Other Network Minutes | 5000 Jazz Minutes |
| Mobilink Jazz Mins | 70 Other Network Mins​ |
| SMS | 5000 SMS​ |
| Recharge Required | Rs.300 PKR |
| Subscription Code | *505# |
| Un-Subscribe Code | ? |
| Status Check Code | *505*2# |
How to Subscribe Weekly SUPER PLUS Internet Data Offer?
Jazz Weekly SUPER PLUS Internet Data Offer Subscription code is Dial *505#
JazzWeekly SUPER PLUS Internet Data Offer Unsubscribe Code: This offer will expire automatically.
Terms & Conditions
Offer is available for Jazz and Warid prepaid subscribers only
Upon dialing *505#, the customer will be subscribed to Weekly Super Plus offer for x+6 days
All incentives will be posted at the time of subscription and will expire at 23:59 hours of the 7th calendar day
Minutes/ SMS/ Data will be usable 24 hours a day (no time limit)
On-net minutes are usable for both Jazz and Warid
Data MBs are consumable on a 2G/3G/4G network
The bundle is non-recursive and multiple subscriptions are allowed
Customers will have to dial *505# again to avail the bundle more than once
In case of multiple subscriptions, the previous incentive will be added and new validity will be applicable
Call Setup charges are not applicable for this bundle. However, a balance of Rs.0.15 needs to be maintained to make calls through the bundle
The customer will be charged per his/her respective base rate package in case bundle incentives have exhausted and the customer is not subscribed to any other bundle. For data, the base rate will be charged i.e. Rs.5/MB. Charging Pulse will be 512 KB
Limited time offer, it is subject to change anytime
Click here for General Terms & Conditions.
Jazz weekly WHATSAPP & SMS Internet Data Offer
تفصیل
اس جاز ہفتہ وار سپر پلس انٹرنیٹ ڈیٹا کی پیش کش میں ، آپ کو 7 دن کے لئے انٹرنیٹ پر 12GB ڈیٹا (6GB 2 AM سے 2 PM) مفت ڈیٹا ملے گا۔ یہ 7 دن 1 ہفتہ کے لئے 250 + ٹیکس میں ہے۔ یہ پیش کش آدھی رات 12 بج کر 7 منٹ (1 ہفتہ) مکمل کرنے کے بعد خود بخود ختم ہوجائے گی۔
ہفتہ وار سپر پلس انٹرنیٹ ڈیٹا آفر کو کس طرح سبسکرائب کریں؟
*505# جاز ہفتہ وار سوپر پلس انٹرنیٹ ڈیٹا آفر سکریپشن کوڈ ہے
جاز ویکلی سپرپر پلس انٹرنیٹ ڈیٹا آفر ان سبسکرائب کوڈ: یہ پیش کش خودبخود ختم ہوجائے گی۔
شرائط و ضوابط
پیش کش صرف جاز اور وارد پری پیڈ صارفین کے لئے دستیاب ہے
* 505 # ڈائل کرنے پر ، صارف کو ہفتہ وار سپر پلس کی پیش کش کو X + 6 دن کے لئے خریدار بنادیا جائے گا
تمام ترغیبات سبسکرپشن کے وقت پوسٹ کیے جائیں گے اور ساتویں کیلنڈر دن کے 23:59 بجے ختم ہوجائیں گے
منٹ / ایس ایم ایس / ڈیٹا دن میں 24 گھنٹے استعمال کے قابل ہوگا (وقت کی کوئی حد نہیں)
جاز اور وارد دونوں کے لئے آن نیٹ منٹ قابل استعمال ہیں
ڈیٹا MBs 2G / 3G / 4G نیٹ ورک پر قابل استعمال ہیں
بنڈل ناقابل تلافی ہے اور متعدد سبسکرپشنز کی اجازت ہے
ایک بار سے زیادہ بنڈل حاصل کرنے کے لئے صارفین کو دوبارہ * 505 # ڈائل کرنا پڑے گا
ایک سے زیادہ سبسکرپشنز کی صورت میں ، سابقہ ​​ترغیبات کو شامل کیا جائے گا اور نئی صداقت لاگو ہوگی
اس بنڈل کے لئے کال سیٹ اپ چارجز لاگو نہیں ہیں۔ تاہم ، بنڈل کے ذریعہ کال کرنے کے لئے 0،15 روپے کا بیلنس برقرار رکھنے کی ضرورت ہے
اگر بنڈل مراعات ختم ہوچکے ہیں اور صارف کسی دوسرے بنڈل کا رکن نہیں ہے تو کسٹمر سے اس کے متعلقہ بیس ریٹ پیکیج وصول کیا جائے گا۔ اعداد و شمار کے لئے ، بیس ریٹ (یعنی 5 / MB) وصول کیا جائے گا۔ پلس چارج کرنا 512 KB ہوگا
محدود وقت کی پیش کش ، یہ کسی بھی وقت تبدیل کرنے کے تابع ہے
عمومی شرائط و ضوابط کے لئے یہاں کلک کریں۔