5 GB
Free MBs Only Whatsapp
How to Subscribe to Janoobi Punjab SUPER Internet DATA OFFER?
Jazz Janoobi Punjab SUPER internet DATA OFFER Subscription code is *742#
Jazz Janoobi Punjab SUPER Internet DATA OFFER Unsubscribe Code: This offer will expire automatically.
Description
In This Jazz DAILY, Janoobi Punjab SUPER internet DATA OFFER You will get a free 5GB of data for 1 day. This is Rs 8 + tax for 1 day. This offer will automatically be going to expire after completing 1 day at midnight 12 PM. This offer is only for janoobi Punjab people.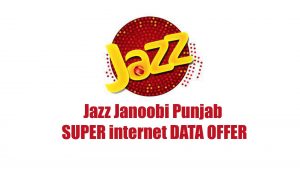 Offer is valid in the following cities
Karor Lal Esan
Kabirwala
Bahawalpur
Kahror Pakka
Shujabad
Jalalpur Pirwala
Ahmadpur East
Khanewal
Ahmedpur East
Dera Ghazi Khan
Uch Sharif
Muzaffargarh
Alipur
Layyah
Jatoi
Dajal
Tibba Sultanpur
Liaqatpur
Lodhran
Kot Addu
Multan
Taunsa
Dunyapur
Jahanian
Rojhan
Rajanpur
Jampur
Yazman
Shorkot
Terms & Conditions
Offer is available for Jazz prepaid subscribers.
By dialing *742#, the customer will be subscribed to the offer for the usage window of 11 PM – 9 AM.
The bundle is non-recursive and multiple subscriptions are allowed.
In the case of multiple subscriptions, a previous incentive will be added and new validity will be applicable.
Limited time offer, it is subject to change anytime.
Overage of Rs. 1.2/MB applies to all mobile internet bundles.
Data Incentives are only available between 11 PM – 9 AM, for one day.
Actual internet speed will depend on multiple factors like sim, device, web pages accessed, time of day, number of simultaneous users, distance from 2G/3G/4G site, etc.
If you are not subscribed to any bundle, the base rate will be charged i.e. Rs. 5/MB. The charging pulse will be 512 KB.
تفصیل
اس جاز ڈیلی میں ، جانوبی پنجاب سپر انٹرنیٹ ڈیٹا آفر آپ کو 1 دن کے لئے مفت 5 جی بی ڈیٹا ملے گا۔ یہ 1 دن کے لئے 8 + ٹیکس میں ہے۔ یہ پیش کش آدھی رات 12 بجے ایک دن مکمل کرنے کے بعد خود بخود ختم ہوجائے گی۔ یہ پیش کش صرف جونوبی پنجاب کے لوگوں کے لئے ہے۔
جانوبی پنجاب سپر انٹرنیٹ ڈیٹا آفر کو کس طرح سبسکرائب کریں؟
*742# جاز جانوبی پنجاب سپر انٹرنیٹ ڈیٹا آفر سب سکریپشن کوڈ ہے
جاز جانوبی پنجاب سپر انٹرنیٹ ڈیٹا آفر سبسکرائب کوڈ: یہ پیش کش خودبخود ختم ہوجائے گی۔
پیش کش مندرجہ ذیل شہروں میں درست ہے
کارور لال ایسن ، کبیر والا ، بہاولپور ، کہہر پکا ، شجاع آباد ، جلال پور پیر والا ، احمد پور ایسٹ ،
خانیوال ، احمد پور ایسٹ ، ڈیرہ غازی خان ، اچ شریف ، مظفر گڑھ ، علی پور ، لیہ ،
جتوئی ، دجال ، تببہ سلطان پور ، لیاقت پور ، لودھراں کوٹ ادو ملتان ،
تونسہ ، دنیا پور ، جہانیاں ، روزھن ، راجن پور ، جام پور ، یزمان ،
شورکوٹ ،
شرائط و ضوابط
جاز پری پیڈ صارفین کے لئے آفر دستیاب ہے۔
* 742 # ڈائل کرنے سے ، گراہک 11 بجے صبح 9 بجے تک استعمال کی کھڑکی کے لئے پیشکش کا رکن بن جائے گا۔
بنڈل ناقابل تلافی ہے اور متعدد خریداریوں کی اجازت ہے۔
ایک سے زیادہ سبسکرپشنز کی صورت میں ، ایک سابقہ ترغیبی شامل کی جائے گی اور نئی صداقت لاگو ہوگی۔
محدود وقت کی پیش کش ، یہ کسی بھی وقت تبدیل کرنے کے تابع ہے۔
اوور 1.2 / MB تمام موبائل انٹرنیٹ بنڈل پر لاگو ہوتا ہے۔
ڈیٹا مراعات صرف 11 بجے صبح 9 بجے کے درمیان ، ایک دن کے لئے دستیاب ہیں۔
اصل انٹرنیٹ کی رفتار متعدد عوامل پر منحصر ہوگی جیسے سم ، ڈیوائس ، ویب صفحات تک رسائی ، دن کا وقت ، بیک وقت صارفین کی تعداد ، 2G / 3G / 4G سائٹ سے دوری وغیرہ۔
اگر آپ کو کسی بھی بنڈل میں سبسکرائب نہیں کیا جاتا ہے تو ، بیس ریٹ سے چارج لیا جائے گا۔ 5 / ایم بی چارج کرنے والی نبض 512 KB ہوگی۔