Details in urdu
Yeh offer Mobilink jazz weekly hybrid un logun kay leya hai jin ko 1 package main he Calls, internet Data, SMS other network minutes, Jazz to jazz +warid minutes. Is offer main ap ko milyin gay 1GB internet data is data say ap sb kuch browse kar skty hain social media google or bhut kuch, and 20 minutes for other network and 1000 Jazz+Warid minutes and 1000 SMS 1 week (hafty) kay leya. Jazz weekly offer ko subscribe karny kay leya ap kay mobile account main 135 Rupee hony chayin. yeh offer 120+ tax main per with tax 135 main activate ho ge.
Details in English
In This Jazz Weekly HYBRID Internet Data Offer, You will get free 1 GB data for internet data and 1000 SMS and 20 other network minutes and 1000 Jazz to jazz minutes for 7 days. This is in Rs 120+tax for 7 days 1 week. This offer will be automatically going to expired after completing 7 days (1 week) at midnight 12 PM.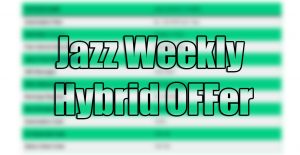 How to Subscribe to Jazz HYBRID Internet Data Offer?
| Package Name | Jazz Weekly Hybrid |
| --- | --- |
| Subscription Fees | Rs. 120 PKR (Incl. Tax) |
| Valid Date (Duration) | Weekly (7 Day) |
| Free Internet (Data) MBs | 1024 MB (1GB) |
| Jazz & Free Warid Minutes | 1000 |
| SMS Messages | 1000 SMS |
| Other Network Minutes | 20 Minutes Other |
| Recharge Required | Rs 135 PKR |
| Get Information | *407*3# |
| Subscription Code | *407# |
| Un-Subscribe Code | *407*4# |
| Status Check Code | *407*2# |
Jazz Weekly Jazz HYBRID Internet Data Offer Subscription code is Dial *407#
Jazz Weekly Jazz HYBRID Internet Data Offer Unsubscribe Code: *407*4#
Terms & Conditions
Product Specific:

Upon dialing *407#, the customer will be subscribed to Weekly Offer for exact 7 calendar days; the offer will expire on midnight of the 7th calendar day (including subscription day)
This bundle is non-recursive and customers will have to dial *407# again to avail of the bundle again after one week
Internet offer can be subscribed and consumed in 2G/3G/4G networks areas
Limited time offer, It is subject to change anytime
Bundle minutes / SMS / MBs will be usable 24 hours a day (no time restriction)
Multiple subscriptions are allowed in this package
Call set up fee is applicable
Overage of Rs.1.2/MB applies
Actual internet speed will depend on multiple factors like sim, device, web pages accessed, time of day, number of simultaneous users, distance from 2G/3G/4G site, etc
If you are not subscribed to any bundle base rate will be charged i.e. Rs.5/MB. The charging pulse will be 512 KBClick here for General Terms & Conditions.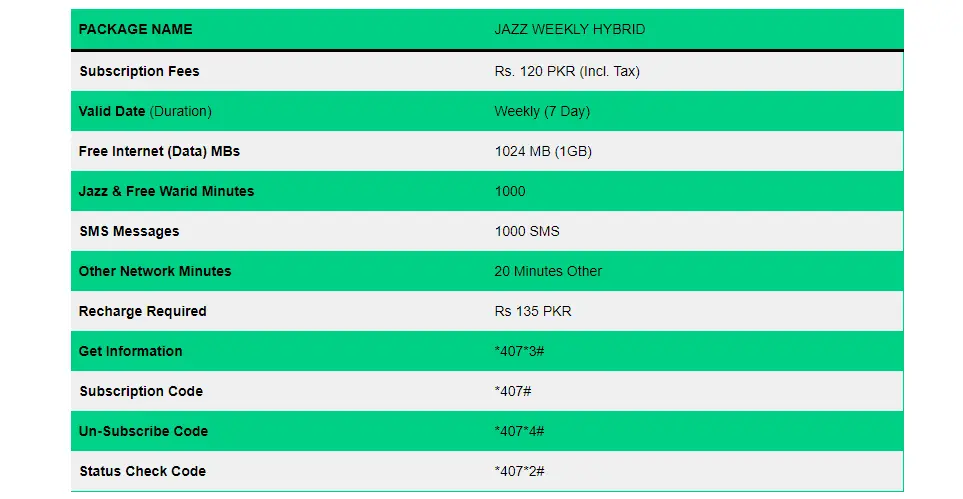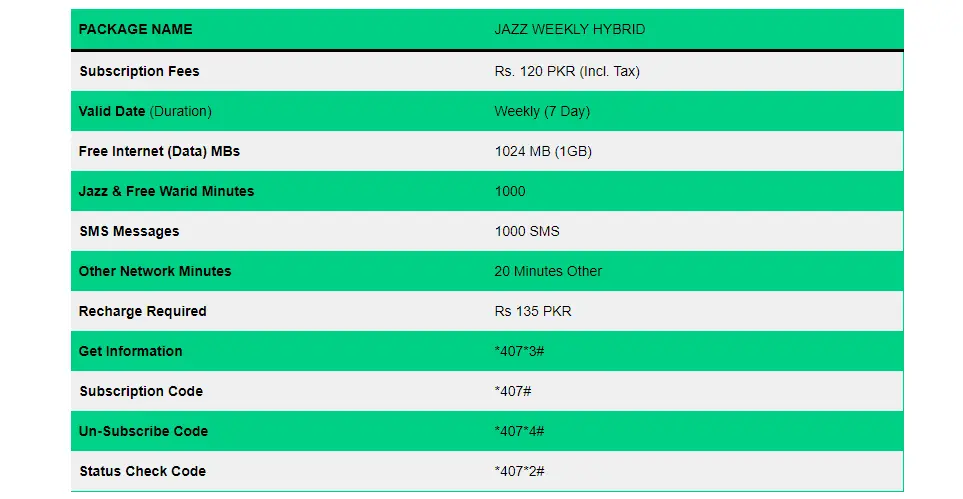 Disclaimer
Ye Articale Genral Just information k ley ha. Es article main deya gay packages ki details, Tax information, Price and malomat daily uodate hoti hain. Ager ap ko mazeed malumat chaya to ap jazz helpline (111)per call kar skty hain
Mobilink Jazz company time k sath sath apny packages ko update karti rehti ha .
For More details and information you can vist Jazz official website Jazz Weekly Hybrid Package
kisi bhi kisam ki pareshani say bachny kay ley ap apni nazdiki jazz helpline per rabta karin.
How to subscribe to Mobilink Jazz Weekly Hybrid Calls, Internet, SMS Package?
Jazz Weekly Jazz HYBRID Internet Data Offer Subscription code is Dial *407#
Jazz Ka SMS and Calls, and net packages free?
Jazz Weekly Hybrid main ap ko Calls, and other minutes Internet MBs, SMS.
Jazz ka all in one weekly package Hybrid kitny ka hai?
Jazz Weekly hybrid 120+ tax main hai and ap ko mobile RS 135 hony chaya.
More Jazz Packages