Description
In This Jazz DAILY SUPER Data offer, You will get 1440 jazz-to-jazz calls, send 50 SMS, and use 150MB of the internet for 1 day. All of these things are just Rs. 17 (inclusive of GOV tax)  for 1 day. This offer will automatically go to expire after completing 1 day at midnight 12 PM.
How to Subscribe to DAILY SUPER Internet offer
Jazz DAILY SUPER offer Subscription code is : *212#
Jazz DAILY SUPER MB check code *212*2#
Jazz DAILY SUPER Unsubscribe Code: *212*4#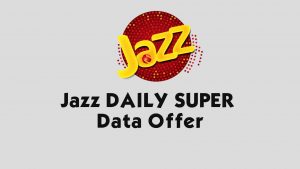 Terms & Conditions
Limited time offer, it is subject to change anytime
The call set-up fee is applicable
Overage of Re.1.2/MB applies for all mobile internet bundle
Actual internet speed will depend on multiple factors like sim, device, web pages accessed, time of day, number of simultaneous users, distance from 2G/3G/4G site, etc
If you are not subscribed to any bundle base rate will be charged i.e. Rs.5/MB. The charging pulse will be 512 KB
Click here for General Terms & Conditions.
تفصیل
اس جاز ڈیلی سپر ڈیٹا آفر میں ، آپ کو 1440 جاز کو جاز کالز ، 50 ایس ایم ایس بھیجنے ، اور 1 دن کے لئے 150 ایم بی انٹرنیٹ استعمال کریں گے۔ یہ تمام چیزیں صرف 17 روپیہ (GOV ٹیکس سمیت) میں 1 دن کے ل ۔ یہ پیش کش آدھی رات 12 بجے دن 1 دن مکمل کرنے کے بعد خود بخود ختم ہوجائے گی۔

ڈیلی سپر انٹرنیٹ آفر کو کس طرح سبسکرائب کریں۔
*212# جاز ڈیلی سپر آفر سبسکرپشن کا کوڈ ہے
*212*2# جاز ڈیلی سپر MB چیک کوڈ
*212*4# جاز ڈیلی سپر ان سبسکرائب کوڈ
Terms & Conditions
محدود وقت کی پیش کش ، یہ کسی بھی وقت تبدیل کرنے کے تابع ہے
کال اپ سیٹ فیس لاگو ہے
Re.1.2 / MB کی اوسط ہر موبائل انٹرنیٹ بنڈل پر لاگو ہوتی ہے
اصل انٹرنیٹ کی رفتار متعدد عوامل پر منحصر ہوگی جیسے سم ، ڈیوائس ، ویب صفحات تک رسائی ، دن کا وقت ، بیک وقت صارفین کی تعداد ، 2G / 3G / 4G سائٹ سے دوری وغیرہ۔
اگر آپ کسی بھی بنڈل بیس پر سبسکرائب نہیں کرتے ہیں تو چارج ہوگا یعنی 5 روپے / ایم بی۔ چارج کرنے والی نبض 512 KB ہوگی
عمومی شرائط و ضوابط کے لئے یہاں کلک کریں۔