Grade 2 Homeroom Teacher Jobs in Kuwait with Visa Sponsorship, Free Accommodation, Airfare, and much more: What if you could do the job you love in a new country? We can pique your interest with the gem of a job; make Kuwait part of your own personal and professional story, and follow your international intrigue! Overview This Grade 2 Homeroom Teacher job can take you around the world, and if you love the Middle East as much as we do, this is a compelling opportunity.
You'll get to work alongside some of the best in international teaching and inspire a high-achieving cohort of students in a phenomenal learning space. Not only that, but you'll also get to turn your passion for traveling into a reality.
This international school's teaching team is committed to providing the very best for every child and creating ever-better learning outcomes within a caring environment where everyone feels happy, safe, and secure. With dedication and support from well-experienced professional staff, every child is guided and motivated to develop their full potential in all areas of education. This school, which follows the American Common Core Curriculum, encourages active participation from parents, teachers, and community members.
ASQ International partners with a number of exceptional International schools globally to offer the latest and best selection of educational positions. If you have at least 2 years of teaching experience with a proper teaching qualification like B.ED, this is a fit job role for you that can give you your dream life. You should know all the necessary job details before applying like job requirements, job duties, job benefits, and how/ where to apply. So, let's get started: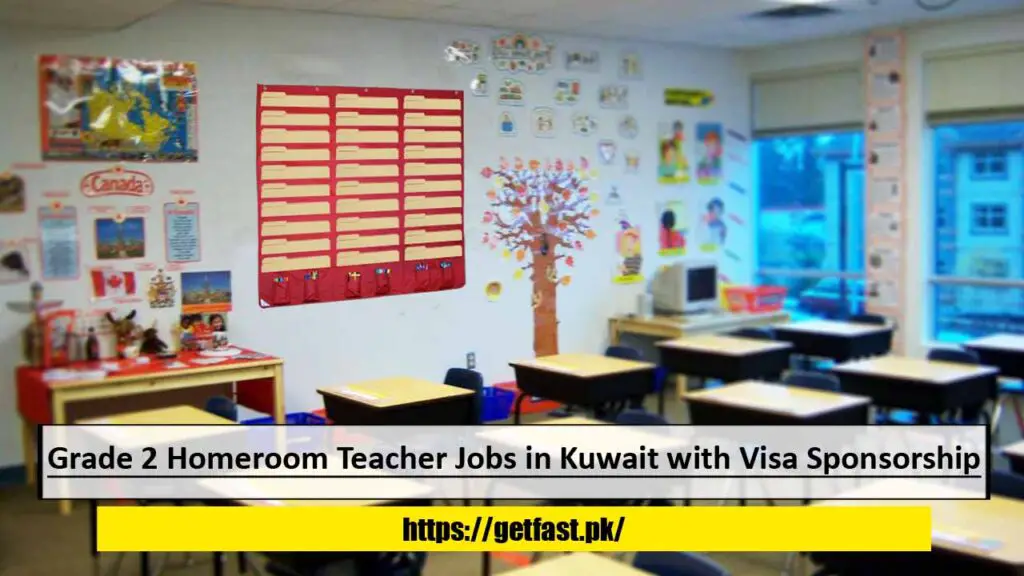 Details of Grade 2 Homeroom Teacher Jobs in Kuwait with Visa Sponsorship
| | |
| --- | --- |
| Job Country | Kuwait |
| Industry | Education |
| Job Type | Grade 2 Homeroom Teacher |
| Minimum Experience Required | 2 years |
| Education Required | Bachelor's Degree with B.Ed |
| Any Age Limit | 21-45 |
| Visa | Sponsorship |
| Relocation | Yes |
| Accommodation | Yes |
| Employment Term | Extendible contract and Full Time |
| Salary Hourly | KWD 800 with 1 year experience |
Requirements of Grade 2 Homeroom Teacher Jobs in Kuwait with Visa Sponsorship
The ideal candidate
BEd Degree in Primary Education
At least 1-2 years of teaching experience
Knowledge of the American Common Core Curriculum would be beneficial
Strong communication skills
Good classroom management
Positive attitude and flexibility
Job Duties of a Grade 2 Homeroom Teacher:
• Responsible for student learning from Grades 2
Create Lesson plans and incorporate technologies like whiteboard animation, LED Smart Notepads, etc.
Instruct students in basic Science, English, and, Maths.
Divide the class into activity groups and design classroom/ homework tasks or activities.
Mark and assess student's performance and record it to inform parents.
Work closely with the other grade-level teachers to ensure that students achieve their potential at the school.
Benefits of Grade 2 Homeroom Teacher Jobs in Kuwait with Visa Sponsorship
Health Insurance
Visa Sponsorship
Free Air Ticket
Free furnished apartment
Transportation to and from school
Professional Development through extensive training programs
Related: Sandwich/ Roll Maker Jobs in Abu Dhabi with Visa Sponsorship – Apply Now
Who can Apply for Grade 2 Homeroom Teacher Jobs in Kuwait with Visa Sponsorship
All Asian, African, and Latin American countries, which generally target Gulf, UAE, UK, and other European Countries as their future job destination, can apply for Grade 2 Homeroom Teacher Jobs in Kuwait with Visa Sponsorship, Free Accommodation, Airfare, and much more
Pakistan
India
Bangladesh
Anguilla
Antigua
Barbuda
Barbados
Mexico
Jamaica
Dominicia
Sudan
Grenada
Trinidad
Tobago
Lucia
Vincent
The Grenadines
Kitts-Nevis
Montserrat.
All European, Asian, and African nationalities can apply
Related: Shawarma/ Burger Maker Jobs in Ajman with Visa Sponsorship – Apply Now
How to Apply for Grade 2 Homeroom Teacher Jobs in Kuwait with Visa Sponsorship
Click on the link below to apply directly online on the job advert site
Grade 2 Homeroom Teacher Jobs in Kuwait with Visa Sponsorship – Apply Now