General Labour Jobs in Australia with Visa Sponsorship 2023: Are you an experienced General Labourer? Do you have a good know-how of Construction equipment and machines? Australian employers have a golden opportunity for you to offer! According to Herald Sun (Australia's most popular national newspaper), labour shortage in the Australian construction centre is the biggest pressure for the country in 2023. The loss of foreign workers during COVID-19 has forced the government to reconsider the labour and skill shortage in Australia. According to the web source, Australian Broadcasting Corporation, the August 2022 Arcadis Construction Costs Index Report predicted that there will be 100,000+ vacant roles in the Australian construction sector in the following year. "This will be almost more than 50 per cent of the workforce expected to fulfil them.
Due to high labour demand and expanding growth of the construction centre, many Australian construction and civil engineering companies are looking for general labour overseas with proven work experience in their field. They are willing to sponsor the 482-skill worker visa for experienced labour. In this post, we have discussed one such job offer for General Labour by a Sydney-based company called Eficaz Recruitment. This company is one of the leading employment/recruitment companies in Sydney. You can know all the job details and apply online directly on the company's website by clicking on the button given below. So, let's get started: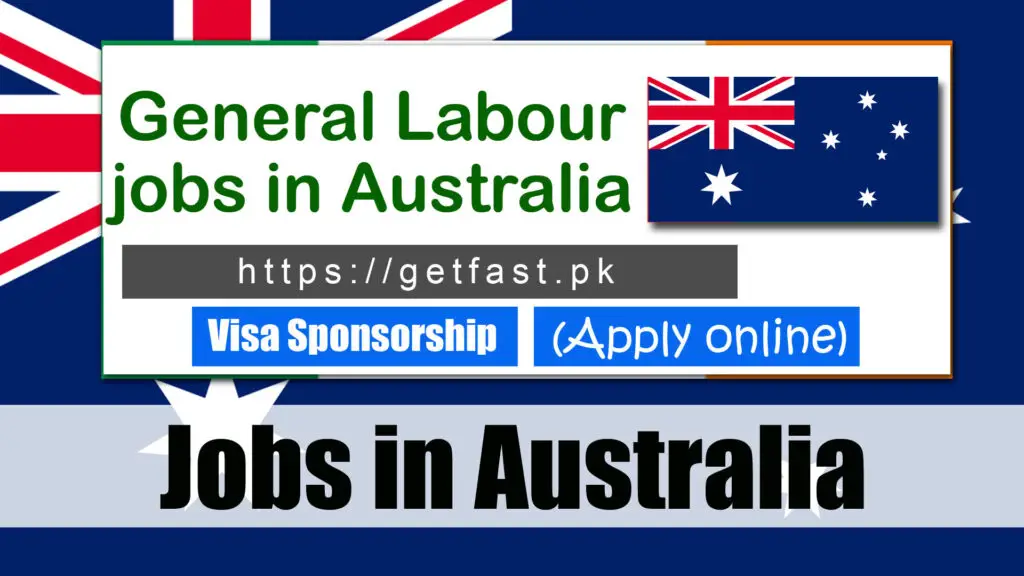 Job details:
Job title: General Labourer
Knowledge required: Yes
Experienced required: Yes
Region: Australia
Minimum age: 21-48 years
Free food: No
Free Transport: No
Free Accommodation: No
Free Medical: No
Visa Sponsorship: Yes
More Jobs: Airport Loader Jobs in the UAE with visa sponsorship
Job Benefits:
Free skilled work visa.
You can apply for permanent residence when you are eligible (after 2-4 years).
Good and consistent performance of the candidate can secure him a permanent job.
Attractive Salary Packages.
Australia Labour Law is very facilitative for foreign workers and grants many rights and privileges.
Processing time is not long: 3-6 months.
A quick and smooth way for your journey to Australia.
Job Requirements:
High school level education like High School diploma, certificate etc. (Intermediate in Pakistan).
Any diploma/ course certification in Construction or Civil engineering would be appreciated. In Pakistan, many technical and vocational training colleges offer courses in Masonry/ Carpentry, etc.
Proven work experience of 2-3 years minimum.
You should fulfill all the requirements for a 482 work visa.
All visa documents are prescribed by the company.
Health record or medical checkup before immigration.
Clear and attested criminal record.
Related: Storekeeper Jobs in Canada with Visa Sponsorship
Job Responsibilities.
As per Company's job description, the following are the main job requirements:
Operate construction company.
Help machine Operators, engineers, masons, carpenters, and other professionals when needed.
Clean the construction site before the process begins.
Clean the waste and hazardous materials.
Load/unload/transport construction materials.
Put together and take apart scaffolding.
Assemble or disassemble temporary structures.
Help craft workers as prescribed by the site supervisor.
Soil operations: removing, filling, and compacting.
Average Salary of a construction worker in Australia.
It is a multi-faceted company because average salaries in Australian construction company depends on many factors like your job designation, experience, location, etc. However, according to au.talent.com, the average salary of a construction worker in Australia $97,797 per year or $50.15 per hour. The entry-level positions earn an average starting salary of $70,805 per year while most experienced workers on high designations earn $150,000 per year.
Related: Airport Loader Jobs in UAE with Visa sponsorship
How to Apply?
You can make an account on any online job searching website or online newspapers, log in, and submit your CV to apply. However, for this job ad, you have to apply directly through the company's website.