Delivery rider job (Food and Cargoe) is the most comfortable job option for those people who don't have higher education or much experience in any skilled work category. For a rider job, you don't need a licence or any other necessary related documentation that comes along with owning a car. There is no minimum qualification requirement and the experience needed is also not high (only 2 years).
An applicant gets selected on an interview basis then comes the visa process. Your employer sponsors you; so, you don't need to apply by yourself in the Saudi Embassy for the visa. You only need to submit the documents as prescribed by the agency. In this post, we have discussed all the details of the job ad for a Delivery Rider in Saudi Arabia with visa sponsorship by Salma Enterprises. This ad was published in the Express Jobs Newspaper. Let's get to know about the job details and apply directly online by clicking on the link below without any further ado: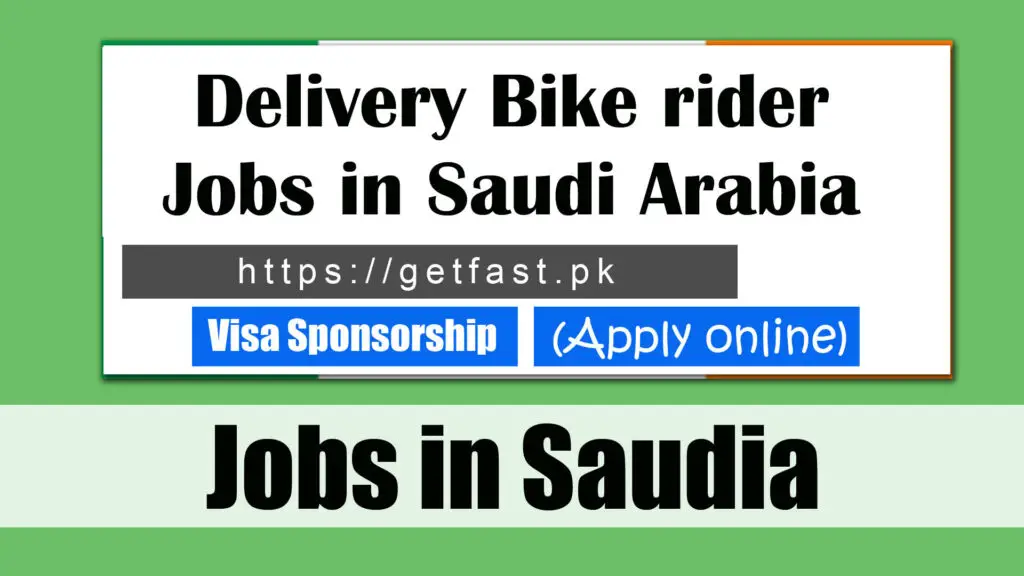 Job Details:
Job title: Delivery Bike Rider
Job country: Saudi Arabia
Minimum Education: Matric
Minimum Experience: 02 years
Job Industry: Labour Job
Job type: Full-time
Contract duration: 2 years
Age limit: 21-35 years
Free food: Yes (if working as a food delivery rider)
Free Accommodation: Yes
Free transportation: Yes
Free Medical: Yes
Duty timing: 8 hours a day for 26 days
Salary Package: 1400 Riyal+ Commission
Job Requirements:
At least Matric-level Education.
At least 2 years experience.
You should be at least 21 years of age and a maximum of 35 years of age.
Must speak, read, and write Basic English.
If you know basic conversation in Arabic, it would be a plus.
Pakhtoon ethnicity can't apply.
All visa documents as prescribed by the company.
Job Benefits:
The education requirement is not high: only Matric.
The experience demanded is not high.
Free food (if working as a food delivery rider).
Free Accommodation.
Free transport.
All medical expenses are covered by the company.
All rights and privileges by the Saudi Labour Law.
Visa Sponsorship.
Flight as soon as job is confirmed.
Where can I find other rider/ delivery jobs with Visa Sponsorship in Saudi Arabia?
Online job-searching websites and online newspapers are the prime sources to find Delivery Rider Jobs in Saudi Arabia with visa sponsorship. By turning on the job alert notifications in any of those job search portals, you regularly get a notification message in your inbox for all the vacancies available of your desired job role and in your desired location. Moreover, you can select the related job roles and keep yourself updated about their upcoming vacancies as well. LinkedIn, Indeed, Jobs.Laimoon.com are some of the most famous job sources in Saudi Arabia, UAE, and the Gulf countries. Here are some the useful tips to find more rider jobs in Saudi Arabia:
Google "Famous job search portals in Saudi Arabia", "Job searching websites Saudi Arabia" or "Jobs in Saudi Arabia".All the popular, reliable, and responsive job search portals would be displayed in front of you.
Create an account.
Select your desired jobs (you can select 3-5 at the time depending on the job site).
Turn on the notification alerts (for further use).
Type your keywords for the job search in the search bar.
First, try specific ones like " Delivery Rider Jobs in Saudi Arabia with visa sponsorship ". Select KSA or it's any major city in the location bar right beneath the search bar.
If you get a few results or not-so-relevant ones, try general search words like "Cargoe/Freight Jobs in Saudi Arabia for foreigners ", "Parcel Handling job Saudi Arabia for foreigners", " Food Jobs in Saudi Arabia for foreigners", "Restaurant Jobs in Saudi Arabia", etc.
Click on your desired job role.
Submit the CV and all the required documents.
Click on the apply button.
Wait for the reply mail
Is this company paying you fairly?
Although, numbers vary according to experience, location, job place, etc. However, according to GrabJobs.co, the average monthly salary of a Driver / Rider in Saudi Arabia is SAR14,496 per year. Entry-level Driver / Rider positions start at SAR10,872 per year. As these figures are very close to the ones displayed in the ad, we can safely say that this job ad is paying you fairly.
More Jobs: Block Mason Jobs in Saudi Arabia with visa sponsorship
How to Apply?
You can make an account on any online job searching website or online newspapers, login, and submit your CV to apply. For this job ad, click below to apply directly on the ad website:
Other Visa-sponsored Rider Jobs in Saudi Arabia.
Saudi Arabia, as a cordial partner of Pakistan, offers many skilled and unskilled job roles for educated and uneducated applicants in Pakistan almost on daily basis. You can see frequent ads on online newspapers, job search websites, and hard copy newspapers.