Dates Farm Foreman Jobs in Saudi Arabia with Visa Sponsorship 2023: Are you interested in farming? Do you have managing experience? If it is so, Date Farm Manager / Foreman Jobs in Saudi Arabia is a golden job opportunity for you. Dates were historically the staple food of Saudi Arabia, but now they are exported to poor countries as global humanitarian aid to fight malnutrition. Agricultural activities in Saudi Arabia are mainly concerned with the production and export of dates, poultry, dairy products, spices, cereals, and flowers.
According to USDA's official website, Saudi Arabia was the 24th largest market ($1.34 million) for U.S. food and agricultural products last year. In August 2022, Saudi Press Agency reported that Saudi Arabia's agricultural sector grew at a rate of 7.8 percent in 2021 as compared to the year 2020. As discussed earlier, Saudi Arabia, UAE, and all the Gulf countries depend on foreign workers for the majority of their workforce. Agricultural/ Farm Jobs is no exception. Hence, there is a huge job potential for foreign workers in Saudi Arabia's farm sector.
In this post, we have come up with one such amazing farm job in Saudi Arabia: Dates Farm Foreman /Manager Job 2023 with Visa Sponsorship. Let's get to know more: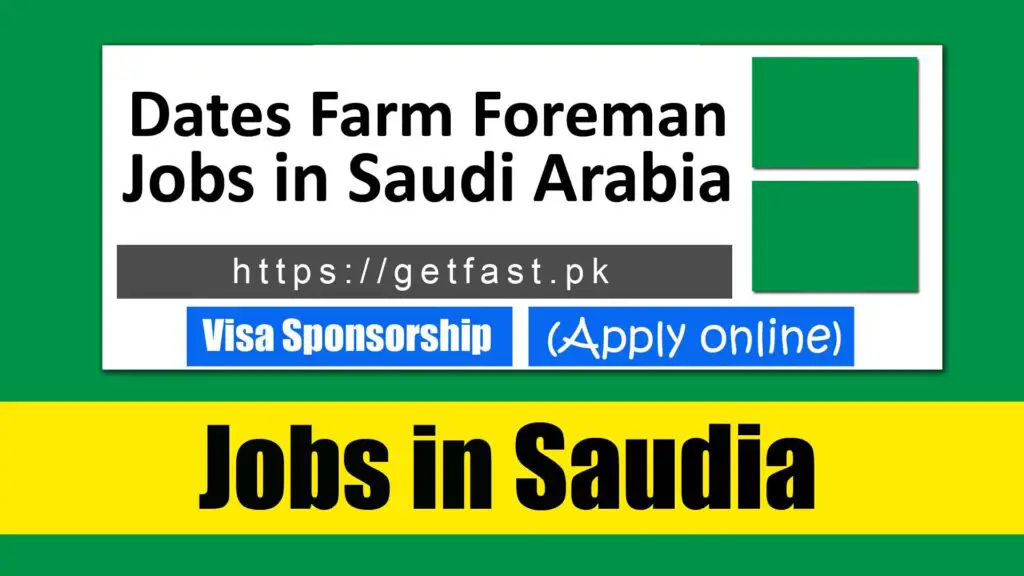 Job Details:
Job title: Date farm Foreman / Manager or Agricultural Farm Foreman
Hiring Company: Metscco Heavy Steel Industries Co. LTD
Age limit: 18 years- so on
Knowledge required: Secondary school diploma
Experience required: Not mentioned specifically but would be preferred
Free Food: Yes
Free Accommodation: Yes
Free transport: No
Free Visa: Yes
Free Medical: No
Job type: Full time+ Overtime
Free Laundry: Yes
Requirements for Dates Farm Manager/ Foreman Jobs in Saudi Arabia with visa sponsorship:
As per the job ad following are the main job requirements:
Secondary school level education.
Good communication in the English level is a must. So, having any English language proficiency proof like IELS, university degree, etc, would positively influence the employer.
Females are not allowed to apply.
Any business administration, management course certification, diploma, or degree would also be a notable feature in your CV (You can find Farm management courses exclusively over the Internet).
All supporting documents are needed for the visa.
Related: Citrus Picking Jobs in Australia with Sponsorship 2023 (Apply online)
Responsibilities of Dates Farm Foreman/Manager Jobs with Visa Sponsorship in Saudi Arabia:
Oversee the farm workers and coordinate their work.
Supervising farm crew responsible for production.
Having complete knowledge of best farm practices and safety procedures and enforcing them on your farm worker's team.
You should know all basic farm techniques and invigilate them on the site, such as planting harvesting, plowing, trimming, picking, packing, processing, etc.
You should have complete knowledge of how the farm equipment operates and supervise if workers are using it at the optimum level and safely. You may also check if they need repairs.
From production to harvesting to selling, you have to supervise all farm operations.
Making daily/ monthly reports and sending them to senior management.
You have to make sure that farm workers are managing all tasks in a timely manner and within the set time limits. You have to provide them with a well-framed schedule to coordinate all farm operations in a day.
Job benefits for Dates Farm Manager/ Foreman with Visa Sponsorship in Saudi Arabia:
Free food: 3 meals a day.
Free housing is provided by the company.
Free laundry service.
Paid one month of vacation after every two years.
Company bonus after a year of positive performance.
Related: Urban Farmer Jobs in Japan for Foreigners 2023 (Apply online)
Average Salary of a Farm Manager/ Foreman in Saudi Arabia
The average salary of a Farm Manager/ Foreman depends upon many factors like skills, location, experience, seniority level, etc. However, a person working as a Farm Manager in Saudi Arabia typically earns around 2300 SAR per month. Salaries range from 1,700 SAR (lowest) to 3,400 SAR (highest).According to Payscale and Grab Jobs.co, The average salary for a Farm Manager in Saudi Arabia is SAR 65094 and SAR 76096 per year respectively. So the monthly average pay of an Agricultural/ Farm Manager is 2300 SAR monthly.
How to find more Farm Manager/ Foreman Jobs in Saudi Arabia?
Online job-searching websites and online newspapers are the prime sources to find Farm Manager Jobs in Saudi Arabia with visa sponsorship. By creating an account and turning on the job alert notifications in any of those job search portals, you regularly get a notification message in your inbox for all the vacancies available in your desired job role and in your desired location. Moreover, you can select the related job roles and keep yourself updated about their upcoming vacancies as well. LinkedIn, Indeed, and Naukri Gulf are some of the most famous job sources in Saudi Arabia and other Arab and Gulf countries. Here are some useful tips to find more Farm Manager Jobs in Saudi Arabia:
Google "Famous job search portals in Saudi Arabia", "Job searching websites in Saudi Arabia" or "Jobs in Saudi Arabia".All the popular, reliable, and responsive job search portals would be displayed in front of you.
Create an account.
Select your desired jobs (you can select 3-5 at the time depending on the job site).
Turn on the notification alerts (for further use).
Type your keywords for the job search in the search bar.
First, try specific ones like " Date Farm Manager/ Wheat Farm Manager/ Shrimp Farm Manager Jobs in KSA with visa sponsorship " Select any major city of Saudi Arabia in the location bar right beneath the search bar.
If you get a few results or not-so-relevant ones, try general search words like "Farm/ Agricultural Jobs in Saudi Arabia with Visa Sponsorship", "Farm Foreman/ Operator Jobs in Saudi Arabia for foreigners", "Production Foreman Jobs in Farms Saudi Arabia ", "Senior Unit Manager Jobs in Saudi Arabia with work sponsor", etc.
Click on your desired job role.
Submit the CV and all the required documents.
Click on the apply button.
Wait for the reply mail
Related: Housekeeper Jobs in Italy 2023 with Visa Sponsorship (Apply online)
How to Apply?
You can make an account on any online job searching website or online newspapers, log in, and submit your CV to apply. For this job ad, click below to apply directly on the ad website:
More Farm Jobs in Saudi Arabia with visa sponsorship:
Click below to find various farm job roles in Saudi Arabia: